'Changes begin when we welcome Christ into our lives', says Bishop Sproxton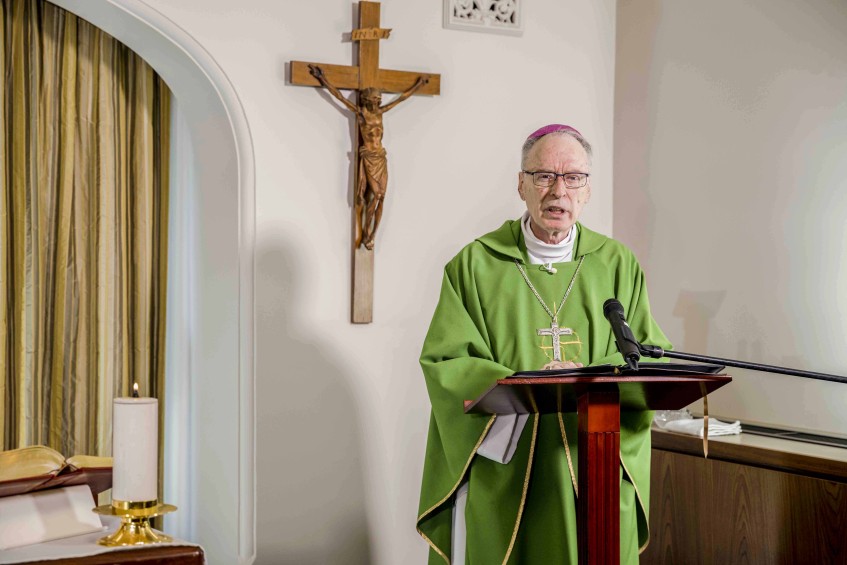 Perth Auxillary Bishop of Perth Donald Sproxton celebrated the Mass of 13th Sunday of Ordinary Time, streamed live from St Mary's Cathedral House on 28 June. Photo: Max Hoh.
By Theresia Titus
Christian hospitality starts when we see the person and not the problem, said Perth Auxillary Bishop Donald Sproxton on Sunday 28 June.
Bishop Sproxton celebrated Mass for the 13th Sunday of Ordinary Time, which was live-streamed via social media from St Mary's Cathedral Parish House to accommodate those who are unable to attend Mass physically in churches, despite the start of phase four of eased restrictions on Saturday 27 June.
Reflecting on the Gospel passage of Matthew 10:37-42, Bishop Sproxton began his homily by recalling the hospitality he received from a family at a farm in Roscommon, Ireland, during his visit in 1989 and said "it was that readiness of the family to offer such generous hospitality" that had left a mark and reminded him of the hospitality he received from St John of God Sisters.
Emphasising hospitality as the main theme of the readings and the gospel of the liturgy, Bishop Sproxton believed it was "timely" to reflect its significance for the Christians today.
"We are living in a dehumanised and highly growing urbanised world. There are many forms of division and distinction in our society," Bishop Sproxton began.
"There are many walls other than the walls we build in front of our homes!
"So when someone opens their home to an outsider, it is quite extraordinary and risky. Yet it is in some ways quite prophetic," he continued.
St Mary's Cathedral Cantor Joshua Adams sang at the Mass. Photo: Max Hoh
Offering hospitality – which has been one of the traditions of the monasteries since the very beginning – had the power of revitalising their work of Christian witness, Bishop Sproxton affirmed.
He emphasised that those who receive hospitality could have "their identity and worth acknowledged and even restored", which could be easily lost in this world that tends to reduce people to "a number".
"Christian hospitality begins by us seeing the person and not the problem," he stated.
"Unfortunately, it is our propensity to divide, categorise, reduce people to servitude, and slavery, over the centuries, has led to creating so much disadvantage and prejudice against all sorts of people.
"The wounds remain and are carried by the generations that follow. The recent news and stories of racism have illustrated this. Our Christian faith urges us to break cycles like this. The Word of God compels us," he continued.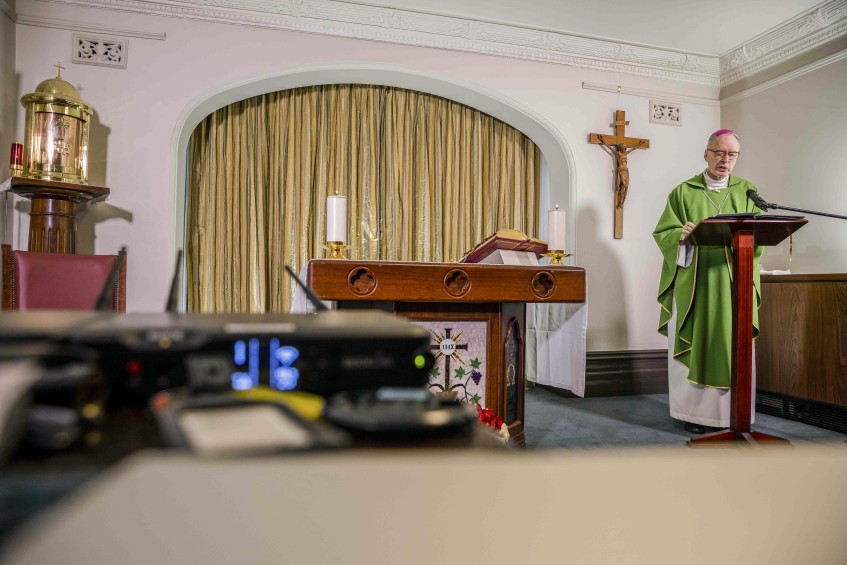 Bishop Sproxton concluded his homily by encouraging Perth Catholics to welcome Christ into their lives, parishes and community. Photo: Max Hoh.
Bishop Sproxton also highlighted the joyful event that took place when a pagan woman offered hospitality to the Prophet Elisha.
"By allowing Christ to come into our heart and communities, we allow him to take the central place," Bishop Sproxton noted.
"Then the questions come about what and why I think this or that way about a person? Why do I react as I customarily do to this person? Can I believe that I can have a different attitude? Will I ever see that person as Christ, who comes to be the centre of the sanctuary of my heart?
"It is certainly risky to allow Christ to enter my home. But enter he must, if we are to share in Divine life," he continued.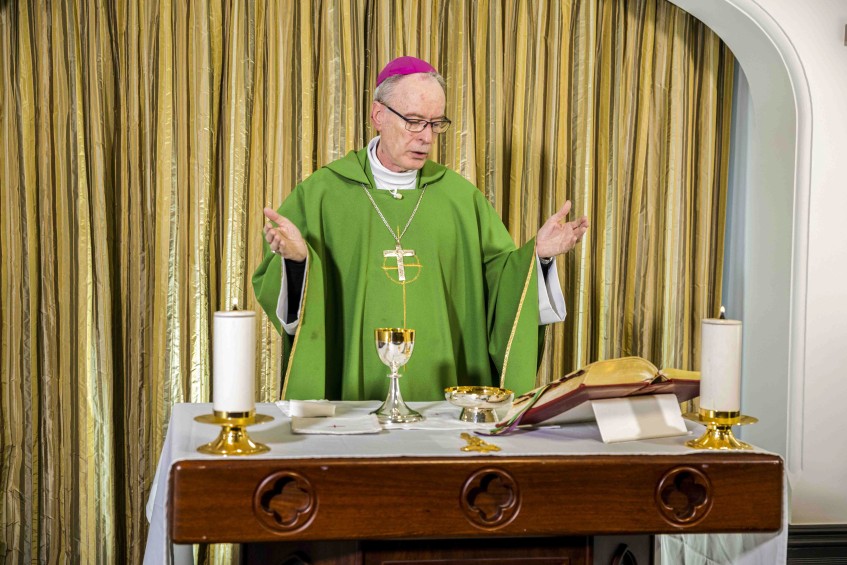 In his homily, Bishop Sproxton emphasised that Christian hospitality began when we start to see the person and not the problem. Photo: Max Hoh.
Concluding his homily, Bishop Sproxton spoke about the changes St Paul experienced at the moment he was called by the Lord to live a new way life: "as if he had been launched on the road to resurrection and complete restoration as a human".
"Changes in attitudes and actions are possible, and begin with Christ entering and taking hold of us," Bishop Sproxton affirmed.
"We then see that we begin to imitate service as Christ serves, self-giving like his, and love that is freed of fear and self-concern. Hospitality is a sign that the divine life is spreading throughout our being.
"Let it be a clear sign of our growing openness to others and of our parishes being welcoming communities of faith," he concluded.