Archdiocesan Safeguarding competition to launch next week
Perth Archbishop Timothy Costelloe SDB spoke at last year's Child Protection Breakfast on 5 September 2019 at Duxton Hotel. Photo: Josh Low.
By Theresia Titus
The Archdiocesan Safeguarding Office is set to launch its 2020 Child Protection Week competition for secondary school teenagers aged 12 to 18 next week.
The competition invites students to create a two-minute media clip drawing on the necessity of "putting children's needs first".
Speaking to The Record, Safeguarding Coordinator Barbara Blayney believed that the competition, which opens on Monday 20 July, showcases "the importance of hearing the voice of children and young people on how they can feel safe and loved".
Safeguarding Project Director Andrea Musulin at the 2019 Child Protection Breakfast, held at the Duxton Hotel. Photo: Josh Low.
"We are promoting and acknowledging the vast amount of knowledge children and young people have on what matters to them in relation to feeling safe, as well as that they should have a say in decisions that affect them – especially if it affects their wellbeing," Mrs Blayney said.
"We also hope to emphasise the importance of hearing the voices of children and young people and putting their needs first for them to develop well.
"By engaging with them on this important part of their lives, we as a Catholic community can support and empower them to thrive," she continued.
The Safeguarding Office, in consultation with Archbishop Timothy Costelloe SDB, will select the finalists, who will be notified before Tuesday 8 September to allow their peers and other students to cast a vote for the overall winner.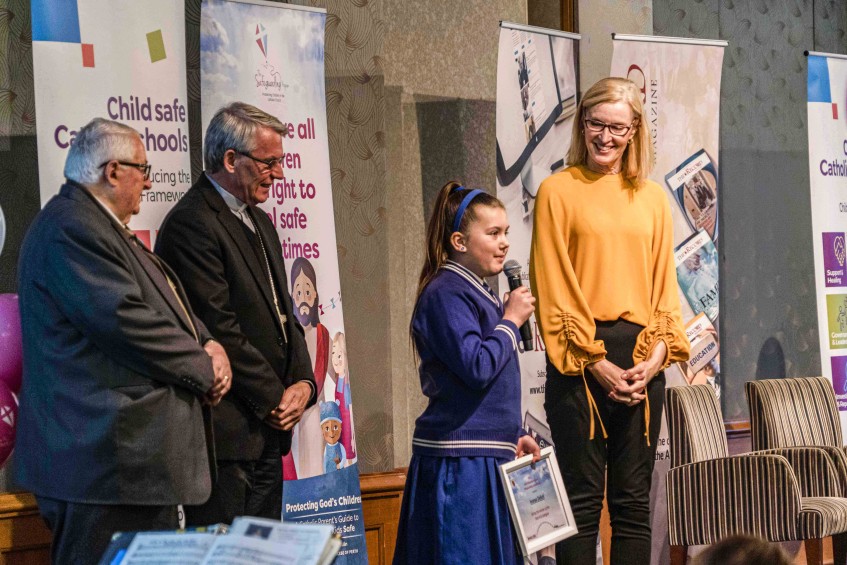 Our Lady of Lourdes Primary School Nollamara pupil Ivanya Delich won last year's safeguarding competition in the "Years 1 to 6" category during the annual Safeguarding Breakfast on 5 September 2019. Photo: Josh Low.
The overall winner, who will take home the first prize of $500 gift voucher, will be announced at the close of the 11am Child Protection Sunday Mass at St Mary's Cathedral on 13 September during Child Protection Week (CPW).
Child Protection Week, whichs runs from 6 to 13 September, is a significant part of the Archdiocesan Safeguarding Office and usually includes the Child Protection Week Breakfast, which has this year been cancelled in light of the COVID-19 pandemic.
In addition to competition, the Safeguarding Office will also launch a new storybook, written and dedicated for primary school children aged 4 to 11 on Sunday 13 September.
The Child Protection Week Competition opens on Monday 20 July and closes Friday 14 August. For more details and to download the entry forms, click here: www.perthcatholic.org.au/safeguarding