Dysphagia training provided for all Identitywa support staff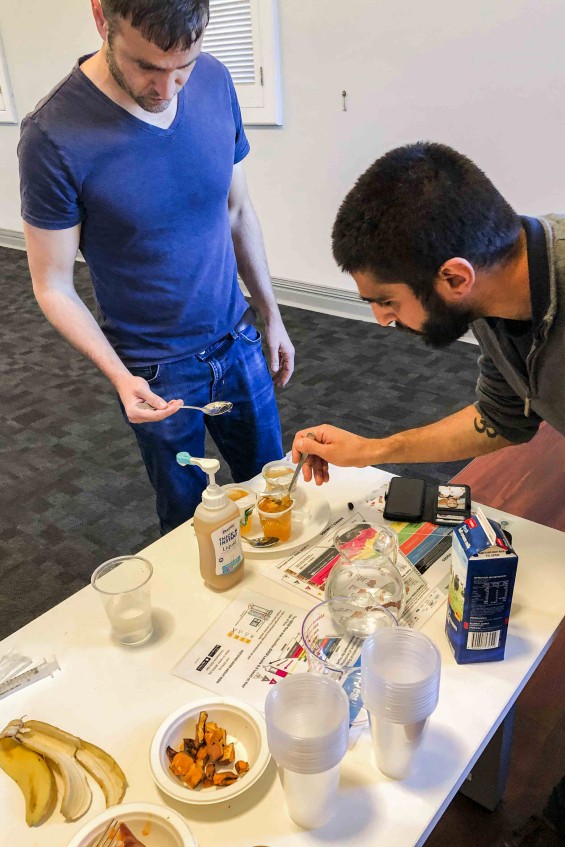 Kiya demonstrates varied consistencies to new support workers. Photo: Supplied.
Disability Support staff at Archdiocesan agency, Identitywa, are now undertaking training for Dysphagia.
Dysphagia, which means 'difficulty swallowing' refers to a wide range of issues and is common in people who have experienced a stroke, head and neck cancer, dementia, and Parkinson's disease.
It also has the potential to be life-threatening for many people with disability.
For all disability support workers at Identitywa, understanding the management of dysphagia is critical given the impact it can have on an individual's quality of life.
A mandatory online training module is now required to be completed by staff at Identitywa before they commence work.
Identitywa Speech Pathologist Kiya explained that the online module covered issues associated with dysphagia, including the different levels of consistency prescribed in order to minimise the risks at mealtime for the people they are supporting.
"New and existing staff are also required to complete face-to-face training at our Northbridge Office, which covers signs of dysphagia, strategies for mealtime management, texture modification under the new IDDSI protocol and, most importantly, the support worker's responsibilities and duty of care," Kiya said.
"The face-to- face training is really well received, providing practical, valuable experience with mixing and using different levels of textures and the chance to work through case studies which results in lots of questions and discussion," said Kiya.
"For those individuals we support who are at risk or have dysphagia we provide specialist training to the team supporting them individual training if there are any specific requirements of someone we support, and refresher courses too."
Interestingly, one of the major concerns outlined in a recent Disability Services Commissioners' review of aged care in Victoria, was that the most common cause of death were respiratory diseases (38 per cent) and, of these cases, aspiration pneumonia was the cause of death in 59 per cent of cases.
The Report can be accessed by Clicking Here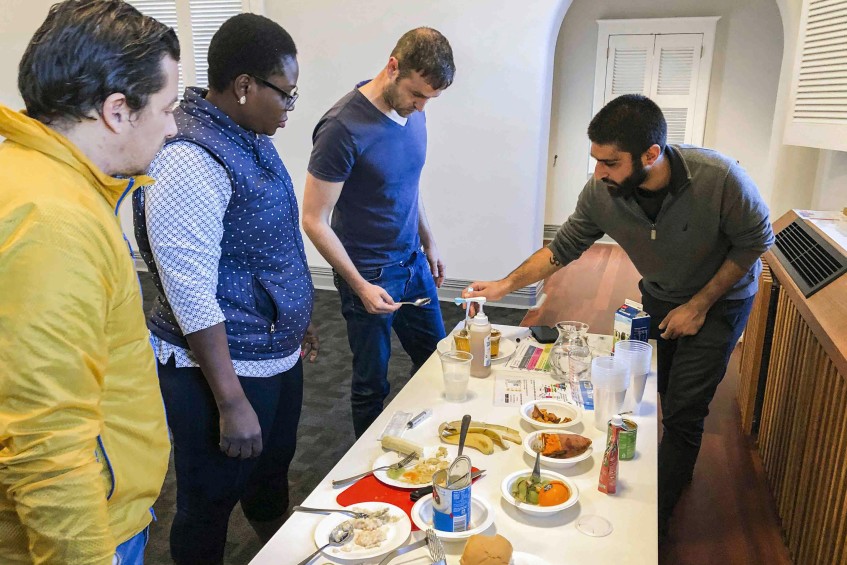 Kiya demonstrates varied consistencies to new support workers. Photo: Supplied.
In response, the National Disability Service is meeting regularly key stakeholders, including Speech Pathology Australia, to identify ways that people with disability receive the mealtime supports they need.
From 1 December 2020, the NDIS Quality and Safeguards Commission will commence operating in Western Australia, providing national consistency by 2021.
Identitywa's workforce have now all completed the Worker Orientation Module, which promotes an understanding of the role of the Commission and their roles and responsibilities under the Code of Conduct including: human rights, respect and risk.
What is Dysphagia?
Difficulty swallowing – People suffering from dysphagia will have difficulty eating and drinking certain foods and liquids. This may be due to several reasons. They may need extra assistance at mealtimes. Dysphagia can cause food and liquid to enter the lungs and can result in a lung infection called aspiration pneumonia. Aspiration pneumonia is a life-threatening condition.
Identitywa is one of WA's leading agencies supporting people with disability to live the life they choose. With a strong commitment to Person Centred Active Support, staff work in partnership with individuals to explore, plan and design support options to suit their individual needs.
For more information call 9474 3033 or got to www.identitywa.com.au
Clickhere to watch the video.