Free online music copyright workshop, among support offered by CFL during crisis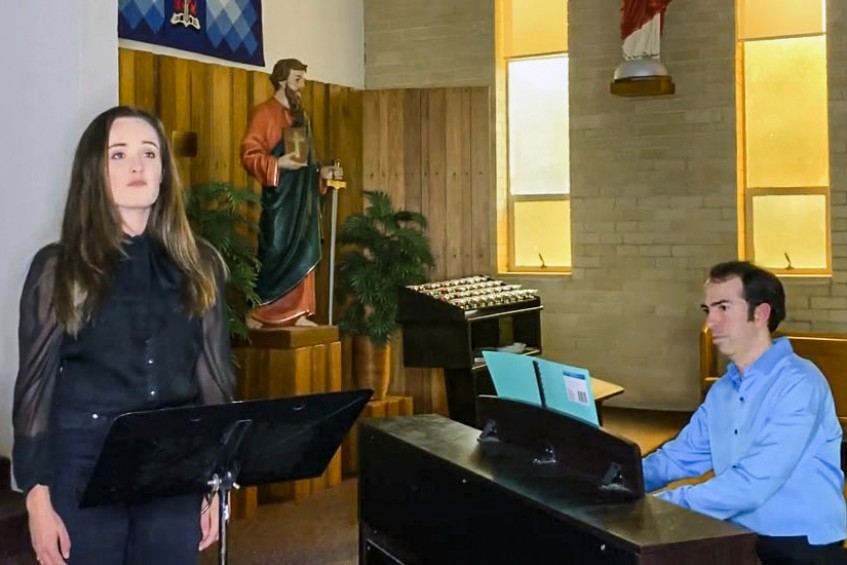 Archdiocesan Centre for Liturgy have provided the Catholic community with several resources to help them pray better during the COVID-19 crisis, including a rendition of Father Michael Joncas' new song Shelter Me. Photo: Supplied.
The Centre for Liturgy (CFL) will be hosting a free online workshop on Thursday 3 September to address and guide parishioners on the use of music copyright, especially for parishes that depend on livestream services, during this time.
For many parishes in Australia, the streaming of liturgies and parish activities was rare before COVID-19.
The imposed lockdown has since forced parishes and other Church bodies to find innovative ways to bring the liturgy and Church celebrations alike to housebound parishioners.
Once the government gave permission for Churches to conduct liturgies with up to 10 ministers, recording these services for real time streaming or later download, became the new way of doing things.
As such, the streaming and recording of liturgies raised new aspects of the issue of copyright, because copyright exists not only for printed materials but also for recorded audio and visual content as well.
This means that additional permission is required for the use of music that is under copyright, in a streamed liturgy.
Most parishes have registration with OneLicense or Christian Copyright Licensing International (CCLI) so that they can reproduce texts and/or melody lines of copyrighted liturgical music.
However, they do not own a streaming license.
As parishes grappled with this new technology, OneLicense then offered a gratis streaming license until mid-April, with the availability of an additional podcast or streaming licence, which can be purchased by parishes as an add-on to their existing print licence account.
Centre for Liturgy Music Field Officer, Alessio Loiacono, said that while some people think that copyright is unnecessary and just a money-making exercise, honest work deserves an honest wage.
"For those people who make a living out of composing music for the liturgy, these licence fees protect their creative works and their livelihood," he said.
Mr Loiacono explained some of the measures CFL have taken to "help people pray and enjoy God's message at home" include a catalogue of recordings produced by the CFL that mark and celebrate the feast days of the liturgical calendar.
"When it was no longer possible to gather for Mass, the Centre began to produce materials that people could use for their personal prayer," he cited.
"As part of this, we wrote hymn texts for the memorials and feasts that occur during the week. The texts were intended to be sung to well-known hymn tunes.
"In this way, we were able to avoid any problems that might have arisen from copyright laws," he added.
Mr Loiacono went on to state that the hymn texts are part of a package that includes information about the background to the day's memorial or feast, the Collect, the Gospel reading and the Communion antiphon from the Mass of the day and a reflection.
"The hymn texts draw on Scripture and the lives of the Saints they celebrate, and how their combined teachings can be applied to our everyday lives," he said.
"In August, the feasts and memorials that will be available include those for Saint Dominic, St John Vianney, St Mary of the Cross, St Pius X and the Assumption and the Queenship of the Blessed Virgin Mary."
Mr Loiacono also works with Chris deSilva, the CFL's Music Consultant, to write these hymn texts and together with Perth musician Eimear Foley, they have been making recordings of these hymns on a monthly basis.
The music scores and recordings are available from the Centre for Liturgy website for free download by following this link: http://liturgy.perthcatholic.org.au/feast-days/
As well as producing these recordings, Eimear and Alessio produced a video of a rendition of Father Michael Joncas' new song 'Shelter Me'.
This song is based on the Good Shepherd Psalm and was written in response to the COVID-19 pandemic in the hope that it would "help people get through the pandemic, [so] that they will have a sense that it is survivable and that God's presence is with us through it".
The video recording can be found on the Centre's website and has also been uploaded to the CFL's YouTube channel.
CFL Director Sister Kerry Willison RSM added that these recordings are part of the Centre's response to the COVID-19 pandemic, to help people to pray in their homes at times when it has not been possible to attend Mass.
People in parishes who have queries about copyright and liturgical music can contact Alessio at the Centre for Liturgy by email music.cfl@perthcatholic.org.au or telephone 9207 3350 on Mondays, Thursdays and Fridays.