Xavier follows his passion as Cathedral's new organ scholar
From left: Director of Music at St Mary's Cathedral Jacinta Jakovcevic, Cathedral Dean Fr Sean Fernandez, and new organ scholar Xavier Jarvis. Photo: Ron Tan.
Bassendean parishioner Xavier Jarvis is the new Organ Scholar at St Mary's Cathedral Parish after successfully securing a one-year scholarship grant.
Director of Music at St Mary's Cathedral Jacinta Jakovcevic said the audition process went differently compared to previous years as the church had to close because of the COVID-19 restrictions.
"We had to close the day before all the scholarship auditions were about to happen, and of course, we could not bring anyone here. So it was a scramble to get them organised," Ms Jakovcevic said.
"It was a unique [and challenging] experience, but I was very keen to keep going. It was an excellent pool of applicants and Xavier is the scholarship recipient."
Xavier told The eRecord it was both daunting and satisfying to debut and play the organ – which he always felt drawn to – at the 11am Sunday Mass on 20 September, celebrated by Cathedral Dean Father Sean Fernandez.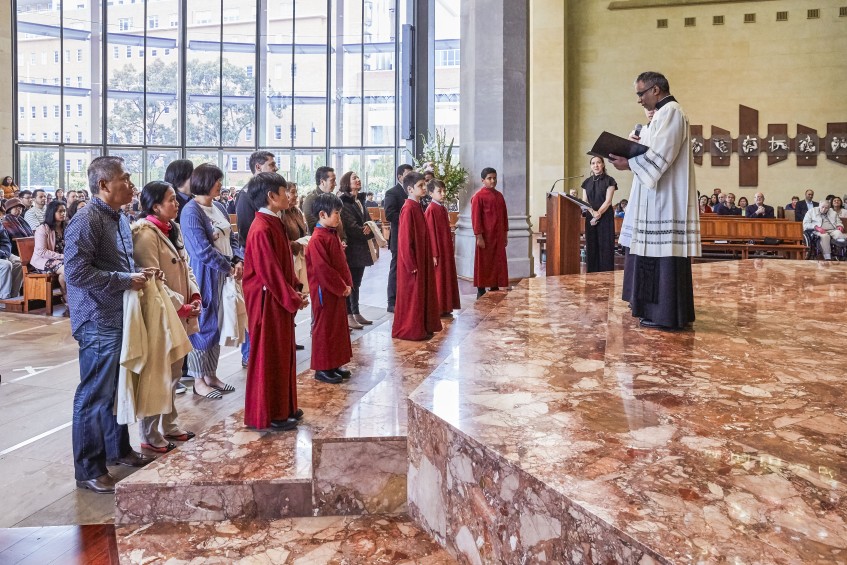 St Mary's Cathedral Dean Fr Sean Fernandez commissions new choristers at a Mass on 20 September. Photo: Ron Tan.
Six new choristers were also commissioned into the Cathedral Choir during the Mass.
"I was a timpanist at St Mary's Cathedral on a couple of occasions, which exposed me to the instrument. I fell in love with it and thought: 'I have to play that thing'!" he laughed.
"My friend, a chorister, told me about the organ scholarship and encouraged me to apply, and so when the time came to apply, I did."
Having been brought up Catholic, faith has always been a part of Xavier's life, who attended St Michael Catholic Primary School in Bassendean before continuing his education at Chisolm Catholic College.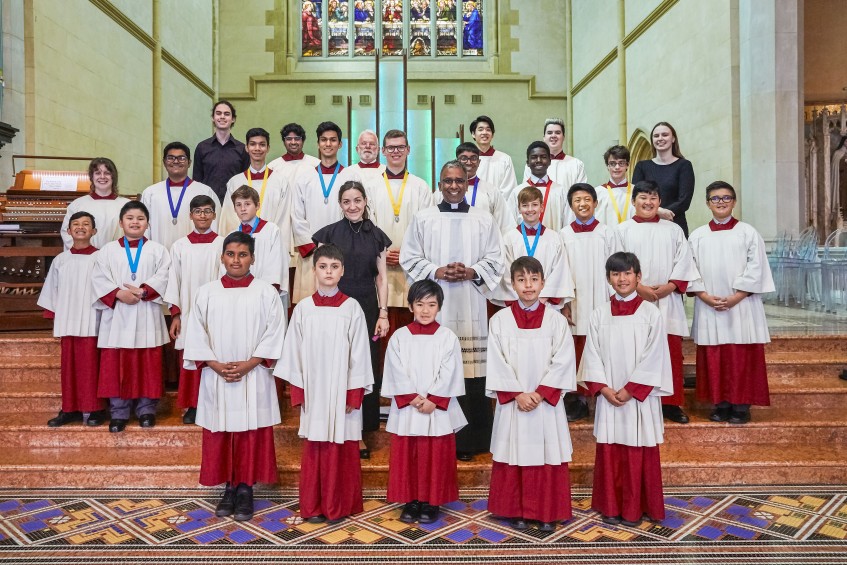 The 2020 St Mary's Cathedral choir and cantors pictured on 20 September 2020. Photo: Ron Tan.
Now a university student, Xavier is currently studying at the University of Western Australia (UWA), majoring in Music Studies and Philosophy.
His musical training, however, started from a young age of 6 when he first played the piano and undertook private lessons.
Xavier believes music is not a mere hobby, but a passion.
"I am not sure that "hobby" is the right word because that implies [music] as something you do casually. But, [to me], music is a very active thing; you do have to be deeply immersed in it, and give it a lot of your time and energy," he expressed.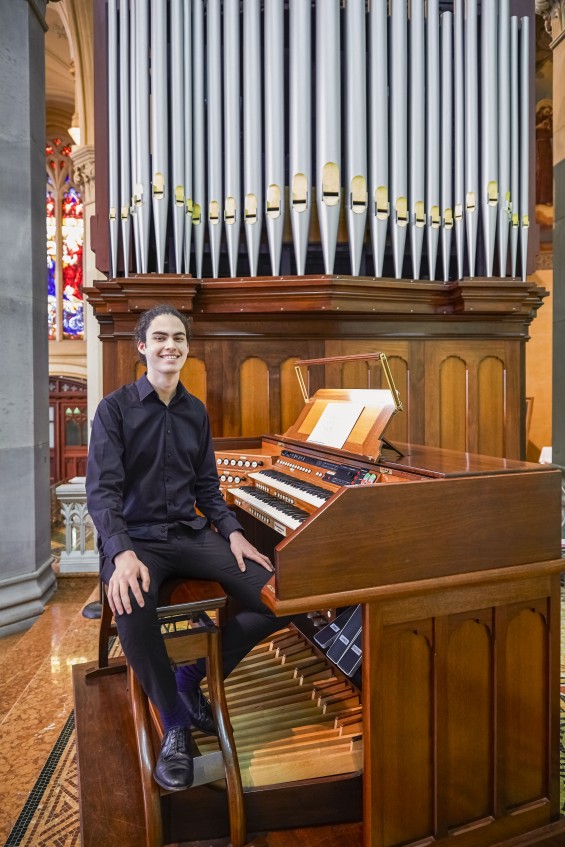 Xavier Jarvis, St Mary's Cathedral's new organ scholar pictured on Sunday 20 September. Photo: Ron Tan.
Xavier also mentioned that it is "a faith experience" to be able to play for the Mass at the Cathedral.
"It is good to be involved [and] integrated into the Mass," he added.
"I want to, first of all, assists people in their worship, and second of all, become a proficient organist. Those are my two hopes."
Speaking about his future, though he is an accomplished musician, becoming a lawyer is on his agenda.
"I am currently enrolled in the Juris Doctor (JD) course, which I will begin after finishing my undergraduate degree," he noted.
"I have got to study an undergraduate degree before my JD regardless, so I figured I might as well do something I am interested in, hence the music studies. I am also interested in philosophy, so I am doing that as well; it is working great so far."