CSPWA awards highlights vital relationship of parent-school-parish in Catholic Education
Our Lady of Mercy Church, Girrawheen Parish, was named recipient for the 'parish' category, at the CSPWA awards, held on 16 October at Crown Perth. Photo: Supplied.
By Amanda Murthy
Catholic School Parents Western Australia (CSPWA) acknowledged five categories of individuals, groups, and a parish, in appreciation of their significant contribution to work collaboratively with their schools and parishes to provide a Catholic education to help all children reach their full potential.
The CSPWA awards ceremony was held in conjunction with Catholic Education Western Australia's (CEWA) Catholic Schools Staff Breakfast on Friday 16 October at Crown Perth and included a host of special guests including Auxiliary Bishop Donald Sproxton, CSPWA President Catherine Howarth, CSPWA Executive Director Siobhan Allen, WA Minister for Education and Training the Hon Sue Ellery MLC, CEWA Executive Director Dr Debra Sayce, selected school staff, system leaders, and the award winners.
Previously known as the Parents and Friends Federation of Western Australia (PFFWA), CSPWA is the peak body representing and advocating on behalf of parents who choose a Catholic education for their children. Whether parents are part of a Parent and Friends Association, Parent Forum, Friends, or other types of parent group, CSPWA assists them in building positive school communities.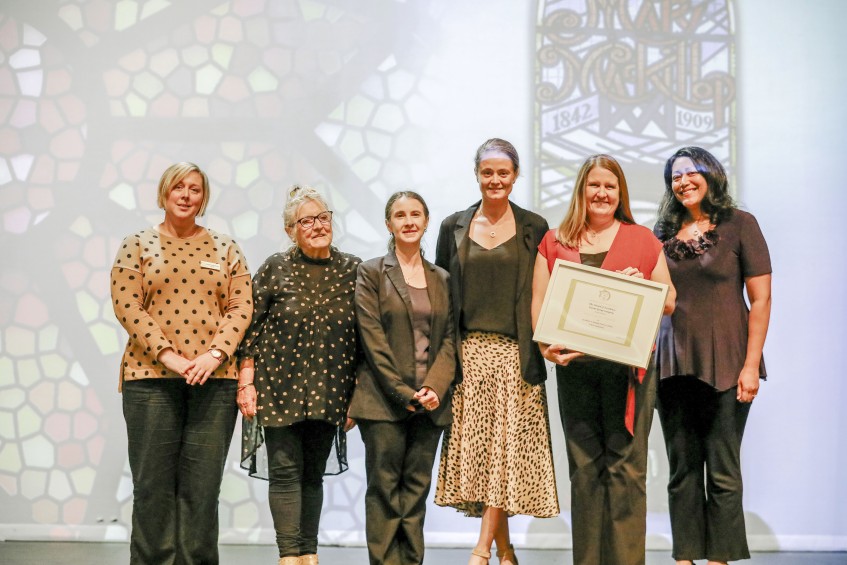 The Catholic School Parents Western Australia Parent Group winners Queen of Apostles Parent and Friends Association accept their CSPWA award at a formal ceremony on Friday 16 October at Crown Perth. Photo: Supplied.
Mrs Allen said CSPWA was grateful to CEWA for the opportunity to present the awards, at their event, adding that the group would usually present the winners, individually at their respective school assemblies.
"With many schools still not allowing parents on site, due to the COVID-19 restrictions still in place, CSPWA were unable to attend school assemblies to present the awards directly to the recipients and so were offered the opportunity to attend the Catholic Schools Staff Breakfast, and to present the awards as part of those celebrations," she cited.
"The staff breakfast acknowledged staff members who have served CEWA for 30 or 40 years.
"The event also included the presentation of the Quality Catholic Education awards celebrating school improvement that is Christ-centred and child-focussed," she added.
"This year CSPWA were delighted to be asked to be part of the morning's celebrations."
Mrs Allen went on to explain that this year, a new category named the "Agnes Weymouth" award, was added to the list of four categories.
"This award does not match the criteria of the previous four awards, in the sense that it acknowledges that any member of a Catholic school community can make a truly positive difference, whether that person works in administration, is a grounds-person or indeed a member of a team specific to that school," she said.
"The award is named after a much loved, long-standing member of CSPWA – Agnes has contributed to the organisation for over 32 years and was the first female president of CSPWA."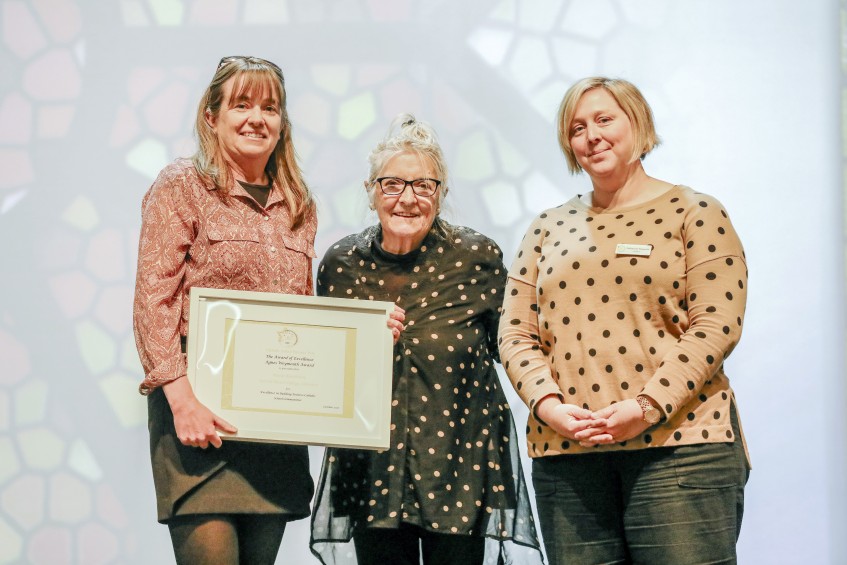 Marie Blackburn was named the winner of the Agnes Weymouth award. Presenting is Agnes (centre) with CSPWA President Catherine Howarth (right). Photo: Supplied.
The 2020 CSPWA award winners for are:
Parent Group – Queen of Apostles Parent and Friends Association, Riverton.
Individual Parent – Michelle McIntosh, St Paul's CPS, Karratha.
Principal – Gina Burns, Principal of St Paul's CPS, Karratha.
Parish – Our Lady of Mercy Parish, Girrawheen (accepted by Parish Priest Father Albert Saminedi).
Agnes Weymouth Award – Marie Blackburn, Head of Inclusion, Sacred Heart College Sorrento.
Mrs Allen added that all nominees this year met all the criteria required, making it that much harder to select a winner.
"The criteria's included individuals, groups or parishes that are; able to work collaboratively within the school community, promotes and affirms the work of the school, takes time to listen respectively to each other and to hear parent perspectives, facilitates good networking opportunities to build positive school communities and works collaboratively for the benefit of both school and parish," Mrs Allen said.
"In Catholic education, parents are considered an essential part of the educating community of a Catholic school, as the first and continuing educators of their child or children.
"We differentiate between opportunities for parents to be involved in the life of the school through volunteering and participation in governance and advisory bodies and opportunities for parents to be authentically engaged in the learning, wellbeing and development of their children," she concluded.
"CSPWA acknowledge the many years of research which points to significantly better outcomes for children and young people when parents are encouraged to be engaged in their children's learning and to work in true partnership with the school. The CSPWA Awards of Excellence celebrate the successes in this space."