Aboriginal and Torres Strait Islander cultural communities combine for annual celebration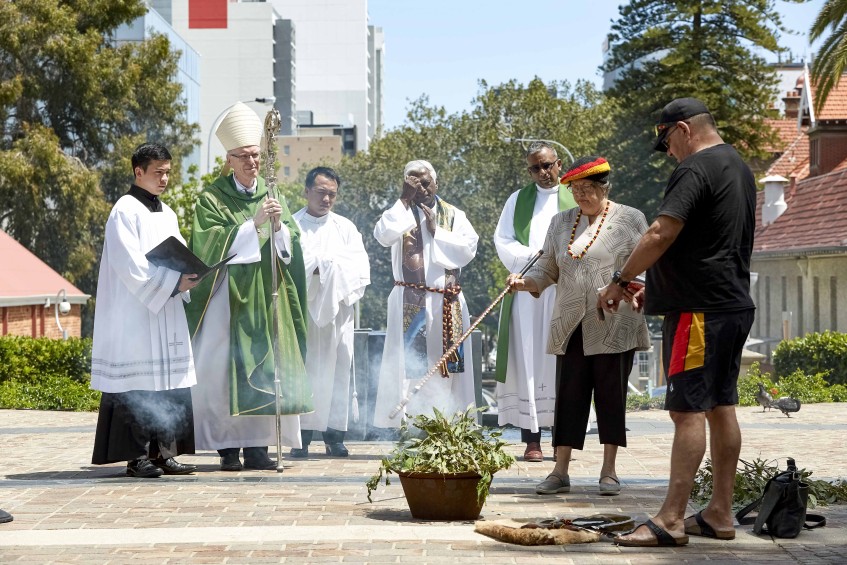 The traditional indigenous smoking ceremony, conducted in front of St Mary's Cathedral, before the Aboriginal and Torres Strait Islander Mass, wards off the warra wirrin (bad spirits) and welcomes God's blessing. Photo: Ron Tan.
By Eric Martin
The dry heat of Kambarang, Nyoongar Season of Birth, could be felt at St Mary's Cathedral last Sunday as members of Perth's indigenous and Catholic communities came together to acknowledge and celebrate the achievements of Aboriginal peoples and culture at the 2020 Aboriginal and Torres Strait Islander Mass.
Auxiliary Bishop Donald Sproxton celebrated the 25 October Mass, joined by concelebrants Cathedral Dean Fr Sean Fernandez and Aboriginal Catholic Ministry (ACM) Chaplain Fr Sebastian Fernando.
Some 26 indigenous students from Clontarf Aboriginal College and 14 students from St Brigid's College joined Elder Auntie Marie Taylor to conduct the traditional smoking ceremony in front of the Cathedral, before the Mass, warding off the warra wirrin (bad spirits) and welcoming God's blessing.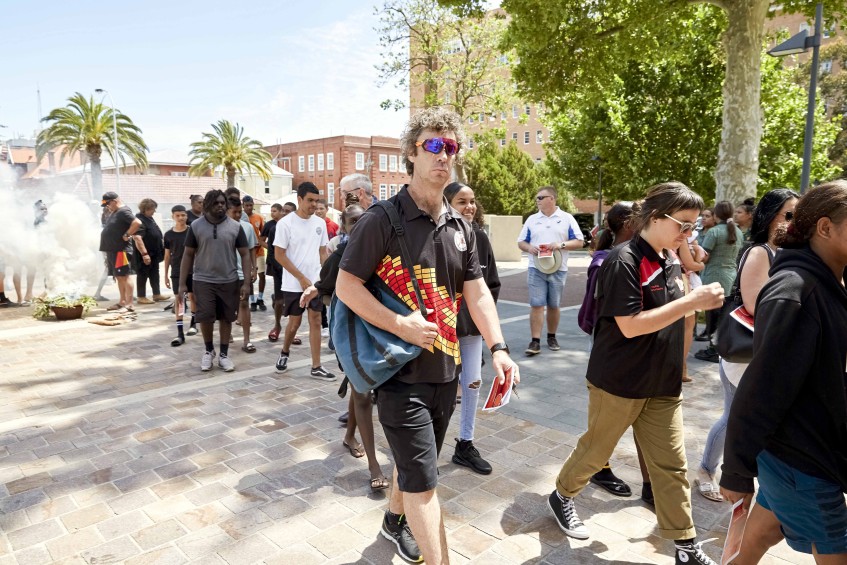 Indigenous students from Clontarf Aboriginal College pass through the blue gum leaf smoke as they enter the Mass, cleansed in mind, body and soul in preparation for the Eucharist. Photo: Ron Tan.
By passing through the blue smoke from the gum leaves as they entered the Mass, the assembled guests and parishioners were cleansed "mind, body and soul" in preparation for the Eucharist.
"It is a national day of celebrating, praying and in a way, pledging ourselves, all of us, to the path of reconciliation in this land," Bishop Sproxton said in welcome.
"We honour indigenous peoples and culture this particular day. This is a moment for us to celebrate and recognise one another as brothers and sisters."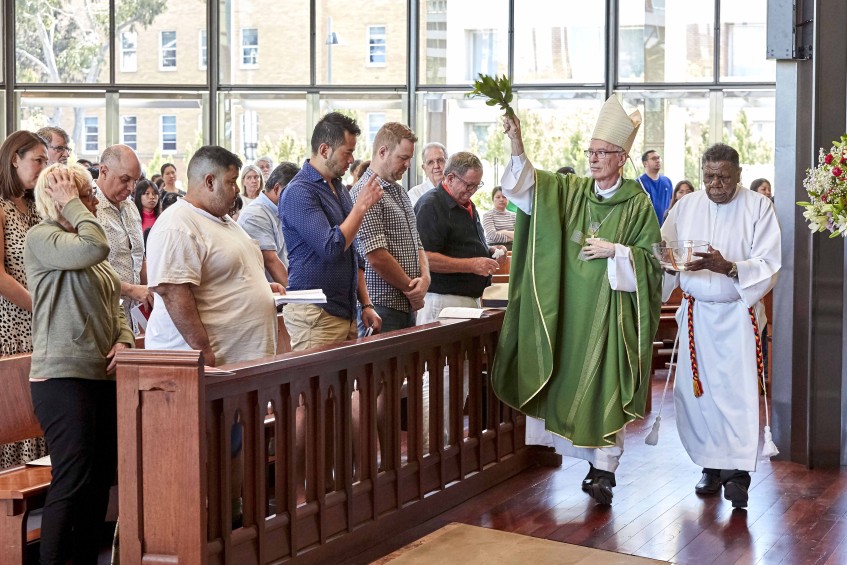 Auxiliary Bishop Donald Sproxton, accompanied by Aboriginal Catholic Ministry acolyte Reg Carnamah, blesses the congregation with holy water, sprinkled with a sprig of the same gum leaves used in the smoking ceremony. Photo: Ron Tan.
Bishop Sproxton highlighted that this fraternity is ordered by God, instigated at the moment of creation in Genesis, repeated in the Shema and consecrated in the New Testament by the Lord.
"We need to realise that if each of us is created in the image of God, then we truly are brothers and sisters of one another. We are, each of us, deserving of respect, because of that Spirit which we carry and because of that likeness which we have to Him."
ACM Director Donella Brown emphasised the importance of having Bishop Sproxton celebrate the Mass because he is the Chair of the Perth Archdiocese Reconciliation Action Plan Committee and is also on the Bishops' Commission for relations with Aboriginal and Torres Strait Islander Peoples.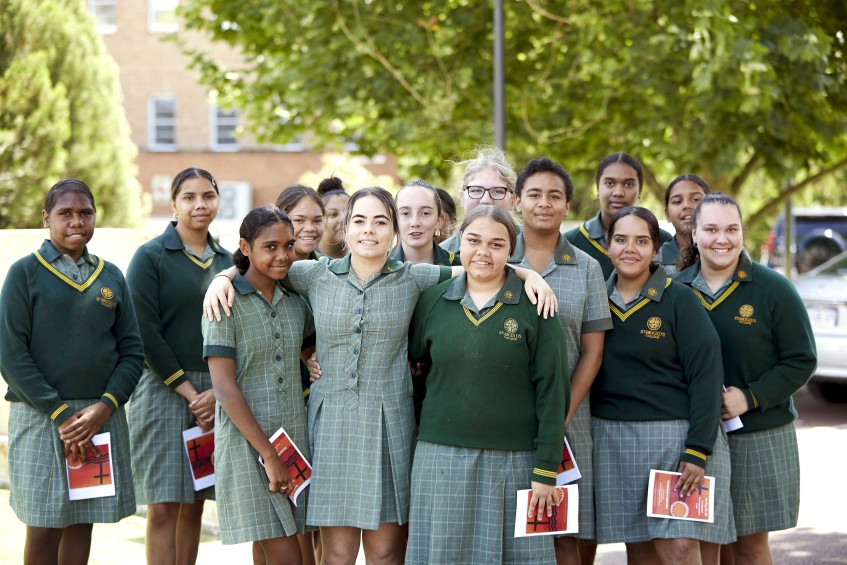 Schoolgirls of St Brigid's College were present for the Mass on Sunday 25 October 2020. Photo: Ron Tan.
This year, 2020, has been particularly challenging for the local community, with the ongoing effects of COVID-19 still limiting the number and intensity of ACM's activities.
"During COVID we were not able to do any pastoral visits to the hospitals for nearly four months," Ms Brown said.
"And though visits to Charles Gairdner and Fremantle Hospitals resumed in August, we are still waiting to resume visits to Royal Perth Hospital.
"We found that a number of our seniors in the community had missed getting together during the pandemic and after lockdown, they really welcomed the return of Pastoral visits from the team. It also was an opportunity to begin our 'Seniors on the Move' programme where we take the seniors on an outing each fortnight."
Perth's indigenous youths also suffered from the impact of COVID-19, with the Sacramental programme for students at Clontarf Aboriginal College put on hold for over a term.
"But we are pleased that one student was baptised, and two students received their First Holy Communion on 18 October," Ms Brown beamed.