The Shopfront opens new premises, delivering services with fairness and equity to everybody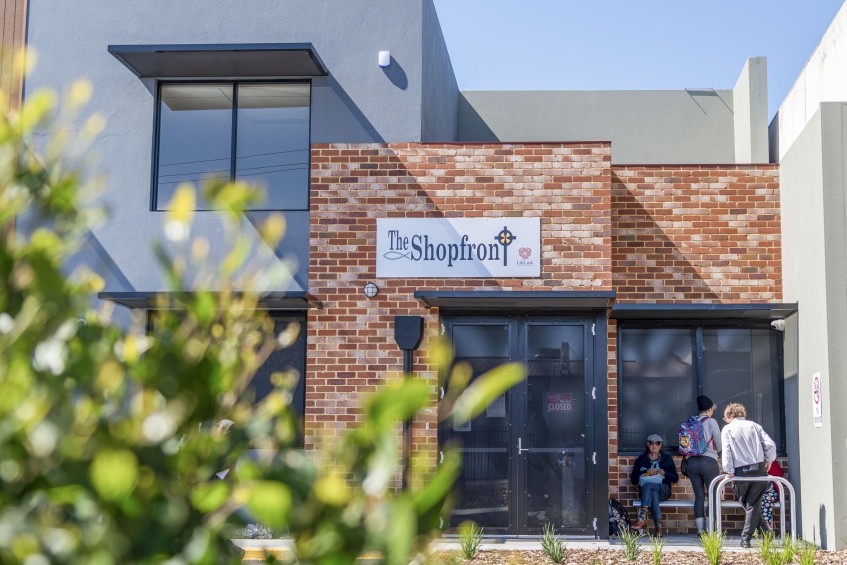 The Shopfront has new premises, 59 John St in Bentley, that were officially launched and blessed on 18 September. Photo: Max Hoh.
By Eric Martin
Friends and invited guests gathered last Friday at The Shopfront's new home, 59 John St in Bentley, just around the corner from Welshpool Train Station on the Armadale and Thornlie lines.
Archbishop Timothy Costelloe SDB was joined by his predecessor Emeritus Archbishop Barry Hickey, Mayor of Canning Patrick Hall, Archdiocese of Perth CEO Mr Greg Russo (in his role as Director of the Samaritan Project), Vicar for Social Outreach Mr Terry Wilson, and other dignitaries at 9.30am for the opening.
"We have quite a simple blessing ceremony here today to ask God's blessing on this new Shopfront venue and all who enter this place, but it's simplicity doesn't take away from its importance and significance to us as a community of disciples," Archbishop Costelloe said.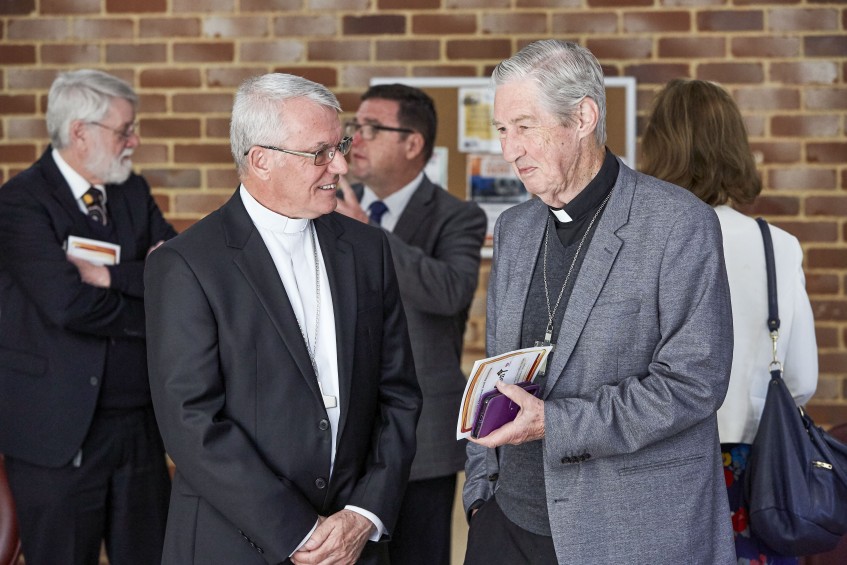 Current and former Archbishops of Perth, Timothy Costelloe and Barry Hickey, share a moment and a vision for effective social outreach to those in need – as personified in The Shopfront. Photo: Ron Tan.
"I'm really excited about this – we don't have as many Catholic Social Services here on this side of the [Swan] River – to have The Shopfront here, I think it's a real gift to the local community.
"As I think about The Shopfront and what it's done for the past 20 years, and now what it will continue to do, certainly with the old clientele but also with a whole new clientele here on the other side of town, it is really about recognising the dignity of people," the Perth Archbishop added.
"People come here as equals with those who are here to reach out to them."
The new building has a sick bay, two counselling rooms, a well-appointed commercial kitchen for preparing meals, and a generous food storage area where stockpiles of donated goods are kept in readiness for preparing food hampers for those in need.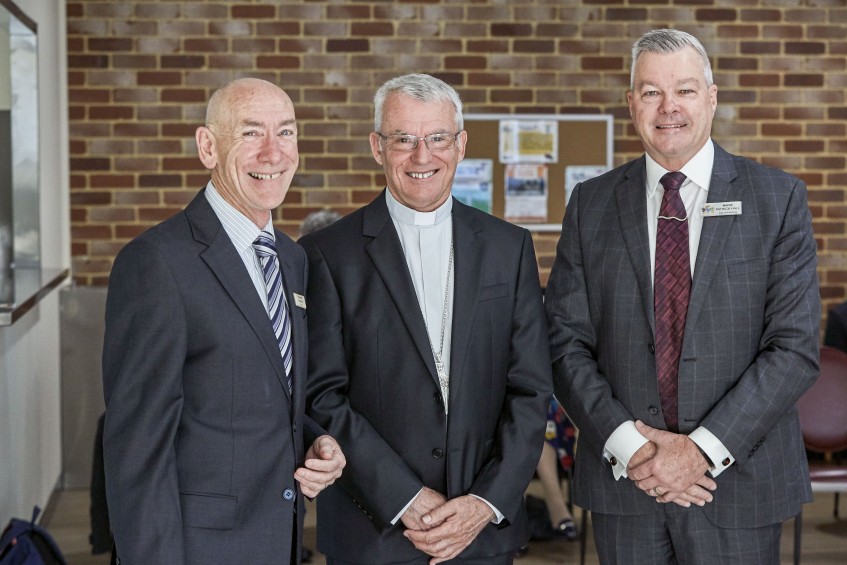 Shopfront Director Damian Walsh with Archbishop Timothy Costelloe SDB and Mayor of the City of Canning Patrick Hall. Photo: Ron Tan.
Not to mention a large, central meeting area and a swathe of new offices for The Shopfront's team to call home.
Damian Wallis, Chair of The Shopfront Management Committee, said it was fitting for the agency to move to a purpose-built facility on its 20th year.
"It's good to remember at this time the mission statement that preferences our mandate from the Archbishop Costelloe: 'to create a place where we respect the equal dignity of every person, to empower people in the Church to use their gifts and talents in the spirit of solidarity to assist those in need'.
"Over the years of my involvement in The Shopfront, I have been amazed by the sheer number of people that we have been able to assist with the modest resources that we have had to work with," Mr Wallis continued.
"Just last year, we assisted almost 6000 people at Shopfront, with over 20,000 visits – that's an incredible feat by such a small organisation."
Mr Wallis shared that the secret to The Shopfront's ability to be able to freely help those in need – with an open and generous heart – has been the dedication of its people, both volunteers and staff.
"Over the years we have had numerous volunteers provide hospitality to the many visitors: they have provided teas and coffees, a willing ear to listen, made thousands of meals, organised hampers, stood at the door to welcome guests in rain and shine and much, much more," Mr Wallis said.
"While it goes without saying that this new facility is welcomed by all of us here, it is our dedicated staff and dedicated volunteers and our visitors who are at the very heart of The Shopfront. Without them, The Shopfront cease to exist and have meaning."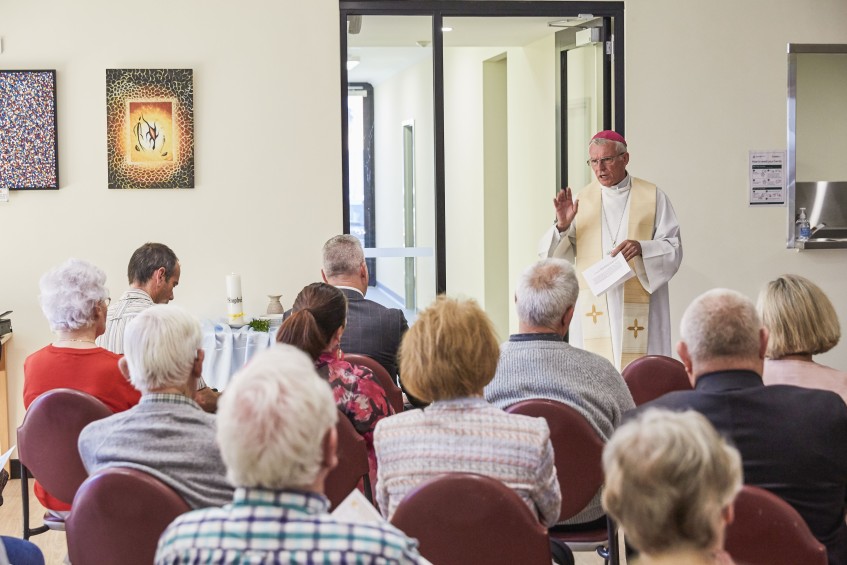 The Shopfront Director Damian Walsh said he was thrilled with the new premises and the opportunity that it represented to some 70 to 80 guests who currently visit each day, with the facilities more than capable of catering to pre-coronavirus numbers.
"The Shopfront continues to be a place run by ordinary parish volunteers, genuinely wishing to help those people in need in the spirit of solidarity," Mr Walsh said with pride.
At the beginning of 2020, The Shopfront was catering to some 140 guests daily. Now with the new location being significantly closer to public transport, Mr Walsh expects the organisation to see a steady increase in numbers as word gets out to those experiencing significant hardship within the Canning community.
Patrick Hall, Canning Mayor and a practicing Catholic, spoke to The eRecord at the event about the challenges of dealing with issues of homelessness specific to the City.
"As a City Counsellor, how do you deliver services with fairness and equity to everybody? And the answer, is that's a very complex issue," Mr Hall said.
"It's a really hard sector of the community to track, because its transient for a start, but just trying to find that data… You rely on people like myself and others at the grassroots level of the community to give an indication of whether there is an issue.
"As such, it's an absolute pleasure to be invited here today."