QCE launched on the road for Leaders' Forum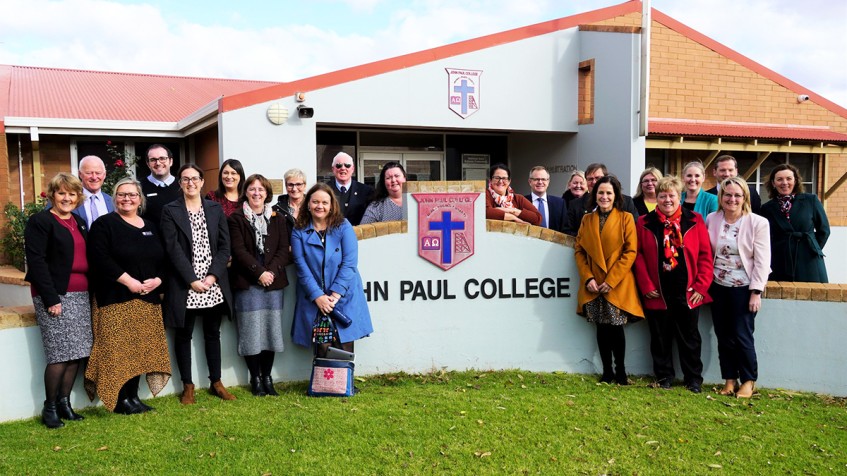 John Paul College in Kalgoorlie hosted the first of 10 Leaders' Forum Roadshow stops in August 2021. Photo: CEWA.
Following the success of the 2020 Catholic Education Leaders' Forum Roadshow held at Catholic schools across WA, the 2021 roadshow kicked off earlier this month.
John Paul College in Kalgoorlie hosted the first of 10 Leaders' Forum Roadshow stops, with principals and school leaders from the Goldfields region meeting together with members of the CEWA Executive Team and system leaders; the regional format is again providing opportunities for leaders to collaborate in more localised school network contexts.
Central to the agenda for all Leaders' Forum Roadshow meetings is the official launch of the Quality Catholic Education (QCE) guiding document.
For many forum participants, QCE is familiar – the whole-of-system strategy has been developed with a wide range of collaboration and feedback, and it brings to fruition discussions from the last few years' Leaders' Forums.
"Quality Catholic Education will sit together with the Bishops' Mandate, our Strategic Directions, Vision for Learning and other guiding resources, and help us achieve our aim of delivering excellent education that is Christ-centred and child-focused," said CEWA Executive Director, Dr Debra Sayce in her opening address.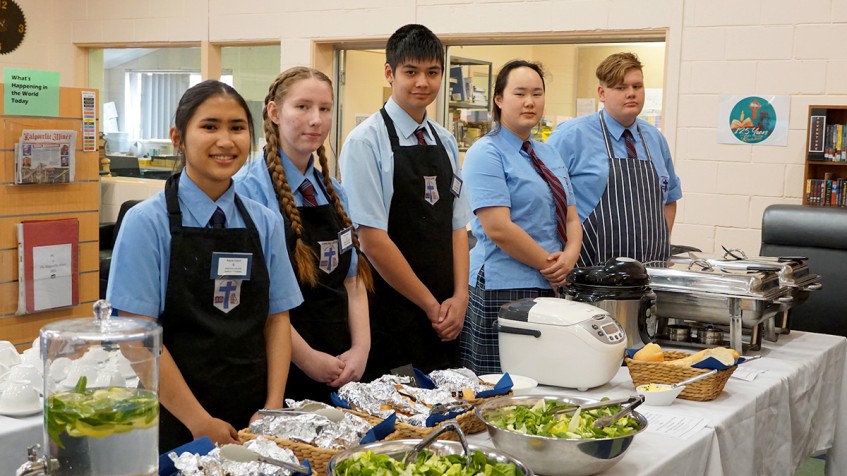 CEWA's Leaders' Forum is held twice-yearly but was cancelled last year for the first time because of COVID-19. Photo: CEWA.
"There has been significant work from the Senior Leaders' Group in the Catholic Education Office, with input from Catholic primary and secondary Principal associations, to continue this vital work, where we can all contribute with empathy for context and through our connected autonomy".
"Connected autonomy is today more important than ever, inspiring us to move forward with best practice approaches to the governance and administration of the system, focused on inspiring Christ-centred leaders, Catholic schools of excellence, Catholic pastoral communities and an accessible, affordable and sustainable system of schools," Dr Sayce said.
Forum participants also heard from Canadian education researcher, Professor Michael Fullan on connected autonomy in the CEWA system via a video message.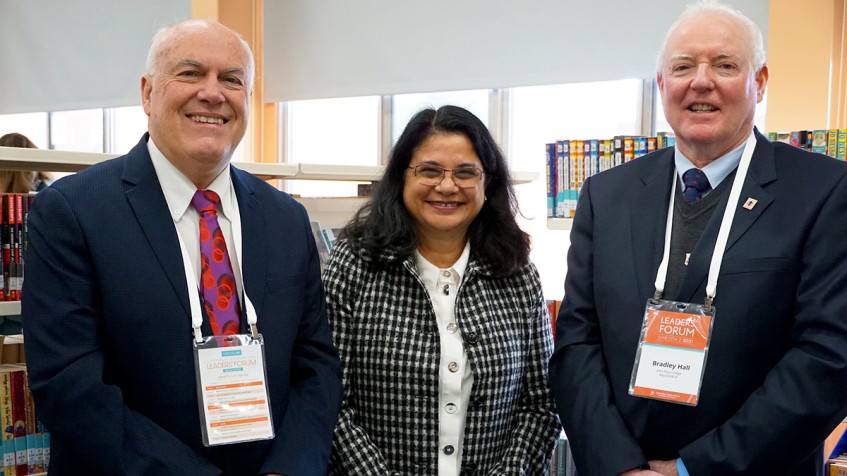 From left: CEWA Deputy Executive Director Wayne Bull, CEWA Executive Director Debra Sayce, and John Paul College Kalgoorlie Principal Bradley Hall. Photo: CEWA.
Also on the agenda, and closely aligned to the QCE launch, is direction for schools to support the transition to the system's new policy environment and, following a commitment made at last year's Leaders' Forum Roadshow, the introduction of the new CEWA Leadership Framework, Everyone Leads, and Wellbeing Strategic Framework.
After John Paul College, the roadshow travels across the Perth metropolitan area to Orana Catholic Primary School, Chisholm Catholic College, CBC Fremantle, Salvado Catholic College, Whitford Catholic Primary School, Aranmore Catholic Primary School, and in the regions to Bunbury Catholic College, St Luke's College in Karratha and St Mary's College in Broome.
CEWA's Leaders' Forum is held twice-yearly but was cancelled last year for the first time because of COVID-19.
CEWA Executive Director Debra Sayce, in her start-of-term message, stated why the Leaders' Forum is returning as a roadshow in Semester Two.
"In the early weeks of term, the Leaders' Forum Roadshow will be held in 10 different locations across the state, bringing together principals, school leadership team members, and CEWA office leaders," she said.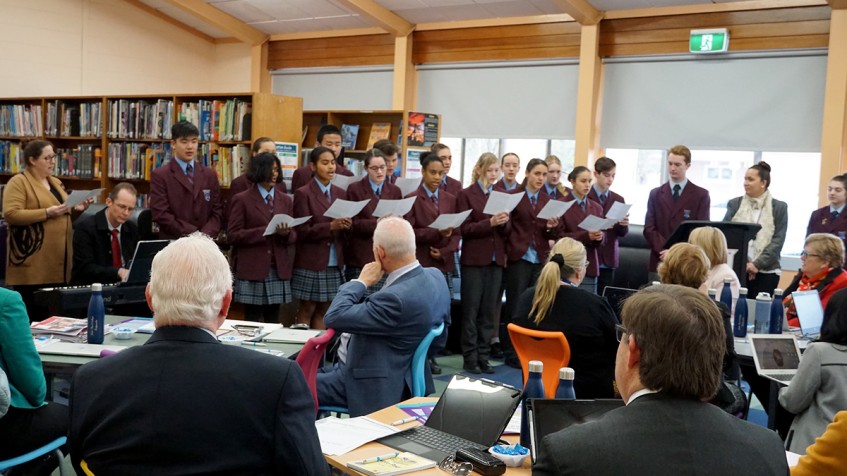 The Catholic Education WA Semester 2 Leaders' Forum roadshow held at Bunbury Catholic College on Thursday, 5 August. Photo: CEWA.
"This series of meetings is part of the ongoing conversation that is Leaders' Forum, where leaders from each school community have the opportunity to be involved in the development of strategies, policies and frameworks that guide the direction of Catholic education in WA.
"Last year, COVID-19 precautions necessitated the roadshow format in Term Three, with smaller groups meeting locally, rather than traveling to gather at one large event in Perth," Dr Sayce continued.
"This format also enabled participants to focus in greater detail on the local context, and I am looking forward to hearing about what has come out of each of the ten roadshow events this year."