Religious educators and leaders in Catholic schools encouraged to apply for KSC Foundation Inc scholarship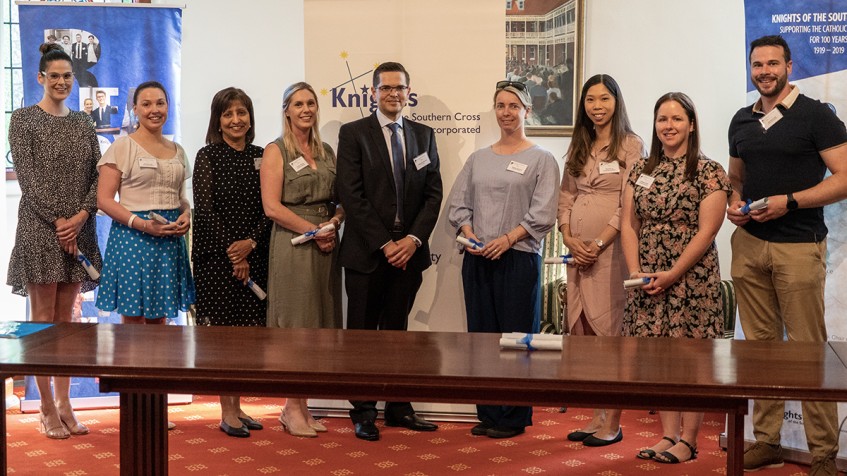 A group photo of the KSC Education Foundation Inc scholarship recipients for 2020. This year's applications are open on 30 August and close on 3 November. Photo: Matthew Lau.
By Amanda Murthy
Upholding their mission to serve the community and support those in need, the Knights of the Southern Cross Education Foundation Inc are once again extending their arms to offer at least 50 scholarships to help in upskilling Catholic education teachers and leaders to meet the urgent and growing need to provide quality Religious Education in the Catholic school system.
Applications open on 30 August and close on 3 November – and the scholarship offers full payment for religious education and leadership units offered at the University of Notre Dame Australia.
The history of the scholarship dates to 1990, when former Perth Archbishop William Foley, made an appeal to the members of the Order of the Knights of the Southern Cross Western Australia (KSCWA), which led to the establishment of a Trust on 25 March 1992.
Last year, more than 50 recipients benefitted from the scholarships which amounted to approximately $3,000 per person.
KSC Education Foundation Inc Secretary, Brad Page, emphasised the importance of having teachers and religious educators equipped with the knowledge of Catholic religious education in the WA school's system.
"The Catholic Education is more than just academia, it's about the transmission and facilitation of our Catholic culture.
"Good Catholic religious education teachers and leaders who are practicing and rooted in the faith are vital for this to occur," Mr Page said.
"For the past 26 years, the number of teachers of religious education in the Catholic Education system in Western Australia, supported by the Foundation, has reached almost 1000 with an accumulative value of almost 2.2 million dollars.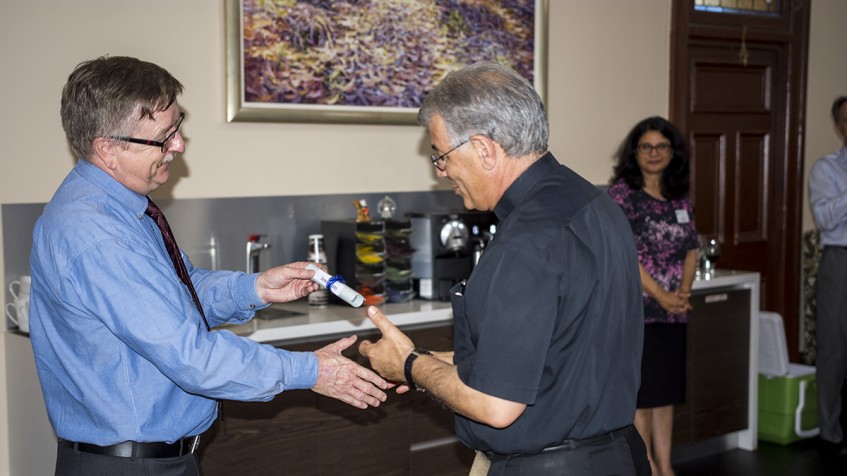 The KSC Education Foundation Inc scholarship encourages religious educators and teachers to apply, with the aim of supporting the urgent and growing need to provide qualified teachers of Religious Education in the Catholic school system. Photo: The Record.
"We see our contribution as vital and hope to encourage and support the growing network and need for Catholic Education and Catholic Culture in WA," he added.
At last year's presentation ceremony, KSC Education Foundation Inc Chair, Wojciech Grzech, expressed his hope that the beneficiaries will continue to strive towards the vision of the Catholic Church and, as teachers and leaders, remain faithful to their role of bringing about the Church's mission.
Along with that message, Mr Grzech pledged the education foundation's multi-year financial support for UNDA's 'In Altum' Leadership and Ministry project - a year-long volunteer, leadership development, and faith formation programme led by Campus Ministry designed to help UNDA students to develop spiritually, to identify their own passions and gifts, and to serve the Church in a meaningful way.
"Despite supporting teaching and giving witness to our faith in our Catholic schools for as long as we have, it is very clear that there remains much for the Foundation to do," Mr Grzech concluded.