CNY '21: Chinese Catholics welcome Ox-picious Lunar New Year
By Matthew Lau

The Perth Catholic Chinese Community assembled for its annual Lunar New Year Mass celebration on 21 February 2021 at St Pius X Church, Manning Parish. Photo: Matthew Lau.
The cleansing baptismal waters of life symbolises freedom from sin and welcomes us into the Christ-centred community of faith, Perth Archbishop Timothy Costelloe SDB said in reflection of the First Sunday of Lent and the Chinese Lunar New Year Mass.
The Perth Catholic Chinese Community (PCCC) hosted its festivities for the Year of the Ox at St Pius X Catholic Church, Manning Parish, on Sunday 21 February.
In the Chinese zodiac, Oxen are diligent and methodical – meaning 2021 will be a rewarding year for those who make a considerable effort.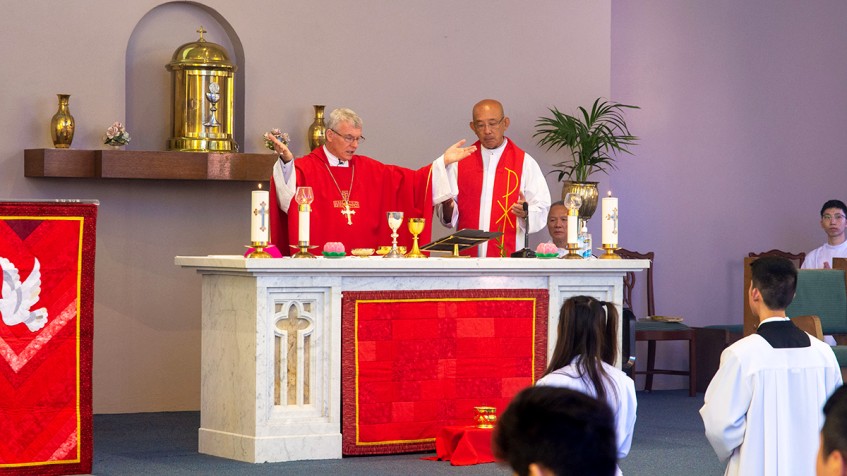 Archbishop Timothy Costelloe SDB and Manning Parish Priest Fr Patrick Lim celebrated the CNY Mass for 2021 on Sunday 21 February. Photo: Matthew Lau.
Archbishop Costelloe celebrated the 2021 CNY Mass, joined by PCCC chaplain Father Patrick Lim as his concelebrant.
In his homily for the auspicious occasion, Archbishop Costelloe spoke about how the beginning of a new year and the beginning of Lent were opportunities to "turn our minds and hearts to God".
"The main focus of the Gospel [Mk 1:12-15] is the beginning of the public ministry of Jesus – a ministry of preaching, teaching, and healing. At the heart of this ministry is the call of Jesus to repent – that is, to turn away from our sinful and selfish ways, and to believe in the Good News," he began.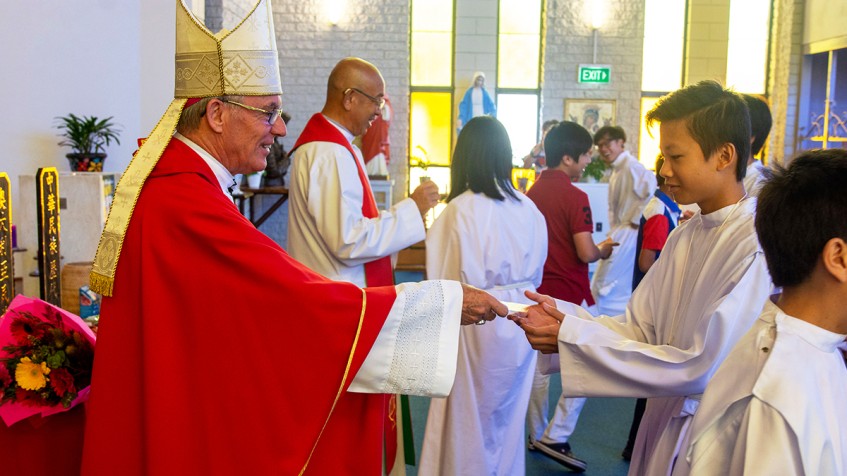 Young PCCC members receive hóngbāo (red envelopes of money) from Archbishop Costelloe and Father Lim. Photo: Matthew Lau.
"The Good News, of course, is Jesus himself who comes among us as one of us in order to reveal to us the depth of the love and mercy of God and to invite us to welcome that love and that mercy with great hope and with trusting faith.
"In the first reading, when God promises that never again will His people be destroyed by the flood, He reveals Himself to His people as a God of life rather than of death," Archbishop Costelloe explained.
"In the second reading, Saint Peter reminds us that, like the people in Noah's time, we too were buried by the waters. But this time, they were waters of life rather than of death because in our baptism, when the water poured over us, we were freed from sin and welcomed into the community of faith in Christ.
"And in the Gospel, Jesus himself tells us that the time has come and the Good News of salvation, of life, is now made known to everyone."
The Perth Archbishop prayed that this New Year and holy time of preparation for Easter would help the faithful remember that as disciples of Jesus, united together in him, "we too are called to be people of life, of hope, and of love".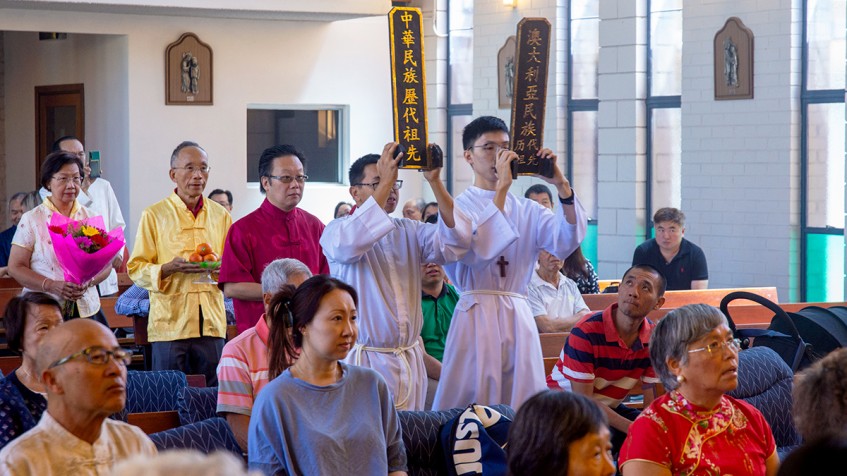 Many parishioners wore red attire for the Lunar New Year Mass, which indicates happiness, passion, hope, vitality, and good luck. Red is the most famous cultural colour because Chinese folk believe this colour will bring good fortune and scare away evil spirits. Photo: Matthew Lau.
Cynthia Lo, PCCC's commentator for the 21 February Mass, said the COVID-19 pandemic appeared to slightly dampen this year's festive spirit due to social distancing awareness and the committee's decision to hold off the traditional lion dance spectacle.
"The Year of the Ox represents nourishment and healing; this is what we need to sustain ourselves and to recover from a year living under the shadow of the pandemic," she told The eRecord.
"Nevertheless, as we experience in our faith, God always work in all things through His miraculous ways.
"Hence, quite different from past years, we had a surprise CNY song and dance performance totally initiated and organised by our youths. This is indeed a promising sign of hope for a brighter tomorrow – praise be to God!" Mrs Lo concluded.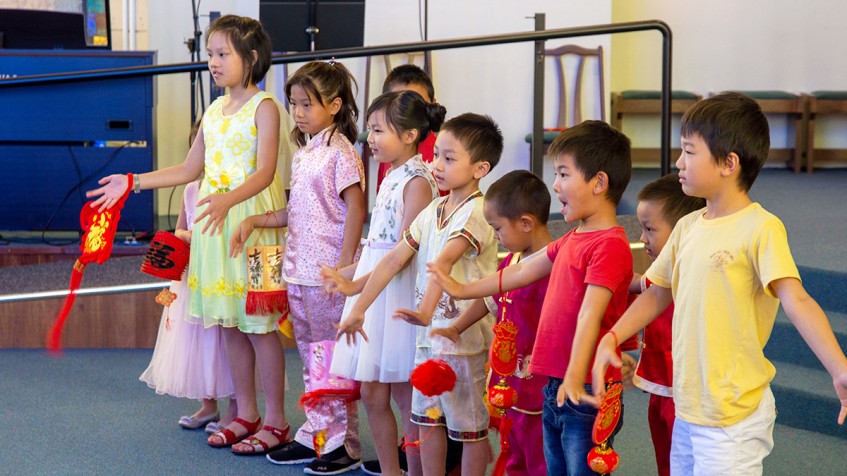 Quest Youth Manning performed a Chinese dance after Mass to entertain the congregation on 21 February. Photo: Matthew Lau.
Before ending with the final blessing dismissal, Archbishop Costelloe handed out monetary gifts packaged in red envelopes (hóngbāo) to the children of the congregation as a symbol of good luck and prosperity.
The community gathered in the Manning Parish hall after Mass for a Chinese luncheon with acceptable hygiene practices and social distancing measures adhered to.