Bateman Parish marks Fr Phong's 20th priestly year with Apostolic Blessing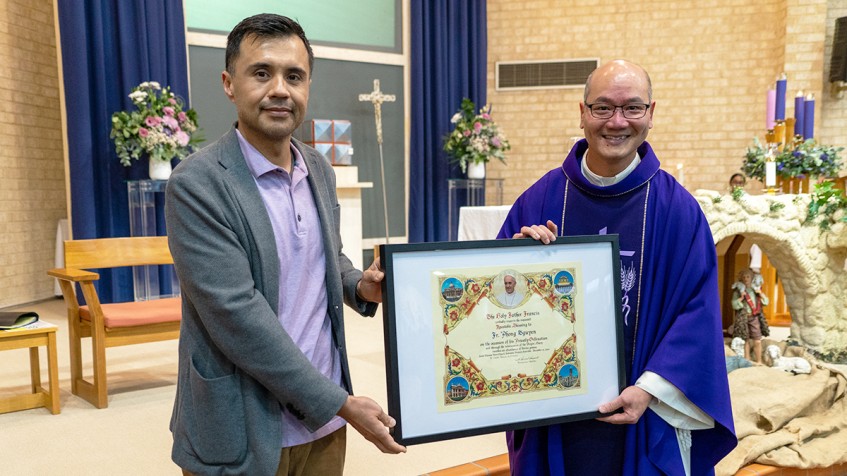 Former Bateman Support of Clergy Subcommittee member Amador Vargas Jr presents Fr Phong Nguyen with his Apostolic Blessing on behalf of the parish community on Sunday 6 December. Photo: Matthew Lau.
The Bateman Parish community has last month gifted its Parish Priest with an Apostolic Blessing requested from the Papal Charities Office in Vatican City for the occasion of Father Phong Nguyen's 20th priestly anniversary.
Hundreds congregated at St Thomas More Church in Bateman for the Sunday evening Mass on 6 December 2020 to mark the occasion.
In his Vote of Thanks, Fr Phong expressed his sincere appreciation to his parish community for all the prayers, well wishes, and gifts he received.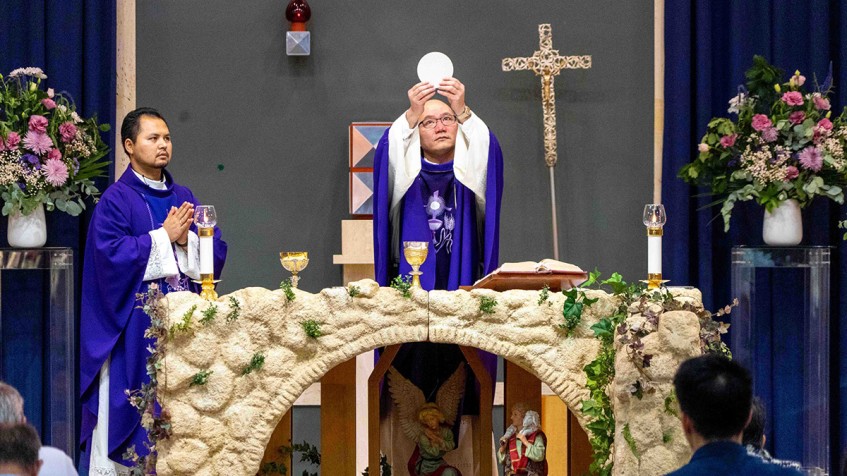 Bateman Parish Priest Fr Phong Nguyen celebrated evening Mass on 6 December 2020, joined by Assistant Priest Fr Simeon San as his concelebrant. Photo: Matthew Lau.
"As I look back on my years of ministry to the people at various parish communities, there is so much for me to reflect on what it means to be constantly called, to follow in the footsteps of Christ, and thank God for everything that He has done for me, for humanity, not only over the past year, but throughout my life," he began.
"To be with God in prayer, to be developed as one well-balanced person, be formed in such a way so that I could be a suitable candidate for Ordination to the Priesthood, and be willing to open my heart and mind so that I could continue to be moulded by God, even after ordination, I have certainly experienced the closeness of God."
Fr Phong then reflected further on his years of discernment at St Charles' Seminary.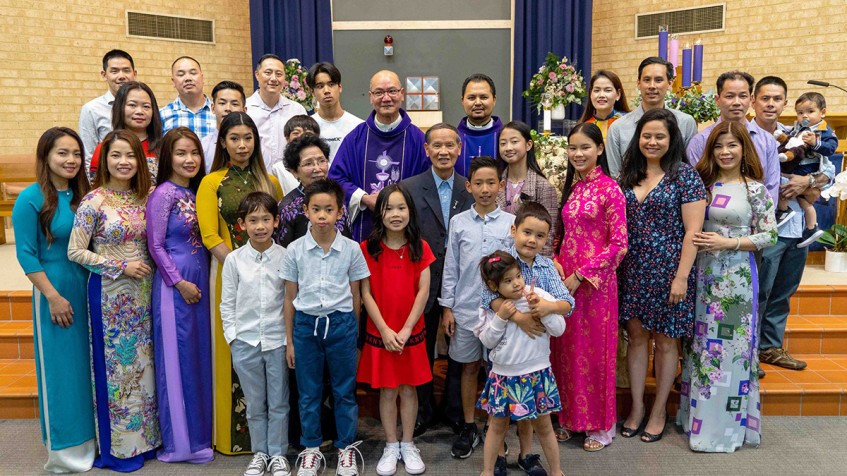 Father Phong Nguyen was joined by his parents, siblings, nieces, nephews, and other relatives for his 20th sacerdotal anniversary celebration on 6 December. Photo: Matthew Lau.
"I still remember one of the seminary formators said to one young man that at certain times in your life, you need to step out of your comfort zone to grow and be moulded into the person that God wants you to be.
"Apart from our pastoral work and ministry, there is our own spiritual life – it is vital for me and it is significant for you and for all of us always to be connected with God simply because we all need the divine guidance from the Lord Jesus. We all want to have that sense of connection with the scriptures, no matter what type of vocation or walks of life we have chosen.
"Let us express our gratitude to God for the gift of ministerial trees [priesthood]. We pray today that the Lord of the harvest will send labourers to his campus [harvest] so that our young people may respond generously to the call," Fr Phong concluded.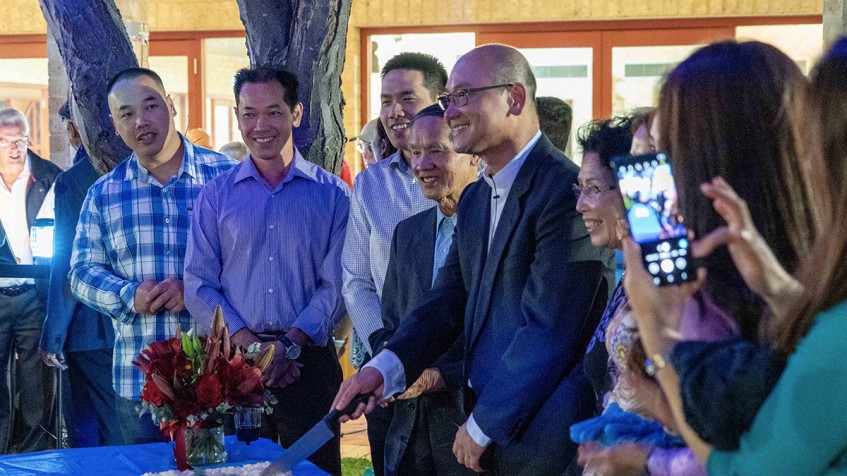 Bateman Parish Priest Fr Phong Nguyen cuts his 20th priestly anniversary cake, flanked by his parents and siblings. Photo: Matthew Lau.