Property advisor honoured with Apostolic Blessing for services to the Church community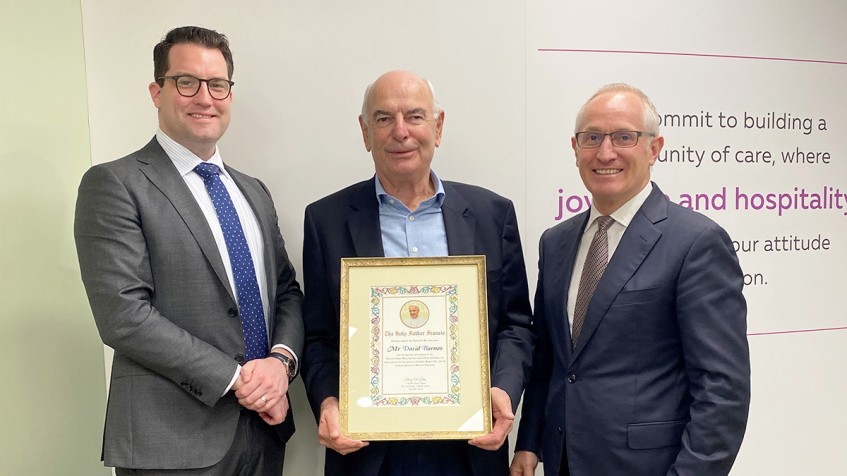 David Barnao (centre) is presented with an Apostolic Blessing by Office of the Archbishop Executive Director Daniel Lynch (left) and Catholic Homes Chairperson John Ogilvie (right) at Mr Barnao's final Catholic Homes board meeting on 7 July 2021. Photo: Supplied.
By Matthew Lau
David Anthony Barnao, Principal of David Barnao & Co (now Barnao Property), has last week been gifted an Apostolic Blessing for his decades of resolute services to the Church and wider community.
The Catholic Homes Board paid homage to David on 7 July, who retired from his position and was acknowledged for his seven-year contribution at his final board meeting.
The Subiaco parishioner has made a significant personal and professional contribution to the Archdiocese of Perth, Catholic Homes Inc, Catholic Education WA, and the wider Church community in Western Australian.
A seasoned professional in the property sector, David commenced his journey as a valuer in 1970, progressing into sales and leasing before opening his advisory practice in 1975.
In a candid interview with The eRecord, David spoke of his desire to scale back and enjoy his retirement after relocating to Floreat with his wife Ros.
"Over the years, I have done a lot of work for various parishes and religious orders; I've been on advisory boards, and I am happy to have done that," he expressed.
"I think it's just a case of giving a bit back to the community and treating others how you would expect to be treated yourself – in other words, fairly and even-handedly."
Taking the Christian approach to all aspects of his life has been essential to David, who is relieving his duties by handing over the reins of his practice to his daughter Nicole.
Although he remains active at his firm, the 74-year-old is now in the process of phasing out later this year while mentoring Nicole with retirement on the horizon.
"I would like to keep the brain working; I have various little business interests that I'll pursue and line-up a bit of charity involvement.
"I've tried golf, and I'm no good at it," he joked.
"I would dearly love to spend more time with my grandchildren and catch up with my friends overseas when that becomes possible."
Catholic Diocese of Bunbury Financial Administrator and Catholic Homes Chairperson John Ogilvie, commended David's tenure with the Catholic Homes Board.
"David's contribution to the Church in WA has been substantial and extends far beyond CHI, into health, welfare and education across not only in the Archdiocese but across the Dioceses of Bunbury, Geraldton, and Broome," Mr Ogilvie stated.
"What David has forgotten about property most property people will never know. I admire David because he treats every client's property transaction as if it were his own.
"He has a no-nonsense approach to his work – above all, he is ethical and honest.
"It has been a pleasure to share a part of the CHI journey with him," Mr Ogilvie concluded.
Born in Palmerston North, New Zealand in 1947, David was the third eldest of eight children. He was educated locally at St Patrick's Primary School and Marist Brothers High School, to tertiary level.
From 1966 to 1969, he undertook a cadetship with the New Zealand Government Valuation Department, where he completed the professional examinations of the New Zealand Institute of Valuers.
In October 1970, he migrated to Australia and settled in Perth. In December 1970, he commenced employment as a valuer with Justin Seward & Co (now Knight Frank), advancing to senior valuer.
In mid-1975, David retired from Justin Seward & Co to enter a partnership in a firm. In 1980, he acquired full ownership, giving the name David Barnao & Co.
Since its inception, David Barnao & Co has been extensively involved in property valuations, feasibility studies, project management, and sales coordination on all forms of commercial, industrial, and residential properties. The practice has been called upon to provide expert evidence at numerous arbitrations, determinations, and court hearings.
From 1980 onwards, David Barnao & Co developed a strong involvement with the Catholic Archdiocese of Perth and the Catholic Education Office.
For more than 40 years, the practice has acquired numerous church and school sites and been responsible for the project management of surplus sites, many of which have been redeveloped. The long-term relationship with these significant clients continues to prevail, remaining a successful and enduring partnership.
He has been married to his wife Ros for 48 years. They have three children: Nicole (Perth), Daniel (Singapore), and Sarah (San Francisco); and eight grandchildren.
David is a long-term member of West Coast Eagles, Western Force, Real Estate Institute of WA, Australian Property Institute (retired), and was a Board Member and Vice-Chairman of Youth Hostels Association.