Grzegorz readies for Ordination to the Diaconate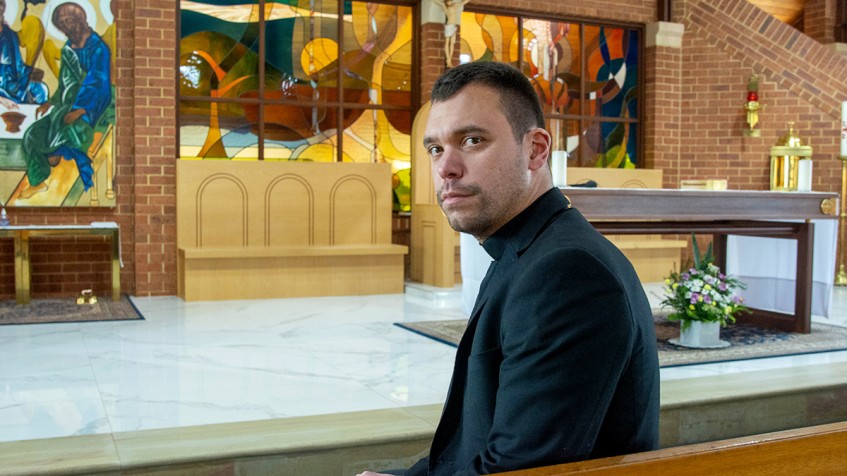 Redemptorist Mater seminarian Grzegorz Rapcewicz will be Ordained to the Diaconate, en route to priesthood, on 12 August at St Mary's Cathedral. Photo: Matthew Lau.
By Matthew Lau
Inspired to be of service to others, Grzegorz Rapcewicz will be Ordained to the Diaconate by Perth Auxiliary Bishop Donald Sproxton at St Mary's Cathedral on 12 August.
The Mass will commence at 7.30pm, followed by an agape feast to be served in the Cathedral Parish Centre after the ceremony.
Born on 14 August 1989, Grzegorz will turn 32 two days after becoming a transitional deacon for the Archdiocese of Perth.
Grzegorz hails from Warsaw, Poland, as the third of seven sons to Dariusz and Agnieszka.
The devout Catholic family resided in Poland's capital city before relocating to the east-central town of Piaseczno when Grzegorz was a seven-year-old.
Grzegorz speaks with The eRecord in anticipation of his diaconate ordination in the Year of Saint Joseph.
"My family belongs to the Neocatechumenal Way. I remember we were always going to church when I was a child," he recalled.
"My parents were always doing the best for us, teaching us faith. The first church is at home."
Grzegorz studied a Bachelor of Medical Massage, which he did not finish as he felt he had a greater calling to respond to after going on a two-month mission as a layperson to Belarus in 2009.
"At the time, I didn't have any desire to enter seminary – but during my mission, I felt an urge."
What gripped Grzegorz was a pivotal moment while praying during a Eucharist with his community.
"That was a sign for me, so I decided to go to the seminary after 'standing up' before Neocatechumenal Way co-initiator Kiko Argüello."
He was then sent to Perth's Redemptorist Mater Seminary in March 2011.
"For me, there was this impact in a short time when I was on mission," he added.
Although he was excited to move to Australia, Grzegorz had to overcome the language barrier by improving his understanding and knowledge of speaking and writing English.
"I didn't know what to expect in Australia. I thank God for giving me this grace to learn the English language."
During his 10-year period of discernment in the Seminary, Grzegorz completed placements in Broome (2015), Redfern NSW (2016), and at Osborne Park Parish since late-2020.
Grzegorz has an eye condition that limits some of his capabilities, which for some time shook his heart as to whether he would be capable of religious life.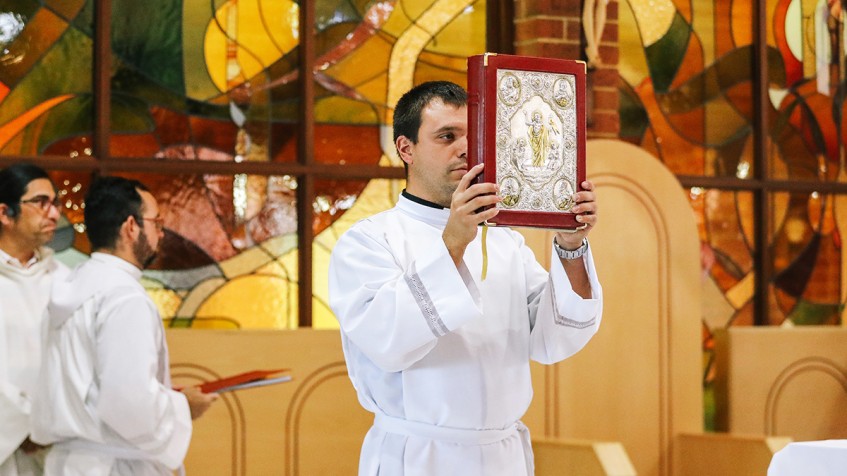 Grzegorz Rapcewicz is pictured bringing forth the Gospel during St Kieran Primary School's centenary Mass on 21 March 2021. Photo: Matt Biocich/CEWA.
"I thought maybe I shouldn't go [to seminary] because I might struggle, then I released I can't escape my suffering. Christ, in His ultimate sacrifice, reminded me to pick up my cross daily.
"Either I accept my suffering or escape," he explained.
"When others are suffering, I can share (this experience) with them. It took me several years to accept my condition. Despite this, the seminary didn't say 'no' to accepting me.
"I could see that the Church cares, even in this situation – I am happy to be here in this vocation.
"The Redemptorist Mater Seminary formators and catechists helped me see that I could guide others and not become a victim of my circumstance."
Being of service to others is what inspires Grzegorz most in his vocation.
"When others are suffering, I can share with them. It took me several years to come to terms with.
"If I didn't have the strength of Christ, then I wouldn't be able to enter this vocation. What I do here is for love and services of others," Grzegorz continued.
"My formators always reminded me that the most important foundation of any vocation is to be a Christian, to serve and love others, and to announce the resurrection of the Risen Christ to the world."