Catholic Education celebrates 200 years of courageously promoting Christ's teachings, holds faith in its future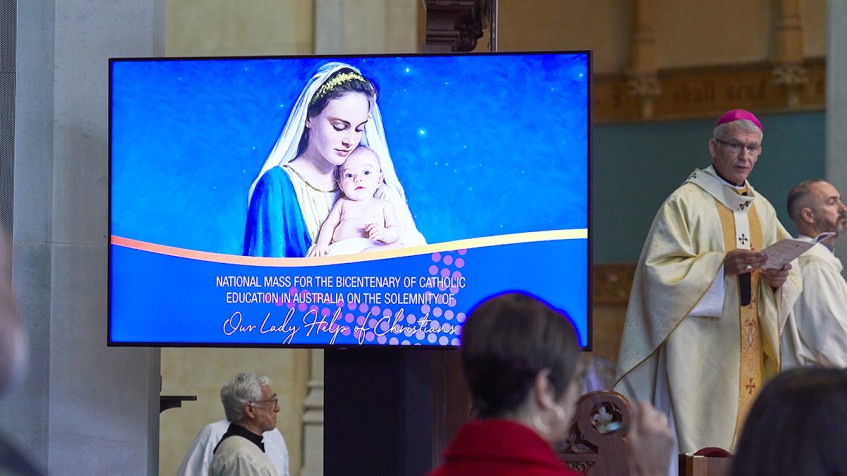 The National Mass for the Bicentenary of Catholic Education in Australia fell on the Solemnity of Our Lady Help of Christians on 24 May. Photo: Ron Tan.
By Matthew Lau
Turning people's hearts and minds to Christ over the past 200 years, Catholic education in Australia has grown from humble beginnings with a faith-filled mission to bring the Gospel of truth to all.
Catholic Education Western Australia's (CEWA) held its national Mass for the bicentenary of Catholic education in Australia at St Mary's Cathedral on 24 May, the Solemnity of national patroness Our Lady Help of Christians.
Archbishop Timothy Costelloe SDB celebrated the Eucharist alongside Vicar General Father Peter Whitely VG, Episcopal Vicar for Education and Faith Formation Fr Vincent Glynn, Emeritus Bishop of Geraldton Justin Bianchini, and about a dozen Archdiocesan priests, with Fr Peter Bianchini as Master of Ceremonies, and Permanent Deacons Mark Powell and Aaron Peters assisting.
A video message featuring the Hon Scott Morrison MP played before the commencement of the Mass, with the Australian Prime Minister recognising the contribution of Catholic education on Australian history, congratulating the accomplishment of two centuries of influencing millions of lives.
"On this anniversary, we remember all who have been part of this heritage, including Fr [John] Therry and Australia's first saint Mary of the Cross," Mr Morrison said.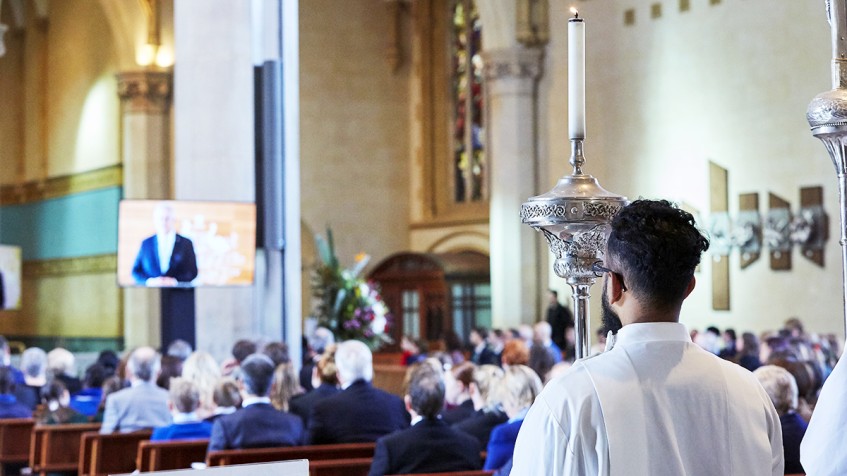 A congratulatory message by Prime Minister Scott Morrison MP preceded the 9.45am Mass on Monday, 24 May at St Mary's Cathedral. Photo: Ron Tan.
"We recall on this anniversary, the good days and the bad, the successes and disappointments; joys and sufferings; as well as the faith and community that has enabled Catholic Education to make this significant contribution to our national life."
In her opening welcome, CEWA Executive Director Dr Debra Sayce said many of the qualities and characteristics most admirable in the Catholic education system were inherent in the values of its faith tradition.
"From the early beginnings, the relationship between families and schools has been a hallmark of Catholic education; that actively encouraging and supportive shared responsibility still serves students well," she expressed.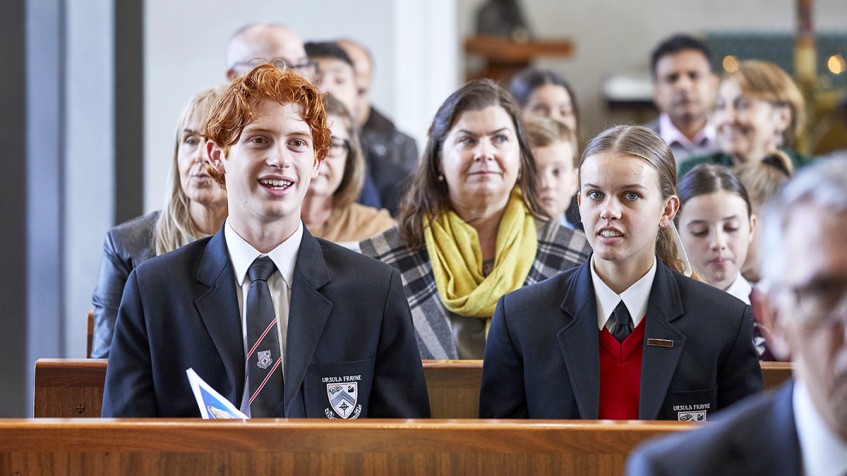 Student and teacher representatives of various Catholic Education Western Australia schools were present for the morning Mass on 24 May. Photo: Ron Tan.
"It is our commitment to excellence, our education, and our commitment to being communities of faith that have led to Catholic educators' lasting impact in Australia, as they contribute to society in such countless ways through Christian service.
"Our journey together and our collective hope is that every student in every school will continue to discover their God-given potential and be filled with God's love," Dr Sayce concluded.
In his homily for the milestone occasion, Archbishop Costelloe highlighted how the importance of thanksgiving strongly resonated with him.
"Today is a day to acknowledge with profound gratitude all that has been done and been sacrificed over the past 200 years to provide education to countless thousands of young people," he conveyed.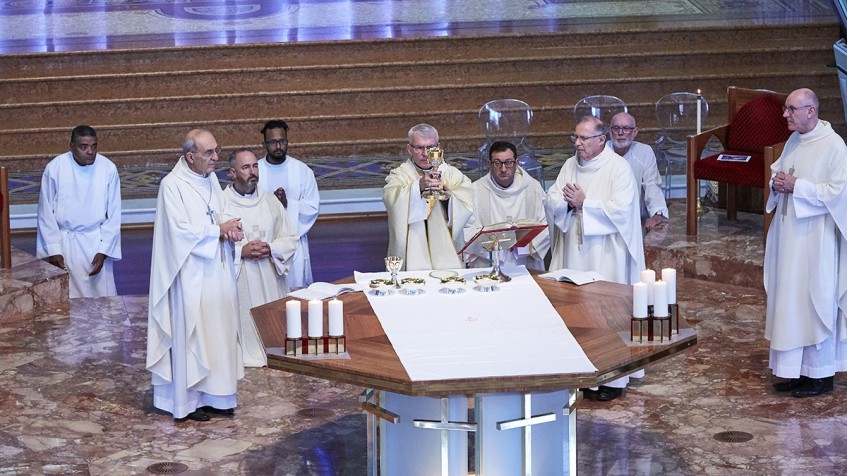 Archbishop Timothy Costelloe SDB consecrates the Blood of Christ during the national Mass for the bicentenary of Catholic education in Australia at St Mary's Cathedral on the Solemnity of Our Lady Help of Christians. Photo: Ron Tan.
The Perth Archbishop emphasised how CEWA, as an institution, has incessantly strived to produce good schools.
"When families choose Catholic education for their children, they do so because they want the best education for their children that they can give them.
"Everything that goes into making a school an excellent school, a school of choice, must be a part of our Catholic schools. But equally, a Catholic school won't be a good Catholic school unless it is Catholic," he continued.
"At the very heart of what it is that makes a school Catholic is the unshakeable conviction that everything about the school is informed by the Catholic worldview. By this, I mean that coherent, cohesive, and all-embracing understanding of what it is to be a human person created in the image and likeness of God and called into a relationship with God, with others, with self, and with the world in which we live.
"What a tragedy, and even a betrayal, it would be if this coherent and cohesive vision of what it means to be a human person in all its rich dimensions, were to be merely tolerated or grudgingly accepted, rather than warmly embraced, by those who choose to send their children to our schools, and even more by those who choose to work in our schools."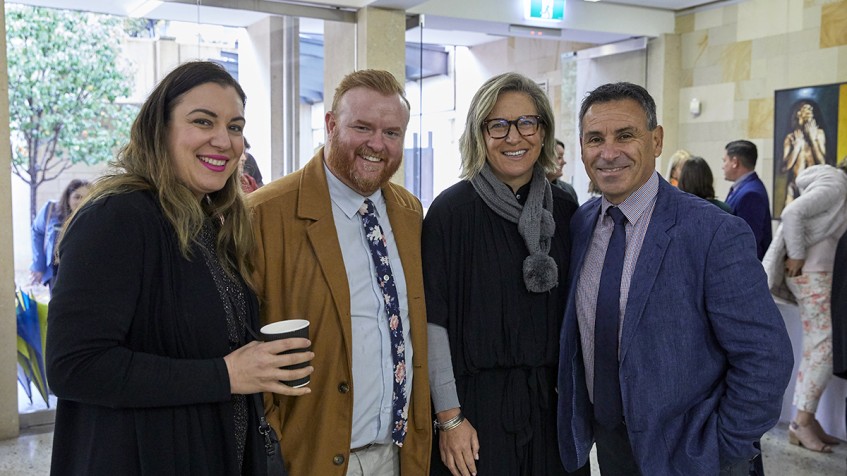 CEWA, CECWA, and Archdiocese of Perth staffers gathered for morning tea in the Cathedral Parish Centre after Mass on 24 May. Photo: Ron Tan.
The founding impulse of Catholic education 200 years ago, he added, was the desire to ensure children should not be deprived of their life's foundational principle: that they were created, loved, called, and cherished by God.
"This must still be the grounding impulse of our commitment to Catholic education today and into the future, notwithstanding all the changes that have taken place in the past 200 years, both in the Church and in the society of which we are a part," Archbishop Costelloe concluded.
CEWA Deputy Executive Director Wayne Bull delivered the Vote of Thanks before the Archbishop's final blessing.
"On behalf of the 163 Catholic schools across WA, I extend my gratitude to all parishes across the Archdiocese who support our Catholic schools and colleges," Mr Bull stated.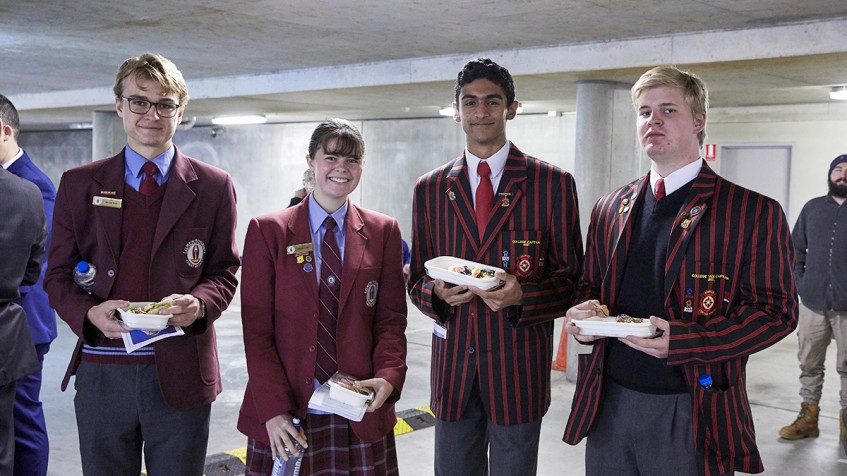 Pupils of Perth-based Catholic schools convened for morning tea in the St Mary's Cathedral carpark after Mass on Monday, 24 May. Photo: Ron Tan.
"This partnership is pivotal to the spiritual wellbeing of our Catholic school communities and provides an important foundation for Christ-centred learning."
He then acknowledged members of the Catholic Education Commission, distinguished guests, principals, school leaders, sponsors, representatives, and staff for joining CEWA in commemorating "a rich and vibrant" 200-year history of Catholic education in Australia.
"Most importantly, our students … your presence here today reminds us the reason for our existence in Catholic education over the past 200 years is to ensure that we always remain Christ-centred and focussed on serving you," Mr Bull added.
Priest-songwriter Fr Rob Galea composed the recessional hymn, Faith in the Future, the national theme song for Catholic Education's bicentenary.