Baldivis Parish sets to hold a Parish Mission
Baldivis Parish is set to hold a five-day Parish Mission from 17 to 21 March at Mother Teresa Church, celebrating Saint Teresa of Calcutta's life and spirit.
The Parish Mission will first focus on "discipleship" on its first day, followed by "prayer" on the second day, "mission/outreach" on the third day, and a dedicated family session on the fourth day.
The Parish Mission will conclude with a Parish Expo that will begin with a Mass celebrated by Auxiliary Bishop of Perth Donald Sproxton.
Each day will include workshops run by various keynote speakers and workshop facilitators, including Episcopal Vicar for Education and Faith Formation Father Vincent Glynn, Mundaring Parish Priest Father John Daly, Shalom Media, Sr Margaret Scharf, 24:7 Youth Ministry Director Mario Borg, Director of Office of Christian Initiation Dr Carmel Suart, Rockingham Parish Priest Father Pierluigi Vajra, Archdiocesan Aboriginal Catholic Ministry Director Donella Brown and Lyn Odegaard, Director of Centre for Life, Marriage and Family Derek Boylen and his wife, Karen.
Each day will begin with a morning Mass at 9 AM, followed by presentation and Adoration during the day and conclude with evening sessions, from 7 to 8.30 PM.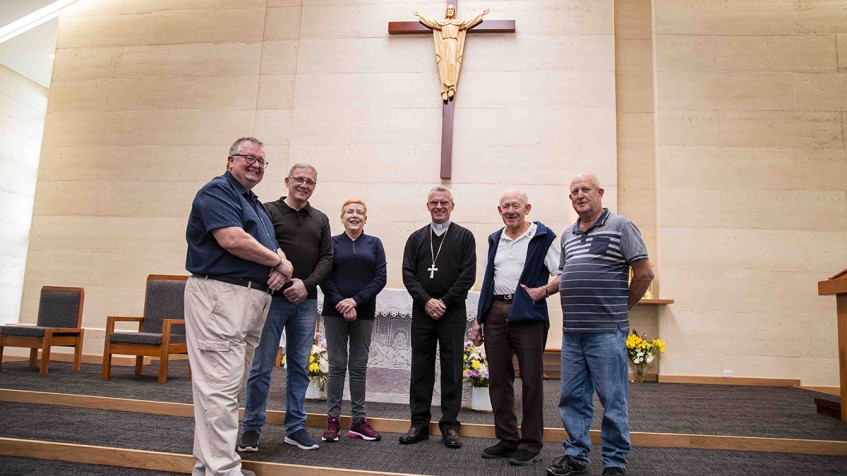 Archbishop Timothy Costelloe SDB with Fr Geoff Aldous and the Baldivis Parish Council members, standing in front of the altar in the newly completed Mother Teresa Catholic Church on 27 June 2020. Photo: Jamie O'Brien.
Speaking with The Record, Baldivis Parish Priest Father Geoff Aldous said the Parish Mission aims to enhance the parish's growth.
"We have a beautiful new Church, but more important than the building are the people who are called to be Church," Fr Aldous said.
" I would hope it would be a time of renewal for the parish and that many good things will flow from the mission so that people will be inspired or motivated to grow in faith and the spirit.
"[We chose to celebrate Mother Teresa] because she is the Patron Saint of the Parish. We saw that the spirit of Mother Teresa would flow through the Parish Mission program. We are also inviting the Sisters from the Missionaries of Charity, a congregation founded by Saint Teresa of Calcutta," he concluded.
To know more about Baldivis Parish Mission, click here: https://www.baldiviscatholicparish.org.au/