St Kieran Primary marks century of 'Constant and Faithful' tradition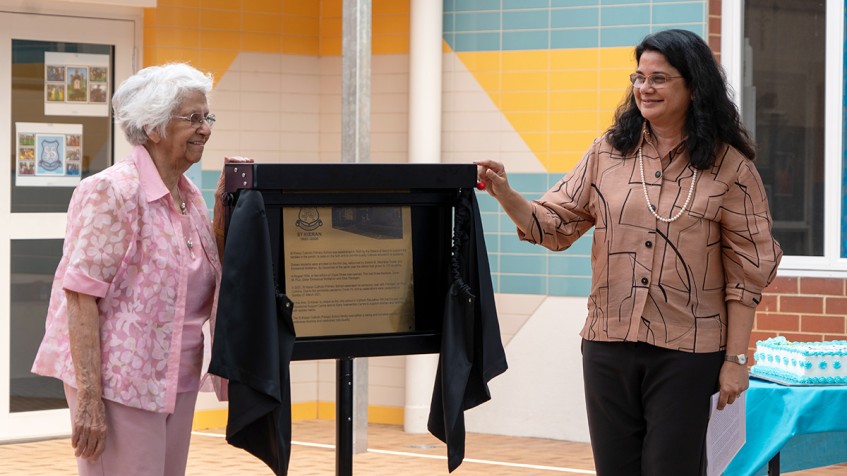 Maisie D'Cruz, 94, who taught at St Kieran from 1972 to 1984, joined Catholic Education WA Executive Director Dr Debra Sayce in unveiling the school's centennial plaque. Photo: Matthew Lau.
By Matthew Lau
From humble beginnings 100 years ago as a small school with 16 students, St Kieran Catholic Primary School has grown into the heart of its community as an inner-city school of more than 475 students.
Honouring its past and looking to the future, the Tuart Hill-based school prides itself on its strong sense of community and pastoral care "where every student is known, safe, and challenged to reach their personal best".
The Most Rev Archbishop Timothy Costelloe SDB celebrated the centennial Mass at Osborne Park Parish on Sunday 21 March, joined by concelebrants Fr Wilson Donizzetti Martins Jnr, Fr Oscar Aguilera OSM, and Rev Dr Joe Parkinson.
After which, Fr Parkinson then blessed St Kieran Primary's new school gates and led the congregation into the school grounds for formalities before an afternoon of entertainment.

St Kieran Primary School alumnus Rev Dr Joe Parkinson sprinkles holy water on the congregation at Osborne Park Parish on Sunday 21 March. Photo: Matthew Lau.
Special guests included Fran Italiano (Principal from 1996 to 2005), Greg Ward (School Improvement Advisor at Catholic Education WA), Peter Cutrona (Principal from 2014 to 2020), the Sisters of Mercy, and CEWA Executive Director Dr Debra Sayce.
In his homily for the centenary anniversary Mass, Archbishop Costelloe underlined how Jesus Christ proclaimed himself as "the grain of wheat which must die for the harvest to grow".
"As the story of Jesus' crucifixion will make clear when we celebrate Palm Sunday, not everyone who will be drawn to the cross will be drawn by faith," he said.
"When we do begin to walk the challenging way of Jesus, and when we do dare ourselves to believe that God does love us in this extraordinary way, then we begin to experience a new depth of joy and hope in our living. We find ourselves being set free from all those things which have been holding us back from living life to the full - living life as God intended that it be lived."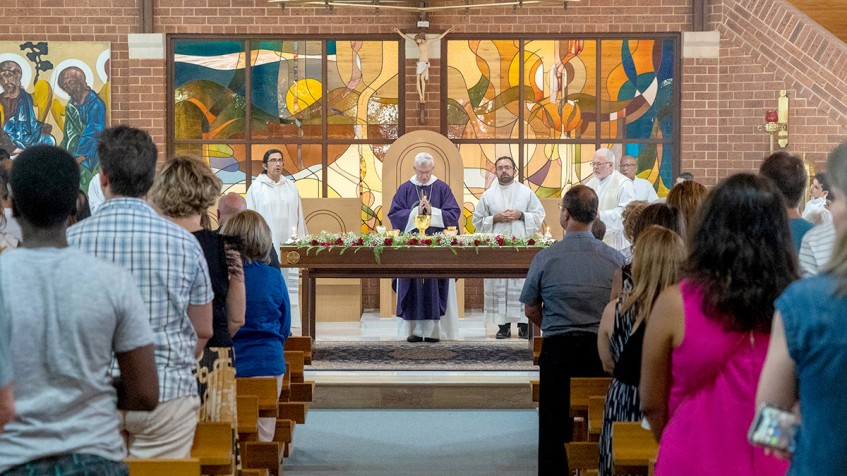 Archbishop Timothy Costelloe SDB celebrates a milestone centenary Mass for St Kieran Primary School on 21 March, joined by concelebrants Fr Oscar Aguilera OSM, Fr Wilson Donizzetti Martins Jnr, and Rev Dr Joe Parkinson. Photo: Matthew Lau.
This, he added, is the promise of our faith and the promise of Easter.
"And it is the good news that St Kieran Primary School has been communicating to so many young people over the past 100 years.
"St Kieran's, like every Catholic school, exists because we believe that at the heart of any complete preparation for life, if it is to be lived to the full, must be a deep understanding of God's love, God's abiding presence, and God's call," Archbishop Costelloe continued.
"We thank God that this school exists, that it still stands firmly on its Catholic foundations, and that it will continue to be a community which, because it wants only the best for its children, will continue to share with today's children, and those to come in the future, that Jesus really is the way for them to follow, the truth upon which they can rely, and the life God is calling them to live and enjoy to the full."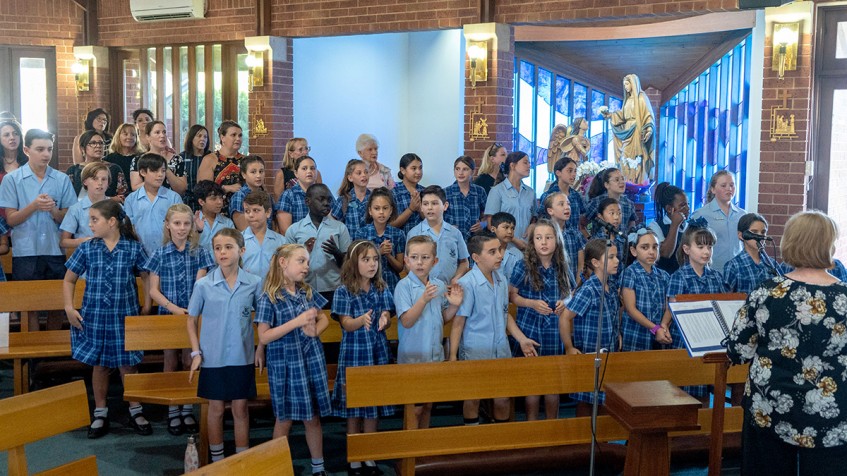 St Kieran Primary's Years 3 to 6 cohort sang hymns during the 100th anniversary Mass at Osborne Park Parish on 21 March 2021. Photo: Matthew Lau.
Pat Johnston was a student during Sr Vianney's second term as Principal from 1953 to 1968.
"It was a very happy time; the [Sisters of Mercy] were lovely," she reminisced,
"I loved my time at St Kieran's. We were expected to behave and be disciplined, we didn't step out of line and knew where we stood. I remember it as a happy, easy place to be."
The North Fremantle resident recalls being taught by Sr Vianney as a Year 8 pupil in 1958.
"She had a lovely, calm nature; she was very supportive and encouraging – I remember her fondly."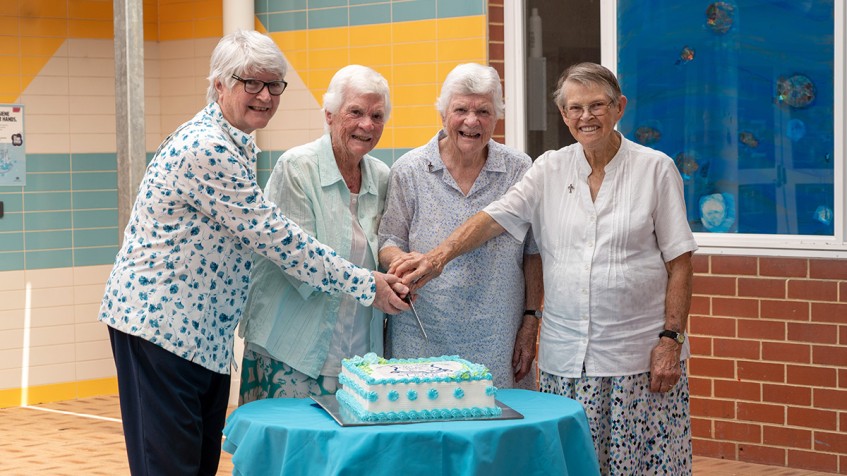 Four nuns of the Sisters of Mercy, the religious order that founded St Kieran Primary School, cut the centenary cake on Sunday 21 March. Photo: Matthew Lau.
The Carabetta family has had three generations attend St Kieran starting with Rose Carabetta, whose daughter-in-law Maria attended with her sister Elisa. Maria's three children are now enrolled at the school.
Rose remembers walking along Main St to the school from her Balcatta home. The pupils wore a sash to help the nuns across the road with cleaning and gardening.
Despite relocating to Banksia Grove, Maria Carabetta was adamant about sending her children to the school dear to her heart.
"I started in 1989; I had moved from El Salvador and couldn't speak English. I joined in Year 1, and Elisa did Year 7 before going to Servite College," Maria told The eRecord.
"I still have good memories of all my primary teachers. I remember picking up rubbish with my good friend; the teachers would walk around with raffle tickets in a bum bag to reward kids for good deeds around the school."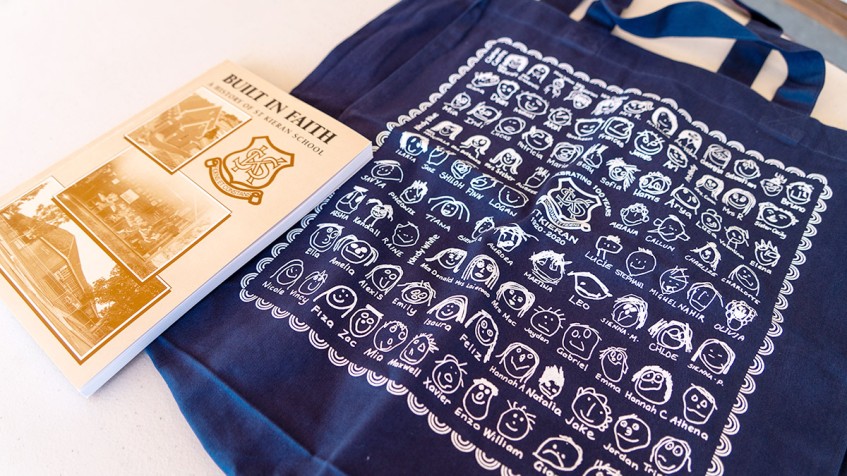 St Kieran Catholic Primary School released a range of merchandise to commemorate its longevity from 1920 to 2020. Photo: Matthew Lau.
Moving on from Year 7 to high school was an emotional time, she recalled.
"There were a lot of tears and fond memories. I am still friends with a lot of the students I went to school with.
"My dad has worked for the school since 1989. He and my in-laws live near the school and are really involved in the community. We've always gone to [Osborne Park] Parish, so that helped with the decision," Maria added.
"My kids love going to St Kieran, and what they enjoy most is that some of the teachers there remember me and now teach my children."