Discernment at the forefront of 2021 secondary schools annual LifeLink forum
By Amanda Murthy
Representatives from 27 Archdiocesan Catholic Secondary Schools gathered at Aranmore Catholic College for Perth Archbishop Timothy Costelloe SDB's 2021 Secondary Schools Forum, marking the official launch of LifeLink Day on 20 May 2021.
LifeLink agencies include the Catholic Ministry for People who are Deaf and Hard of Hearing, Centacare Employment and Training, Centrecare Inc, Djooraminda, Emmanuel Centre, Emmaus Community, Identitywa, Daydawn Advocacy Centre, The Shopfront, and Catholic Outreach.
Last year, LifeLink funded agencies reached out to help more than 37,000 WA families and individuals in need, delivering more than $60 million in caring services and professional programmes throughout WA.
Joining Archbishop Costelloe for the Forum was Perth Auxiliary Bishop Don Sproxton, Office of the Archbishop Executive Director, Daniel Lynch, Catholic Education Western Australia Executive Director, Dr Debra Sayce and Aranmore Catholic College Principal, Declan Tanham.
Jacinta Collins, Executive Director, National Catholic Education Commission, was also special guest attending the Forum this year.
Following the acknowledgement of country, Dr Sayce took the opportunity to speak about the on-going commitment of Catholic schools in supporting the good works of the church.
"A unique characteristic of Catholic schools is our shared involvement with the Church right around the world.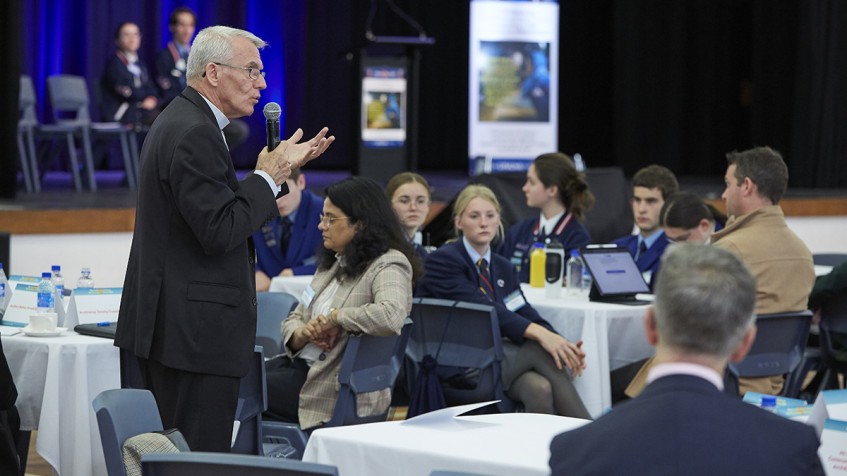 At the 2021 Archbishop's Forum for Secondary Schools and the official launch of LifeLink Day 2021 on 20 May, Perth Archbishop Timothy Costelloe SDB who is also the Plenary Council President, dialogued with student representatives from 28 secondary schools about the Plenary Council, discernment, leadership and more. Photo: Ron Tan.
"In Catholic schools we share faith traditions, prayers and liturgical practices with millions of people globally each day. We have connections through religious orders and partner schools that open-up unique dialogues and learning experiences. And we share a commitment to Catholic Social Teachings that inspire us to show love in action for those who are marginalised, disenfranchised, or impoverished," Dr Sayce cited.
"Together as Catholic school communities in the Archdiocese of Perth, we come together to support the vital work of Catholic agencies for people in our own communities who have been marginalised by society. These are agencies that have a longstanding, demonstrated commitment to the people they serve, and expertise and experience to make a difference in ways that we might not be able to.
"Today we can share the story of how Catholic schools support the vulnerable and those at risk in our Archdiocese through LifeLink. We also celebrate what we have and continue to achieve together. I am so proud of our schools, primary and secondary, for putting your creativity, your time and your effort into fundraising each year, raising $2.3 million dollars for LifeLink agencies since 1999," she concluded.
Mr Lynch introduced a new LifeLink informational video, which he explained, was created with the collaboration of Archdiocesan staff and student representatives from selected Catholic schools.
"This was really an opportunity to go to the grassroots and talk to students and identify what it is that students hope for in the video, and how this message can engage with people from all ages, from the perspective of Catholic college students," Mr Lynch said.
"Four student representatives from each college – Holy Cross College, Servite College, Iona Presentation College, Newman College – were invited by the Archbishop to form the Archbishop's Special Project Committee to design and produce a contemporary resource which positively promoted the work of our LifeLink agencies."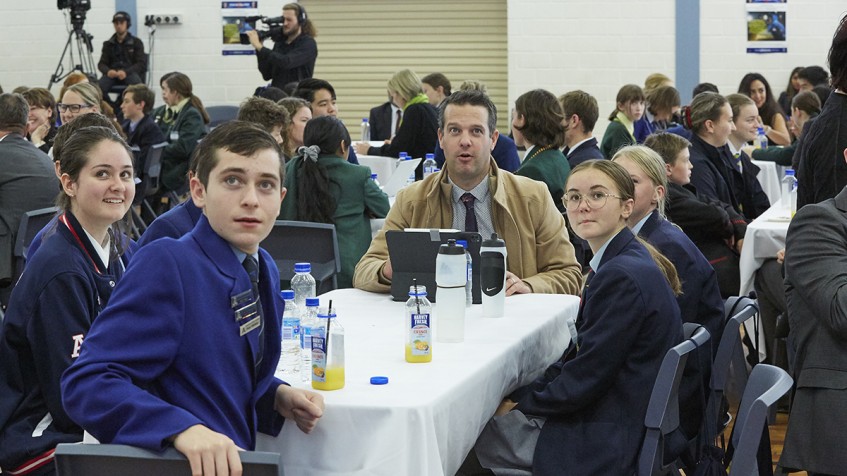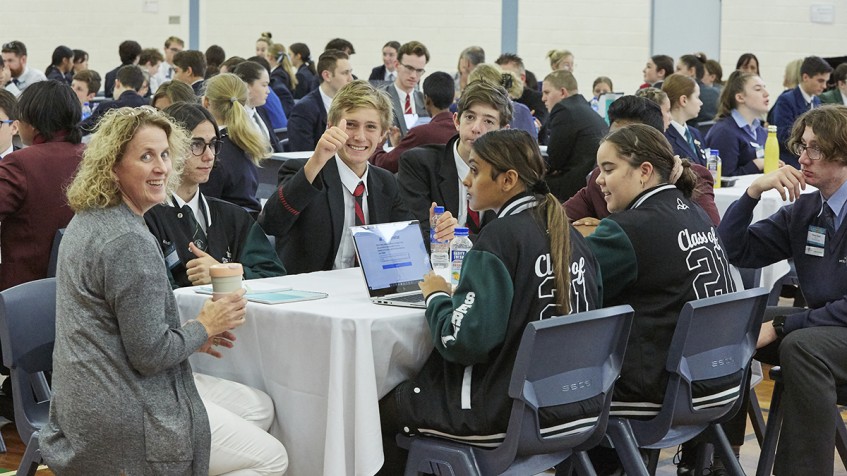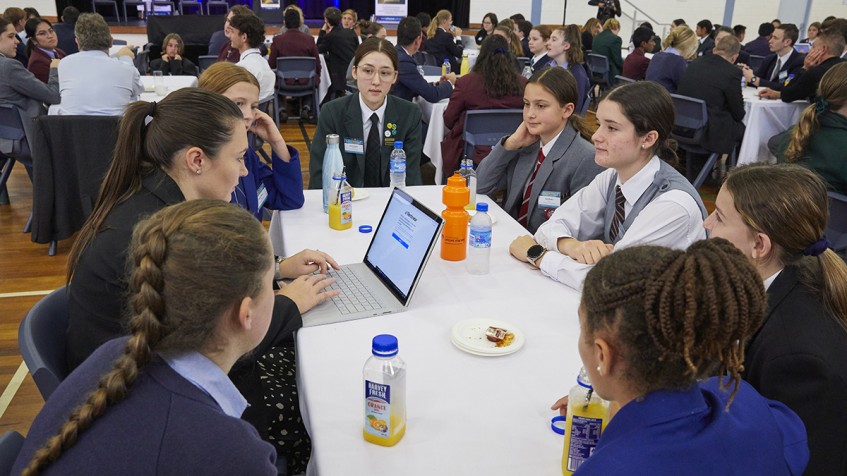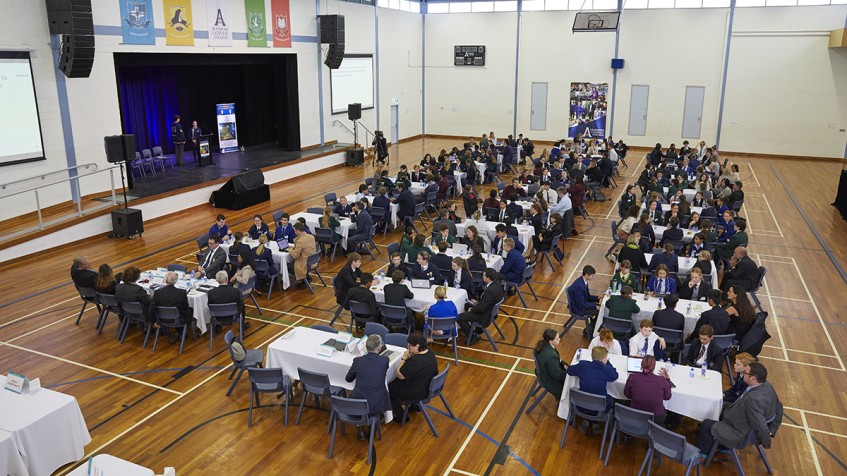 Secondary student representatives mingle and discuss questions posed by Archbishop Costelloe at the 2021 Archbishop's Forum for Secondary Schools and the official launch of LifeLink Day 2021 on 20 May. Photo: Ron Tan.
In his speech, Mr Tanham spoke about the role of every person present, and how their contribution makes a difference people in need.
"When we look around, we have church leaders, we have educational leaders, we have staff and students – and I really feel this sense of connectedness between us all, that we are a part of something bigger," he said.
"So I thank you all for your participation and for making the time to be here today."
Archbishop Costelloe, who is also the President of the Plenary Council, centred his forum on the on-going Plenary Council and its' upcoming first Assembly, scheduled for October 2021 – sharing on the history of the PC, and dialogued back and forth with students on important topics including leadership and discernment.
As part of the Forum, Archbishop Costelloe posed three questions to students, including,
What new understandings or insights have you gained on discernment from my presentation today, and the discussions at your table?
Identify a specific time in your life when you had to make an important decision. What steps did you take to reach your decision? and
As a young Christian making important decisions, why might it be important for you to think about what Jesus might do as you prepare to make them?
Dr Sayce, Bishop Sproxton and Archbishop Costelloe took turns to comment on each answer, providing advice and guidance, based on Catholic teaching.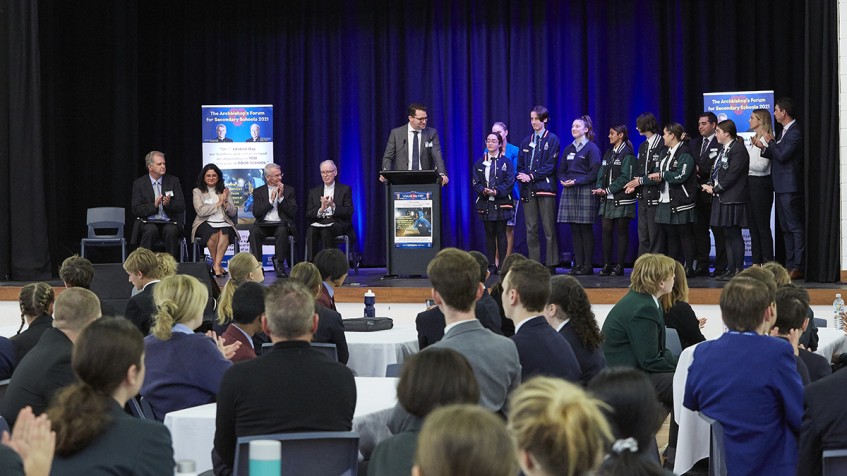 Office of the Archbishop Executive Director Daniel Lynch introducing the new Welcome to LifeLink informational video, and the team of students who helped create and contribute to the video, at the 2021 Archbishop's Forum for Secondary Schools and the official launch of LifeLink Day 2021 on 20 May. Photo: Ron Tan.
In his closing remarks, Archbishop Costelloe expressed his thoughts on decision making, encouraged the young people present to be opened to 'giving things a go,' even if the outcome is not always perfect.
"I'm not a believer of regretting mistakes, but I think of a mistake as a step towards the right direction as it can still lead to a place that prepares me for what is to come," Archbishop Costelloe cited.
"Collaboration or co-labouring is key to get the best outcome – it is great to always seek advice from people you trust, and people who have the experience to share. It is always important to have good people around you.
"…..Following the same approach to life as Jesus did is so important, but in order to understand why Jesus did what He did, we have to understand His mind and heart. We can do this by learning about Him from the Gospels," Archbishop Costelloe concluded.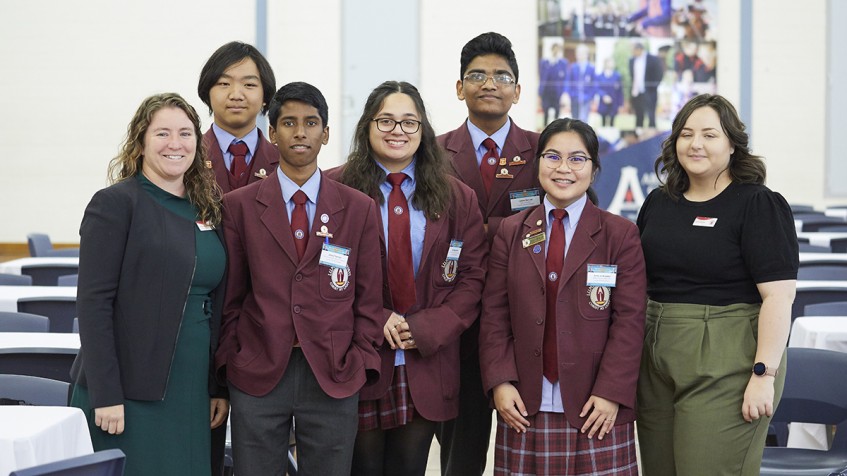 Students and teachers from Lumen Christi College at the 2021 Archbishop's Forum for Secondary Schools and the official launch of LifeLink Day 2021 on 20 May. Photo: Ron Tan.