Fifth Plenary Council of Australia formally convoked
The Australian Catholic Bishops Conference has formally convoked the Fifth Plenary Council of Australia, with President Archbishop Mark Coleridge signing the required decree on Pentecost Sunday.
The decree of convocation is the final necessary step while preparing for the celebration of a plenary council.
The convocation follows the approval of the related statutes and regulatory norms, the approval and February publication of the Council's working document Continuing the Journey and the recent approval of the Council agenda.
It is expected that the agenda will be published in early June.
In a short video capturing the decree's signing, Archbishop Coleridge said it has been more than 80 years since the Church in Australia last held a plenary council, noting "how things have changed since then".
The Fifth Plenary Council of Australia, which has been years in the making, received approval from the Holy See in early 2018. Several important milestones over the past three years preceded the signing of the decree of convocation.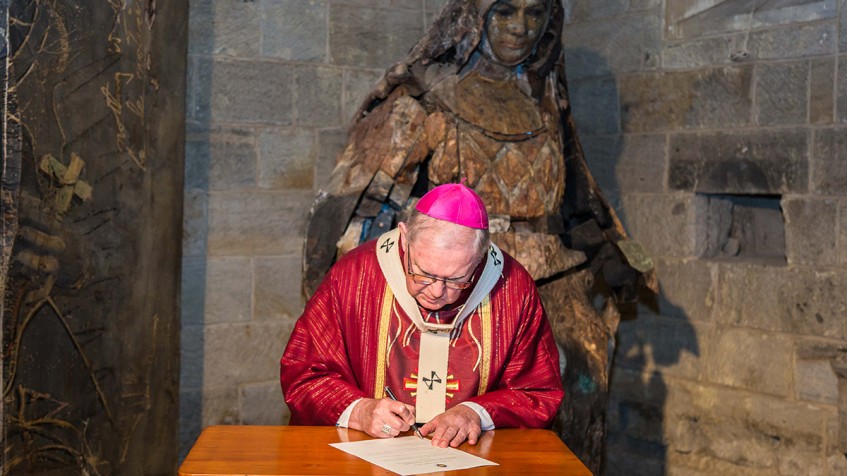 Australian Catholic Bishops Conference President and Brisbane Archbishop Mark Coleridge signs the required decree to convoke the fifth Plenary Council of Australia. Photo: ACBC.
"The journey of the Council began long ago and this is just another step on the way towards the first assembly in the first week on October," Archbishop Coleridge said after signing the decree.
"And on Pentecost Sunday we have invoked the Holy Spirit upon the entire journey of the Plenary Council but in particular upon the first assembly – to which we now move."