New Columbarium for Cottesloe a place for prayer, or just to 'sit and be'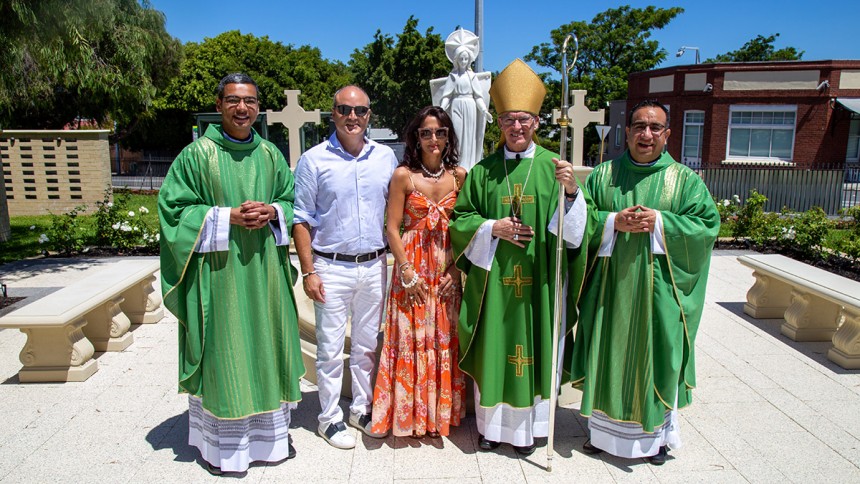 Archbishop Costelloe SDB, second from right, with Cottesloe-Mosman Park Parish Priest, Fr Marcelo Parra-Gonzalez, far right, Assistant Fr Rodrigo da Costa Ponte, left with builder Peter Colli, second from left, and his wife Natasha. Photo: Jamie O'Brien.
By Jamie O'Brien
We are to be bearers of God's love, forgiveness and mercy, said Perth Archbishop Timothy Costelloe SDB, at the opening and blessing of a new columbarium, statue and gardens at Our Lady Star of the Sea Church for Cottesloe Mosman Park Parish.
The opening and blessing, which took place on a blistering hot Sunday 30 January before the 10am Mass, was attended by more than 250 parishioners and guests and celebrated by Archbishop Costelloe, who was joined by Parish Priest Fr Marcelo Parra-Gonzalez and Assistant Fr Rodrigo Da Costa Ponte.
The congregation first gathered in front of the new columbarium, which includes a statue of Our Lady Star of the Sea and gardens, for the blessing and opening, and which is capable of hosting the remains of some 392 deceased members from the parish.
In opening and blessing the columbarium, gardens and statue, Archbishop Costelloe thanked parishioner-builder Peter Colli, whose company Colli Constructions built the 18-month project. Drawings and design were undertaken by Al Santelli from Santelli Architects.
Mr Colli explained that the shrine and columbarium belongs to all parishioners.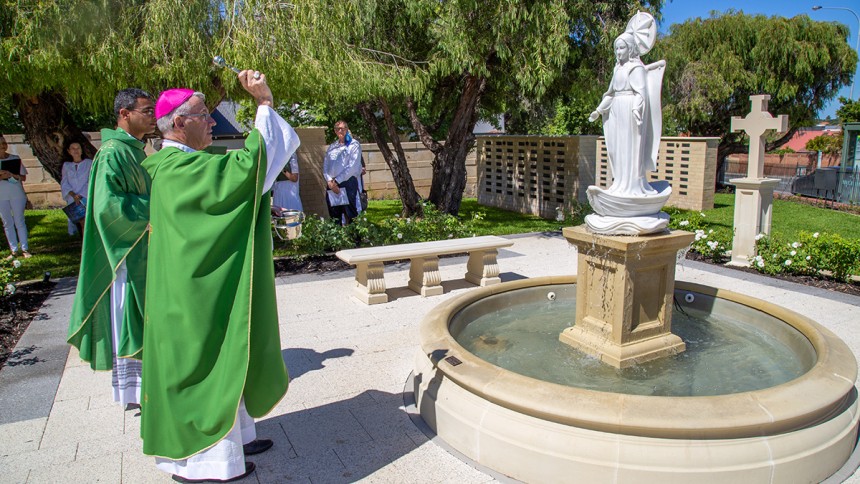 Archbishop Costelloe blesses the statue of Our Lady Star of the Sea in the new columbarium and gardens at Cottesloe-Mosman Park Parish, Sunday 30 January. Photo: Jamie O'Brien.
"This spiritual space is an 'Open Plan Design', to be utilised by parishioners and people of faith in times of reflection, prayer, community or private gatherings, which may include photographic opportunities for parish weddings, baptisms, communions or confirmations, or simply just to sit and be," Mr Colli said.
"The shrine features the new statue as the centre piece of the water fountain, which interestingly is one of a kind, purposely made for our parish, by hand carved marble from Vietnam," he said.
Music for the celebration was co-ordinated by Genia Moore, who was supported by violin and cello players, the Latin choir and the parish choir who performed from the choir loft.
Continuing his homily, Archbishop Costelloe highlighted that it is not our place as disciples of Jesus to judge or condemn.
"The time for judgement will come, but the judgement is God's to make, not ours," Archbishop Costelloe explained, quoting a passage from the Gospel of Matthew.
"Saint John's gospel makes this very clear when, on the night of his resurrection, Jesus appears to his apostles and tells them, and through them the whole Church, that he is sending them just as the Father sent him," he said.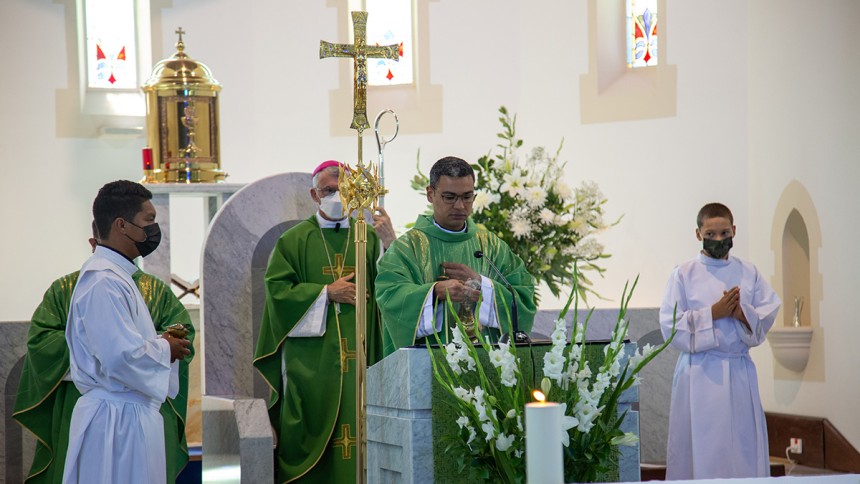 Cottesloe-Mosman Park Assistant Parish Priest Fr Rodrigo da Costa Ponte incenses the Gospel during the Mass for the opening and blessing of a new parish columbarium and gardens. Photo: Jamie O'Brien.
Continuing, Archbishop Costelloe emphasised that we must be very careful not to fall into the trap of constructing in our own minds a Jesus with whom we can be comfortable and who does not ask too much of us.
"But who does not, in reality, match up with the Jesus we discover in the pages of the gospel.
"This danger is ever present in our individual lives as Christians, and even in our lives as members of communities of faith.
"In today's Gospel, Jesus speaks of a time of acceptance on the part of the Lord God. God is ready to accept us but how ready are we to accept him?" Archbishop Costelloe said.
Parish Priest Fr Marcelo Parra said the idea for the columbarium and gardens was to create a spiritual place that could be appreciated by parishioners for years to come.
"With the increasingly challenging situation posed by COVID-19, I felt it was important we provide a place for our parishioners and their families to be outside in nature, while still being able to maintain a sense of God and his love," Fr Marcelo explained.
"This has been a magnificent result for parishioners to remain forever connected to the parish, together with their families and friends," he said.
The Vatican issued guidelines for the burial of ashes in 2016, highlighting they should not be scattered on land, at sea or be kept at home.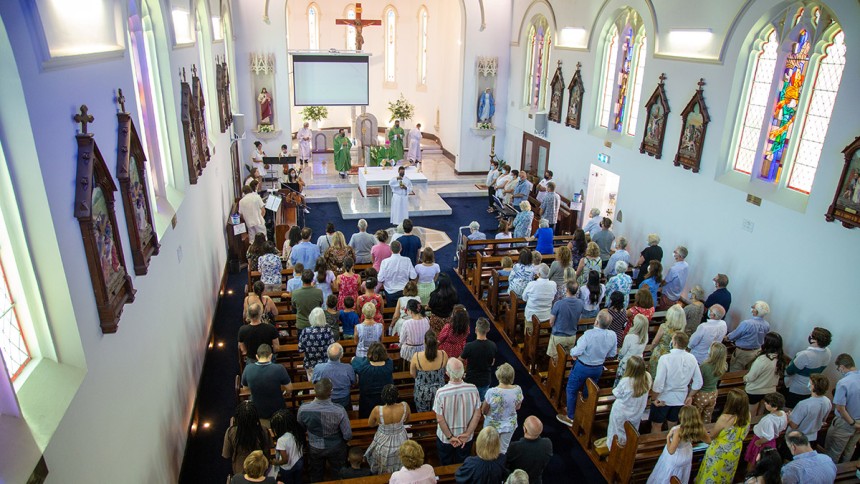 More than 200 parishioners and guests from Cottesloe-Mosman Park Parish came together, Sunday 30 January for the opening and blessing of a new columbarium and garden. Photo: Jamie O'Brien.