Manning Parish honours ancient traditions, new Columbarium opened and blessed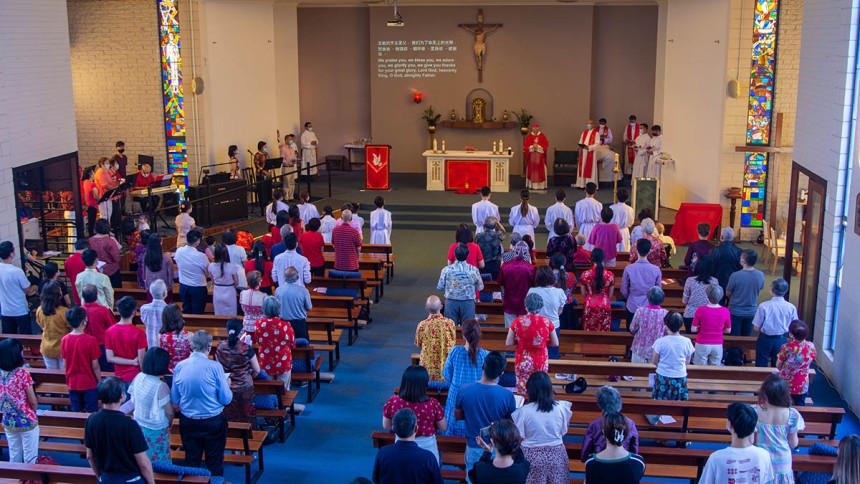 Some 150 members of Perth's Chinese Catholic Community gathered at Manning Parish to celebrate Chinese New Year and honor community leaders of the past, in accordance with both Chinese and Catholic tradition. Photo: Eric Martin.
By Eric Martin
Two ancient traditions from two different cultures were celebrated at Manning Parish on Sunday 6 February, with some 150 parishioners and members of Perth's Chinese community gathering, first for the blessing and opening of the new Columbarium at St Pius X Church, followed by a special Mass to mark the Chinese New Year.
"I want to make a connection between this beautiful Columbarium that we are blessing and dedicating today and the ancient tradition of having a cemetery around the local parish church," said Archbishop Timothy Costelloe SDB, chief celebrant and guest of honor.
"It is really important that we see this as a way of keeping alive that sense of communion that we share with each other, those who have died and came here so often to celebrate Mass and the other sacraments still united with us who still gather here… When we gather here, we are with the Lord and so we are with them."
"The church is the past, the present and the future," elaborated Fr Patrick Lim.
"The past is the foundation, the people who came before us: they established the parish and then we carried on that work, there is a continuity, and it is important to recognise that their lives still continue from here; our community feels that this is sacred space now.
"When I first came here four years ago, they were already talking about it, so I said, 'Alright, let's look into it'."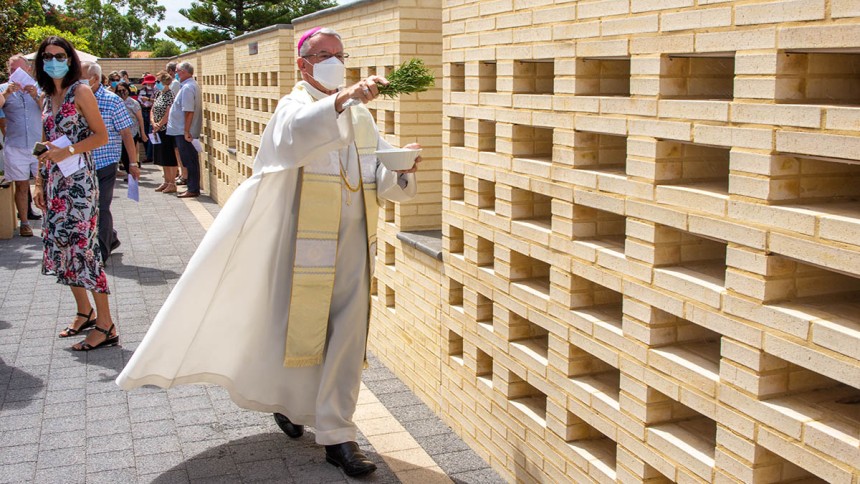 Archbishop Timothy Costelloe SDB sprinkles Holy Water to bless the new Columbarium at St Pius X Church, Manning Parish. Photo: Eric Martin.
Donations and contributions were received by numerous parishioners, which statues, pot plants, flowers and time, including that of Fr Patrick, who spent more than 70 hours building the backdrop and plinth for the statue of the Virgin Mary that holds pride of place in the new Columbarium, not to mention crafting the garden furniture.
Following the unveiling of a commemorative plaque, Archbishop Costelloe performed the Blessing, sprinkling Holy Water (symbolic of our new life through Baptism) around the Columbarium and over the faithful, before joining Fr Patrick for the next event of the morning – Chinese New Year.
"I wear two hats," laughed Fr Patrick. "I am the parish priest here and I am also the chaplain to the Chinese community, and now the Chinese community has moved here."
He continued by explaining that the traditional Chinese calendar follows the lunar cycle, the waxing and waning of the moon, and that the New Year celebrations are one of the most important family events in Chinese culture.
"It's like Christmas, it's a family reunion and we are able to celebrate out our ancestry: the meaning of who they were, so that we can recognise who we are; it ensures that we don't wipe away where we came from," Fr Patrick said.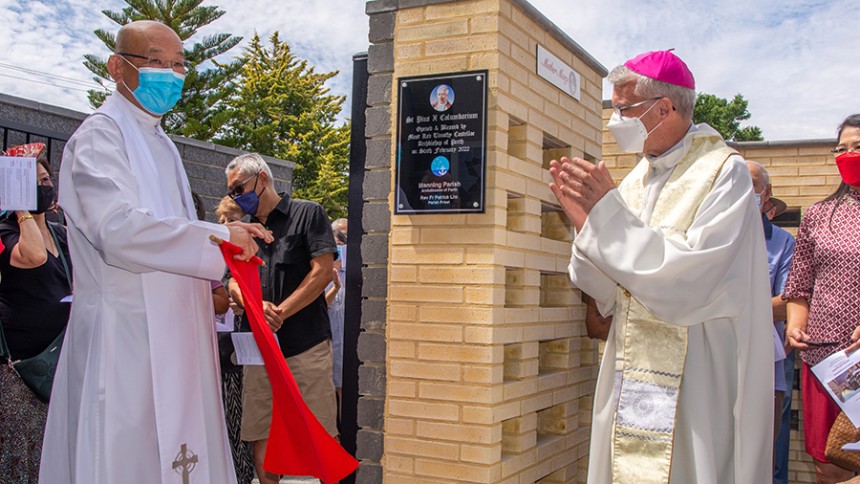 Manning Parish Priest, Fr Patrick Lim, and Archbishop Timothy Costelloe SDB unveil the plaque commemorating the opening of the new Columbarium at St Pius X. Photo: Eric Martin.
"The recognition that we include in today's Mass is part of showing our respect to our ancestors: they established the future for us, and it is an important tradition that we hold to – just because we are Christian doesn't mean that we wipe away everything, we enhance the culture. We can bring Christ's presence into our society."
A presence which, Archbishop Costelloe highlighted, is both appropriate, and even essential, at this time in human history, when a strong belief in God is no longer the firm foundation of many people's lives that it once was.
"When belief in God is no longer at the heart of a society's understanding of itself that society can begin to lose its way," Archbishop Costelloe said. "There is no longer a common understanding of what it means to be a human person and therefore there is no longer a solid basis for a shared set of values by which people in a society or a community intend to live."
"In our Christian faith, and especially as we understand it in our Catholic tradition, the idea that we are mutually responsible for each other is absolutely central.
"We never come to God isolated from our family - our Christian family - but always together with our brothers and sisters in the faith and, indeed, with our brothers and sisters who are not part of our Christian community but are part of the human family, of which God is the one Father."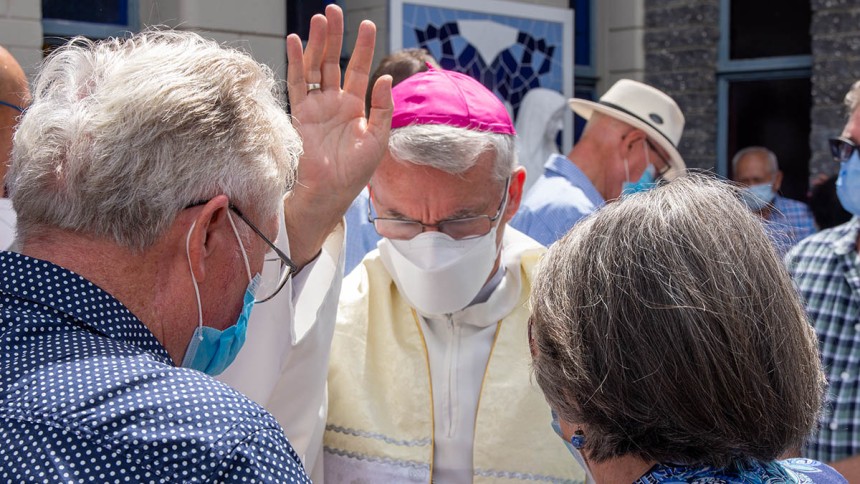 Parishioners who attended the opening were thrilled to stop and speak with the Archbishop and receive his personal blessing. Photo: Eric Martin.