Clerec-West Multi-sports Day 2021: 'A healthy body is a healthy mind'

Archbishop Timothy Costelloe SDB (left) presents Willagee Parish Priest Father Peter Meo with the trophy for champion golfer for 2021. Photo: Matthew Lau.
By Matthew Lau
Various Archdiocesan priests had the opportunity to socialise with each other in large numbers after the COVID-19 pandemic enforced restrictions and cancelled last year's Clergy Recreation Day.
The annual Clerec-West Multi-sports Day was held on Monday, 3 May, involving 12 golfers, 10 tennis players, and 12 ten-pin bowling priests who donned sportswear on their day off from pastoral ministry.
Willagee Parish Priest Father Peter Meo bagged the prestigious Archbishop Redmond Prendiville Perpetual Trophy for most points in the 18-Hole Stroke Handicap at Whaleback Golf Course, Parkwood.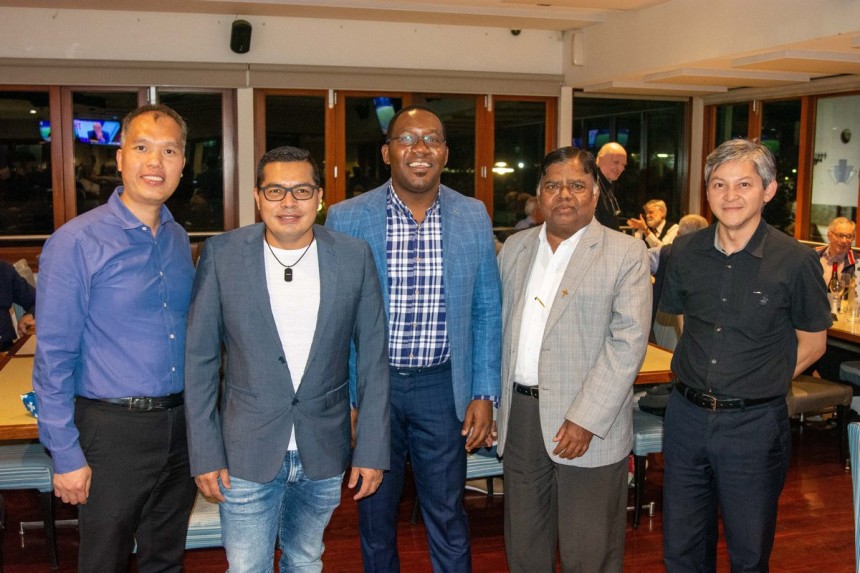 Clerec-West organising committee, from left: Fr Thi Lam, Fr Jeronimo Flamenco, Fr Bona Echeta, Fr Paul Raj, and Fr Dat Vuong. Photo: Matthew Lau.
Team Clerec-West committee member Father Paul Raj, Hilton Parish Priest, said the sporting events gave the priests "much enthusiasm" and allowed them "to renew our friendship".
More than 60 priests and deacons and supporters attended the culminating dinner at The Karalee on Preston in Como, sponsored by the Archdiocesan Finance Office (CDF), Bowra & O'Dea, CCIWA, and The Record.

At the annual Clerec-West dinner on 3 May, Archdiocese of Perth Clergy Liaison Officer Brian Bonser was acknowledged for his decades of service and support to priests. Photo: Matthew Lau.
Esteemed guests included Clergy Liaison Officer Brian Bonser, Vicar for Social Outreach Dr Terry Wilson, Archdiocesan Manager Strategy Implementation Renay Grech, MercyCare Board Member Maureen Colgan OAM, Catholic Education Western Australia Executive Director Dr Debra Sayce, and CEWA Director of Religious Education Dr Chris Cotter.
Golf champion Fr Peter Meo said he enjoyed the day of leisure, appreciating the perfect weather conditions for outdoor activity in a tightly fought contest to the final tee with Fr Emil Ciecierega SDS.
"Either of us could have won the tournament," Fr Meo said graciously.
"Getting to see our brother priests who we don't see throughout the year is invaluable."
Fr Meo believes this type of recreation day is hugely beneficial to one's physical, mental, and emotional wellbeing.
"Everything was really good; we should do it more often, I think," he expressed.
"The evening was great as well to share a meal; we couldn't have asked for any better. We had a lot of support staff of the clergy, so it was a blessing to be able to meet with them."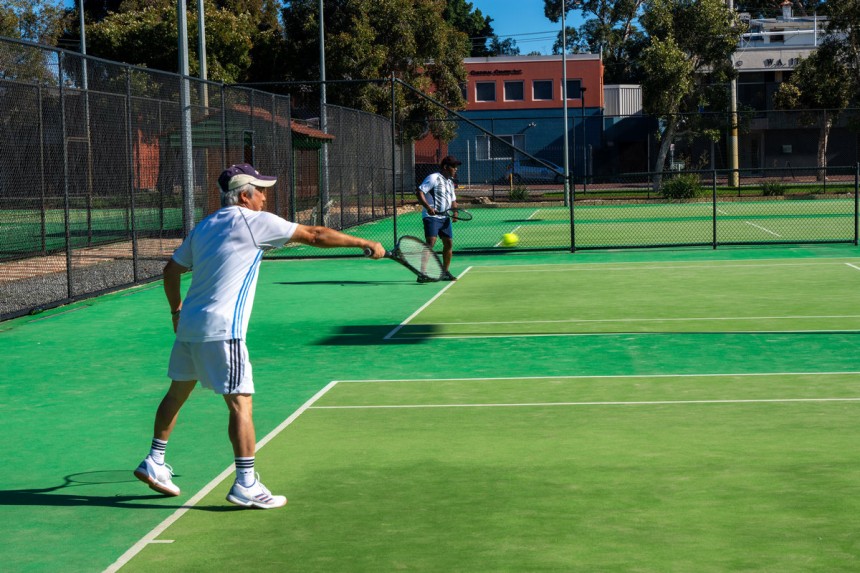 St Thomas More College Chaplain Father Peter Tran hits the ball at Robertson Park Tennis Centre on 3 May. Photo: Matthew Lau.
St Thomas More College Chaplain Rev Dr Peter Hung Tran participated in the morning's tennis session at Robertson Park Tennis Centre in North Perth.
"Personally, it was a wonderful opportunity to play my favourite sport with my fellow priests," Fr Tran said.
"Fellowship has a great need among us clergy, the same thing too for our parishioners. Ultimately, it is up to the individual."