The gift of God's hospitality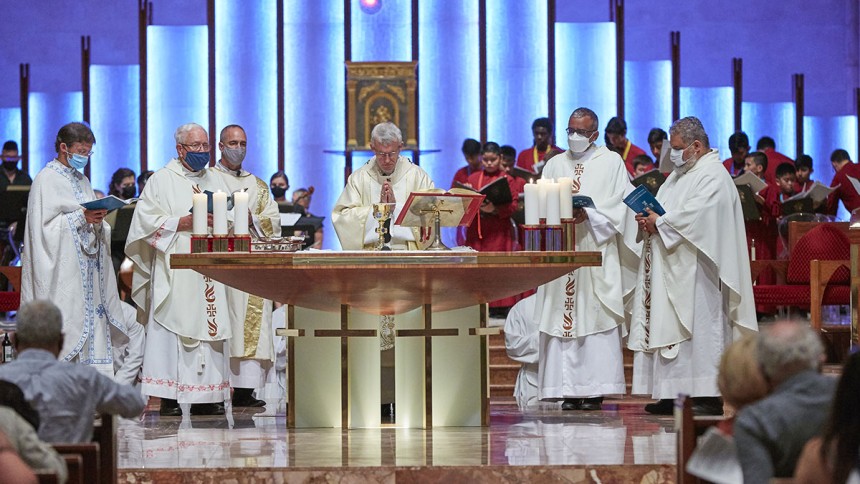 Archbishop Timothy Costelloe SDB was joined by special guest Ukrainian Fr Ihor Holovko, Monseigneur Michael Keating, Deacon Aaron Peters, Cathedral Dean Rev Dr Sean Fernandez and Fr Luis Tijerino, concelebrating the 2021 Christmas Mass at St Mary's Cathedral. Photo: Ronald Tan.
By Eric Martin
Archbishop Timothy Costelloe SDB reminded us this Christmas that the perceived 'joy' of the festive season does not always match the reality of the situation experienced by many, and that the gift of God's hospitality is not given to those whose hearts are too full to make room for Him.
"Perhaps at Christmas time, more than at any other time of the year, we can understand just how important and how life-giving genuine hospitality is, either because we try so hard to be hospitable towards others or because we benefit so much from the hospitality of others towards us," Archbishop Timothy Costelloe said at Saint Mary's Cathedral.
He explained that according to Saint Luke's Gospel, it is God's hospitality that Jesus reveals as the very heart of His relationship with us, his people.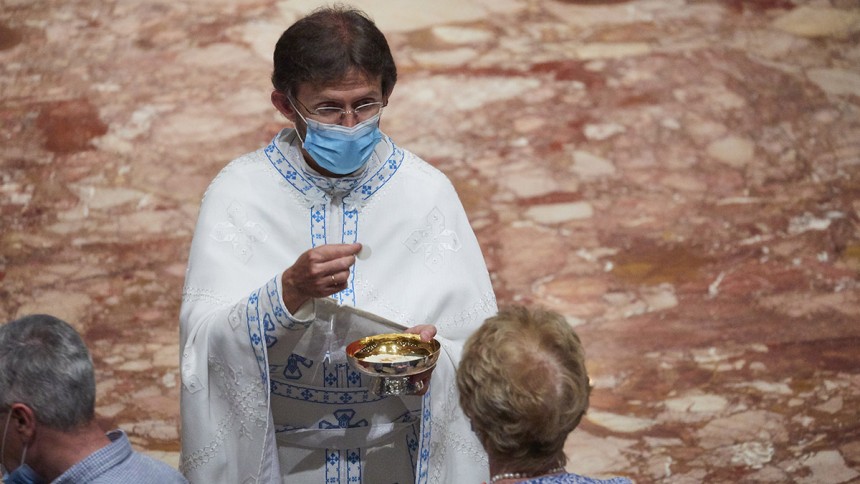 Special guest Fr Ihor Holovko, of the Ukrainian Catholic Church, dispenses the Host during the 2021 Christmas Mass at St Mary's Cathedral. Photo: Ronald Tan.
"God reaches out to us in love, with compassion and with mercy, in generosity and large-heartedness. This is the very essence of the Christmas story."
"Yet for many people, of course, the opposite sadly is true: so many experiences the lack of warmth and hospitality in their lives as a constant and painful reality made more difficult to bear at this time of the year."
Research by Roy Morgan for the Salvation Army's Christmas Appeal estimated that more than one million people across Australia were dealing with depression this Christmas and another six million spent more than they could afford.
For 7.6 million Australians, Christmas is the most stressful time of year – an experience that they share with Mary and Joseph, living through the myriad challenges of the first Christmas.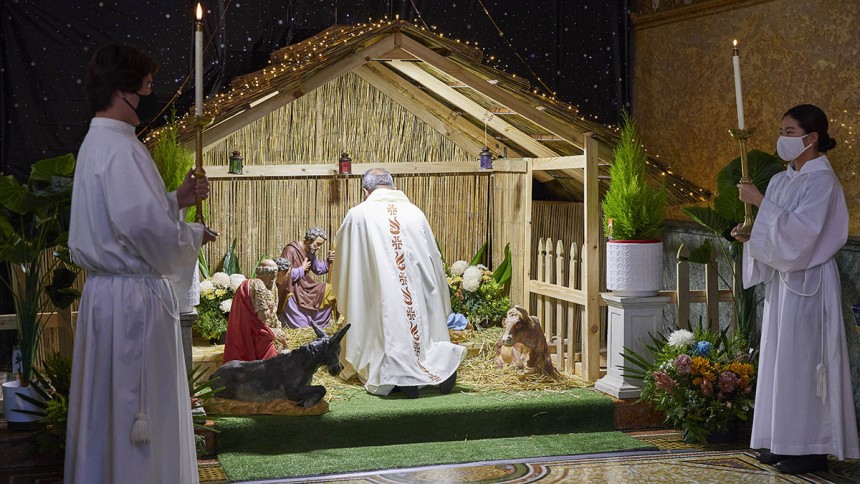 The Nativity scene at St Mary's Cathedral was beautifully presented and played an integral role in the Christmas Mass. Photo: Ronald Tan.
"Joseph and his pregnant wife Mary are forced to uproot themselves and travel from their hometown to Bethlehem to fulfil a government demand for a census of the people," Archbishop Costelloe said.
"And when they arrive in Bethlehem, city of the famous King David and the place believed to be the birthplace of the coming Messiah, Mary and Joseph can find no place to stay. No one welcomes them, no one makes room for them, and they are forced to take shelter in a stable: it is there, in poverty and simplicity, in a situation of rejection and isolation, that the one who is "mighty God and Prince of peace" enters into his world."
Jesus' birth was not celebrated by the wealthy, or those safely sheltered inside their homes or an Inn: Bethlehem does not welcome its King, but the shepherds out in the fields do.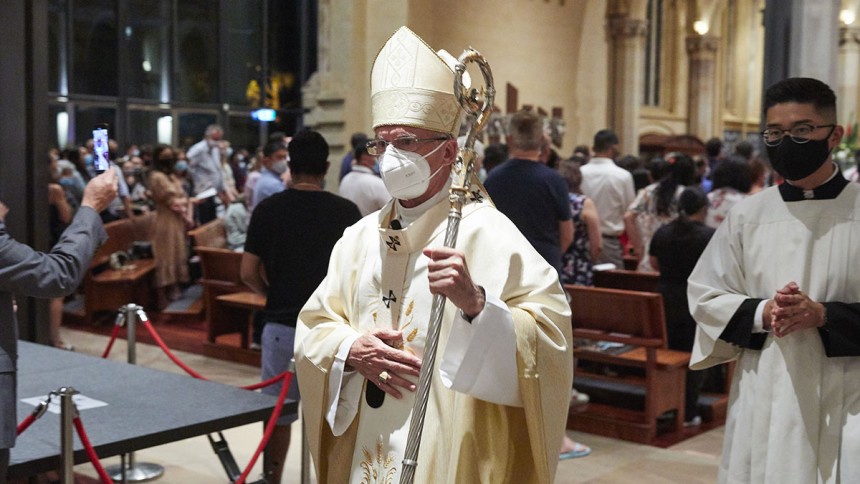 With the risk of COVID 19 an ever-present reality, Archbishop Timothy Costelloe led by example, joining parishioners in wearing a mask - in line with WA's health guidelines. Photo: Ronald Tan.
"Perhaps because of their poverty and simplicity the shepherds, who would have been uneducated people, were more open to recognising the presence of God in unexpected ways. It would have been inconceivable to the rich, the powerful and the privileged, that God would choose to come among his people in this obscure and humble way," Archbishop Costelloe said.
"The revelation of the coming of God to his people was first made known to a young unmarried girl in the small town of Nazareth. It was then made known to the poor, marginalised shepherds outside Bethlehem."
"The mighty God comes among us in humility, simplicity and poverty - perhaps we, too, are being invited to look again for the presence of the Lord not just in the places we might expect but also in the places that at first glance might seem very unlikely to us."
"Unlike the doors of that Inn in Bethlehem, may the doors of our hearts and our lives be open to him this Christmas."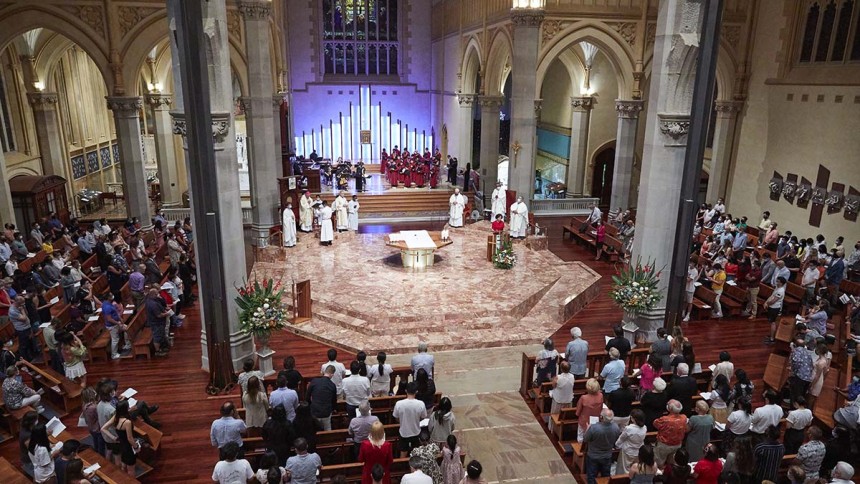 Christmas, one of the three Holy Days of Obligation, brings together Catholics from across the Archdiocese in celebration of the birth of Jesus. Photo: Ronald Tan.