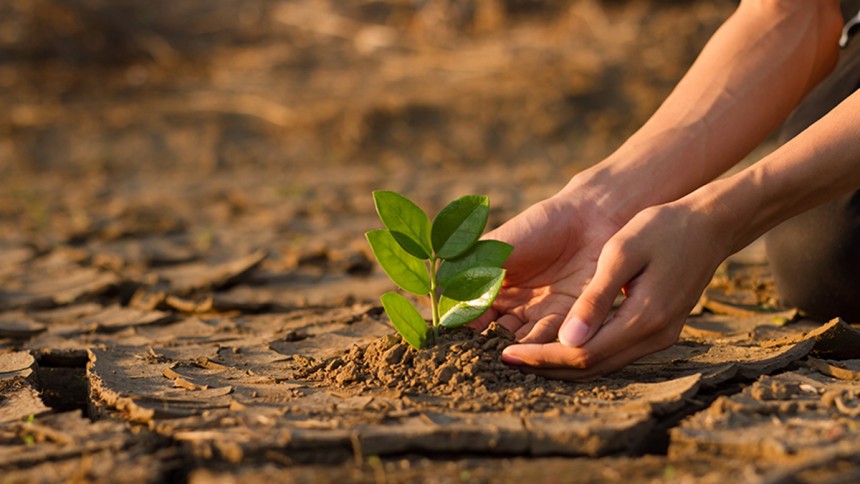 A hand planting a tree on dry cracked land. Photo: Adobe Stock.
First Nations and senior faith leaders from across Australia and the Pacific, including prominent Catholics, have published an open letter calling on the Albanese Government to stop approvals for new coal and gas projects and end public subsidies for fossil fuel industries.
Signatories of the open letter include Cardinal Sir John Ribat of Port Moresby, Archbishop Patrick O'Regan of Adelaide, Archbishop Peter Loy Chong of Suva and leaders of many Australian Catholic Religious Orders. They join First Nations leaders and high-level Buddhist, Quaker, Muslim, Hindu, Brahma Kumaris, Jewish and Sikh leaders.
Multi-faith services were held across Australia and the Pacific today showing endorsement of the leaders' message by everyday people of faith. St Patrick's Cathedral in Parramatta and St Mary's in Perth hosted services. Some devotees spent the whole previous night in meditation, prayer, chanting and in some cases fasting to show their depth of feeling on the issue.
The open letter is critical that Australia "profits from exports that are causing the (climate) crisis", and instead urges the Labor Government to show "urgent, courageous, visionary" leadership.
Bishop Vincent Long, Bishop of Parramatta and Chair of the Australian Bishops' Commission for Social Justice, said, "We are encouraged by the commitment of the new government to better honour the Paris agreement by cutting 43% of greenhouse gas emissions by 2030.
"However, these reduction targets are just a floor and not a ceiling. We call on the Albanese Government to show strong leadership and stop new coal and gas projects and public subsidies for polluting fossil fuel industries. As a nation, we cannot claim to be a responsible global citizen in addressing the great moral challenge of our age while we lag behind other nations on climate action," he said.
"As fellow Australians and Christians, we urge our legislators to heed Pope Francis's appeal: 'Now is the time for new courage in abandoning fossil fuels to accelerate the development of zero- or positive-impact sources of energy.'"
Signatories of the open letter are furthermore calling for Australia to restart contributions to the UN's Green Climate Fund. Contributing to the Fund is widely viewed in low-income countries as a crucial test of how seriously wealthy countries take their responsibilities.
They ask that Australia fully respects First Nations peoples' rights to protect their Country, to support an orderly transition for regional communities away from coal and gas, and endorse a global Fossil Fuel Non-Proliferation Treaty.
The proposed treaty reflects a growing global concern that the continued production and export of fossil fuels is overpowering any gains made by the nation-by-nation pursuit of emissions reduction targets. Advocates of the treaty seek to influence the United Nations COP27 climate talks, to be held next month in Egypt.
The letter and multi-faith services were organised by the Australian Religious Response to Climate Change, as part of a global faith campaign known as "Faiths 4 Climate Justice", in which actions are being organised in over 40 countries in the lead-up to COP27.