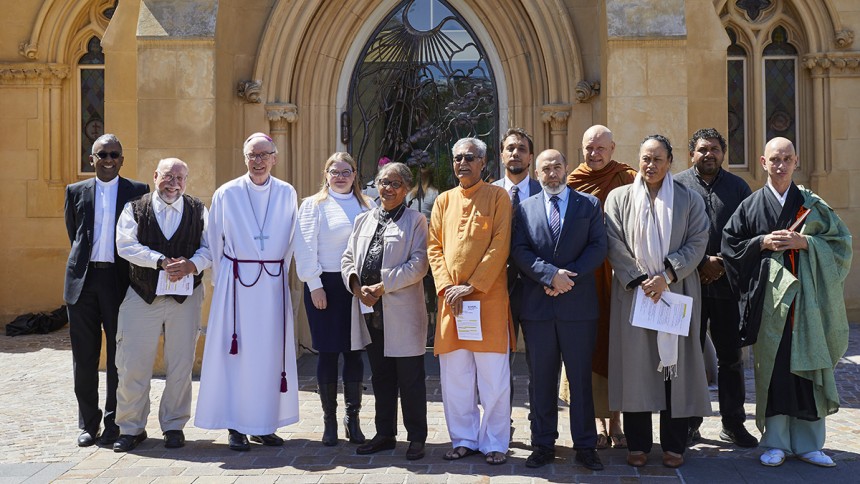 Religious leaders from different faiths gathered to call for stronger climate action. Photo: Ron Tan.
On 13 October 2022, multifaith services were held across Australia to raise awareness of climate change and to seek greater commitment from the Australian government to stop new fossil fuel developments.
St Mary's Cathedral hosted the Perth service, where prominent Western Australian religious leaders from different faiths represented a united front to call for stronger climate action. In attendance were:
Rev Dr Sean Fernandez, Dean of St Mary's Cathedral.
The Most Rev Bishop Don Sproxton, Auxiliary Bishop of the Catholic Archdiocese of Perth.
Rev Mitchell Garlett, Uniting Aboriginal and Islander Christian Congress WA.
Rev Dr Katalina Tahaafe-Williams, Trinity Uniting Church in the City.
Venerable Ajahn Brahmali, Bodhinyana Theravada Buddhist Monastry.
Rev Mujyo Williams, Head Priest at Kozanji Rinzai Zen Temple.
Shri Damji bhai Koria, President of the Hindu Council of Australia Perth Chapter.
Dr Rateb Jneid, President of the Australian Federation of Islamic Councils
Dr Al Riebau, Chairperson of the Local Spiritual Assembly of the Bahai's of Wanneroo.
Susy Thomas, Moderator of the Uniting Church WA.
Rev Dr Christy Capper, Deputy Warden Wollaston Theological College of the Anglican Diocese.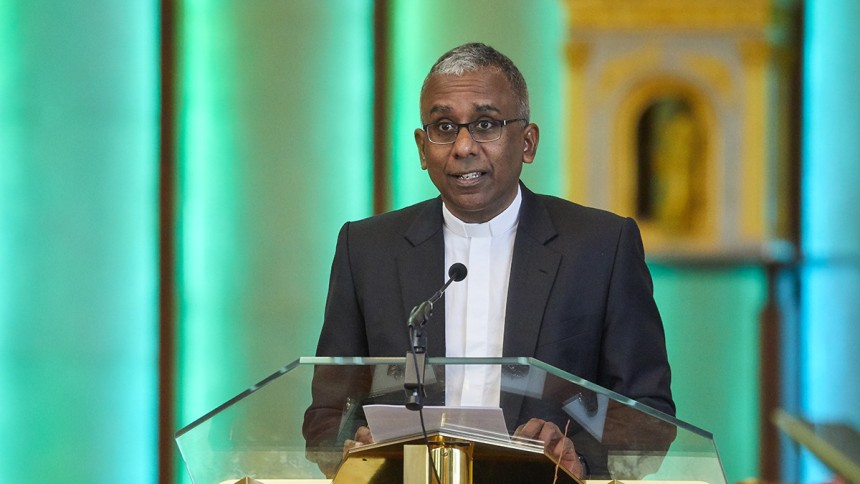 Cathedral Dean Fr Sean Fernandez introduces each religious leader at the service. Photo: Ron Tan.
Cathedral Dean Fr Sean Fernandez was the presiding celebrant of the service and a Welcome to Country was delivered by Rev Mitchell Garlett. Rev Dr Katalina Tahaafe-Williams shared during the service that amongst the Indigenous Peoples around the world, those living in the Pacific are among the hardest hit by the climate crisis. "Ocean acidification, overfishing, droughts, and super storms are devastating their food sources. Sea level rise is threatening their homes and, with them, their belonging to the land, their culture, and survival as nations."
Perth Auxiliary Bishop Don Sproxton led the Christian Prayer for our earth, which was earlier published in Pope Francis' encyclical, Laudato Si. "All powerful God, You are present in the universe and in the smallest of your creatures. You embrace with your tenderness, all that exists. Pour out upon us the power of your love, that we may protect life and beauty. Fill us with your peace, that we may live as brothers and sisters, harming no one."
Perth Auxiliary Bishop Don Sproxton leads the Christian Prayer for our earth. Photo: Ron Tan.
"O God of the poor, help us to rescue the abandoned and forgotten of this earth, so precious in Your eyes. Bring healing to our lives, that we may protect the world and not prey on it, that we may sow beauty, not pollution and destruction. Touch the hearts of those who look only for gain at the expense of the poor and the earth. Teach us to discover the worth of each thing, to be filled with awe and contemplation, to recognise that we are profoundly united with every creature as we journey towards your infinite light. We thank You for being with us each day. Encourage us, we pray, in our struggle, for justice, love, and peace. Amen."
In an interview with ABC Radio Perth's reporter Alicia Bridges, Fr Sean Fernandez shared that "when first approached by the Australian Religious Response to Climate Change (ARRCC), he had a discussion with Perth Archbishop Timothy Costelloe SDB and they decided that it was important to participate. He then shared that Pope Francis has strongly challenged everyone, stating that climate change is the cry of the Earth, our common home and it has to be heard and all communities have to respond."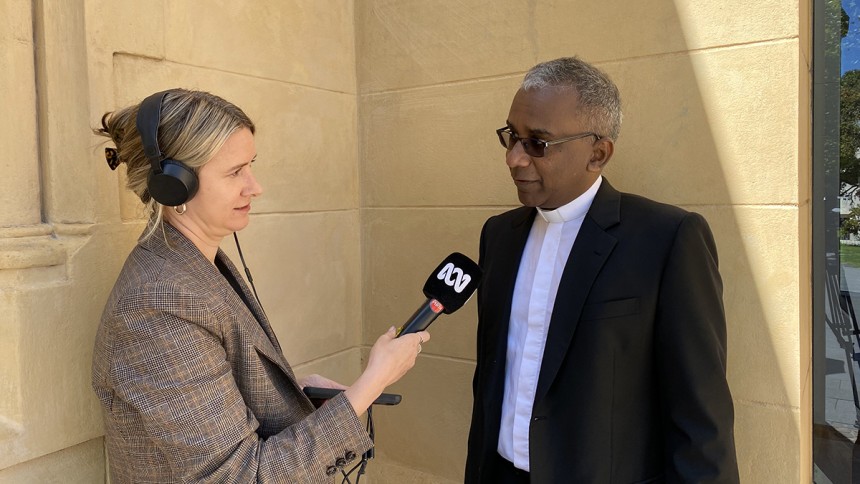 Fr Sean Fernandez speaks to ABC Radio Perth's reporter Alicia Bridges. Photo: Michelle Tan.
Fr Sean continued "One of the important things this response is asking for is that we have an orderly transition. We want governments to start talking to communities now about the future, about the change to more sustainable energy sources, and a future that is better for all of us. Climate change is going to impact all communities we have. They say for the next 2030 years, up to a billion people will be moving on the move because of climate change. This is going to change the world for all of us unless we respond now."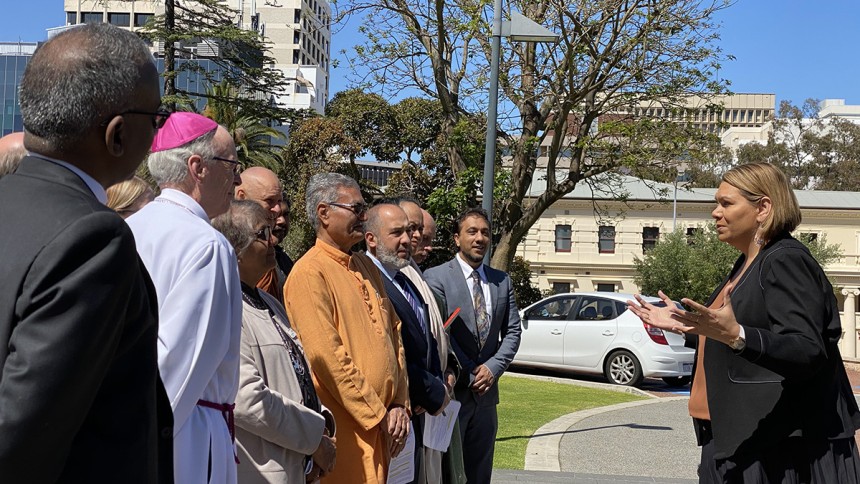 Senator Dorinda Cox from the Australian Greens speaks to the religious leaders after the service at St Mary's Cathedral. Photo: Michelle Tan.
Senator Dorinda Cox who is the first Indigenous woman to represent Western Australia in the Senate was present and spoke with the leaders after the service. "I assure you that the Australian Greens take very seriously the issues that you have raised, and I feel like I was writing some of those speeches myself in the Senate during that time, particularly about climate finance and the issues that are in the Torres Strait Islands. We really, we really welcome the support of multi-faith institutions and groups, especially like these."
---
Watch the Perth Faiths 4 Climate Justice Multifaith Service here:
Watch the full media interview here: