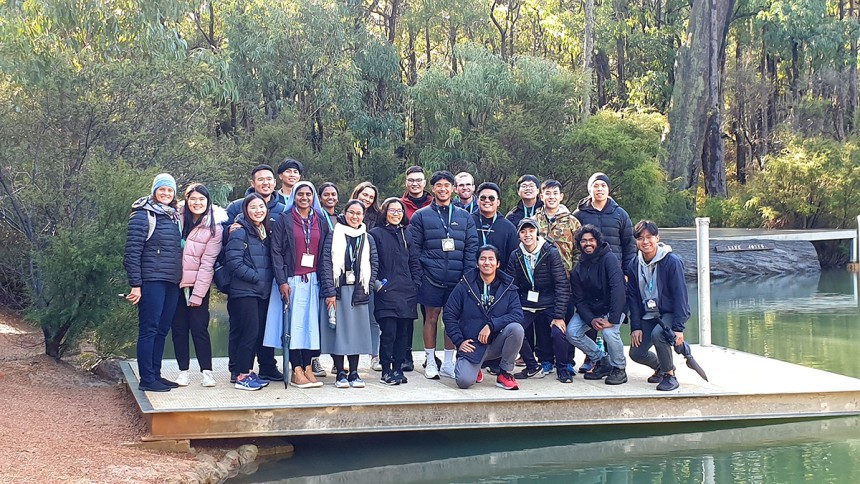 A small group of participants from the Getaway Weekend. Photo: Supplied.
During the last days of July, the Catholic Youth Ministry staff with the help of several volunteers were able to plan a short weekend stay at Manjedal Activity Centre, for a group of Perth Catholic young adults.
These individuals represented a variety of ministries across the Perth Catholic Archdiocese, from Campus Ministry to Catholic communities and movements.
A total of just over 40 young Adults participated in this event – who spent time reconnecting with Faith and Community.
These two main themes were repeatedly shared through the ministry of Brotherhood & Sisterhood share groups, including testimonies, communal prayer, and spending time with each other.
On Friday evening, which was greeted with some downpouring of rain, our participants enjoyed a warm meal and began their first encounter of discipleship.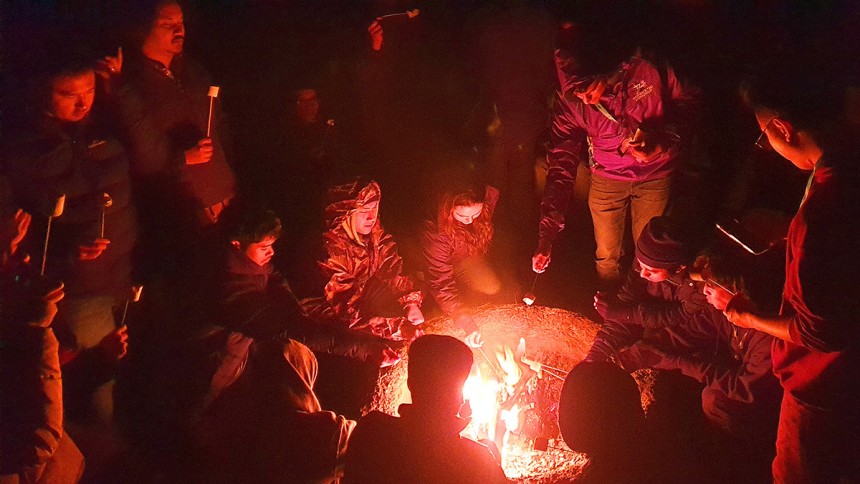 Warming up by the fire after some intercessory prayer. Photo: Supplied.
Through the facilitation of communal eating and fellowship, everyone was well acquainted with who they would be journeying with over the weekend.
The opening welcome on the next day was led by the CYM Music Ministry team, with praise and worship – an encounter that truly allowed the Holy Spirit to work through the space where we would gather.
Over the weekend many of the testimonies and topics of conversation were themed and presented by various CYM staff and guests.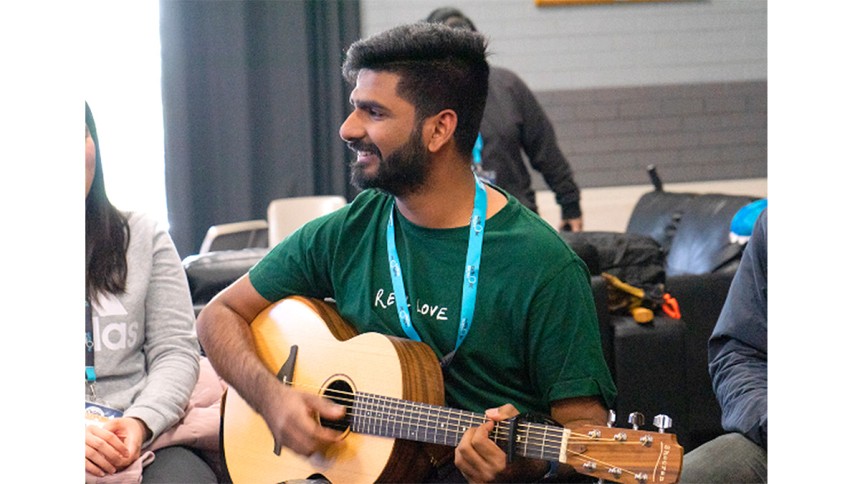 A volunteer providing music and entertainment. Photo: Supplied.
"Does modern Discipleship even exist?"
"What is holding you back from spiritual fulfillment?"
"Laying down your burdens – At the foot of the cross"
"God speaks to us in many ways – How do we respond to his call?"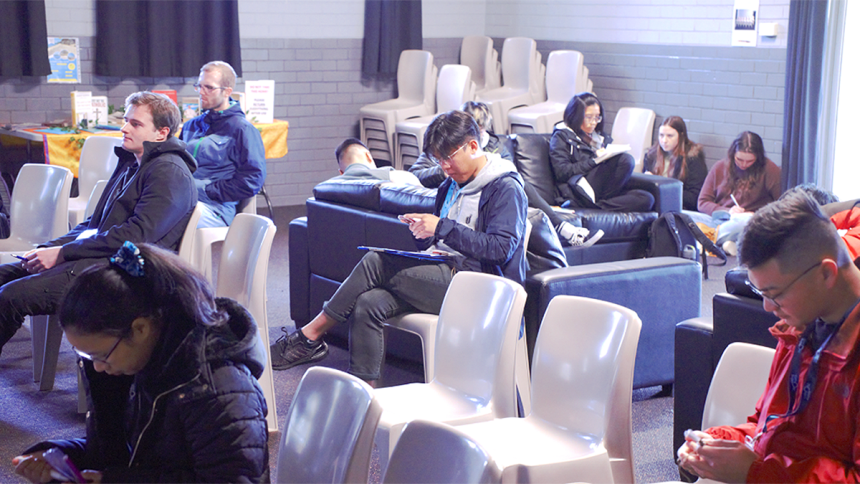 Through the facilitation of communal eating and fellowship, everyone was well acquainted with who they would be journeying with over the weekend. Photo: Supplied.
One incredible highlight was through Anne Shepard from the Focolare Movement who shared a beautiful testimony that highlighted how she faced challenges as a Catholic youth.
Through perseverance and a simple message "Be the first to Love" – knowing in all situations, choosing to approach any individual with Christian Love firstly allowed her to live a life of spiritual fulfillment.
Throughout the weekend there was plenty of intentional discipleship with one another – A greater sense of pastoral rest was achieved through relational ministry to each other.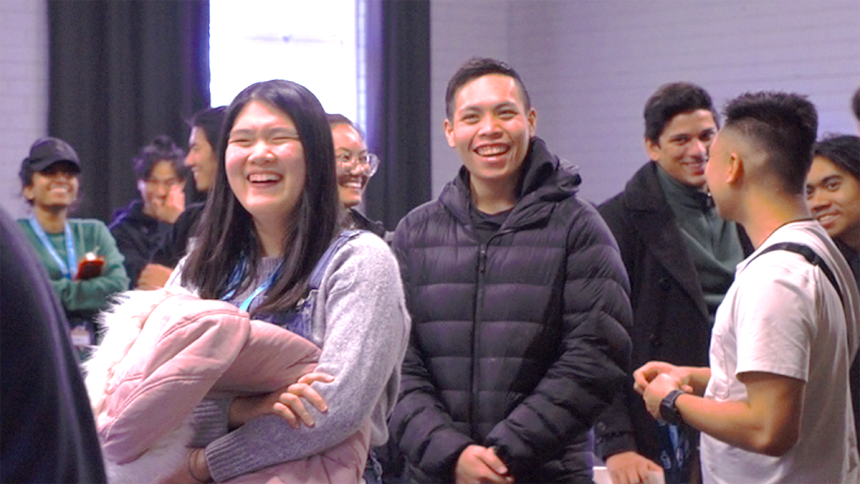 A total of just over 40 young adults recently participated in a weekend retreat at Manjedal Activity Centre - reconnecting with Faith and Community. Photo: Supplied.
Many felt connected through conversations, and social entertainment such as playing music together, including simple group games and activities.
Few also went on a hike through the Manjedal forest and experienced encountering God through nature and enjoying the disconnect from a busy schedule.
Their hike also led them to an interesting spot in the Manjedal area which was the outdoor Chapel that was constructed by one of the founding Scout members Robert Baden Powell.
A highlight from the weekend program was of course spending time as a community during Adoration, in front of the Blessed Sacrament, and allowing ourselves to truly be in the presence of Our Lord.
For many, this deep connection with our faith provided the space where we could lay our hearts at rest with Jesus through prayer.
A special opportunity allowed our community to further continue our reconnecting with Faith – by earlier in the day preparing "kindling" which were payers of intentions written and shaped into the form of parchment and sticks, which would be burnt up in offering.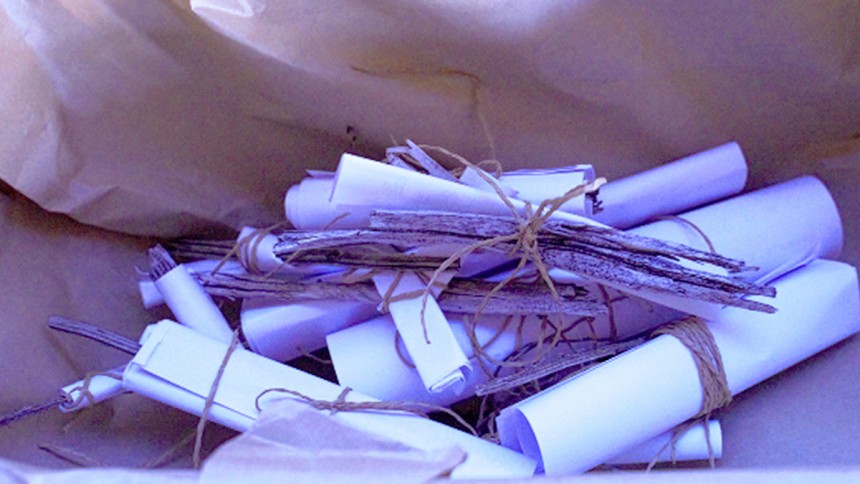 Prayers of petition – formed into "kindling" which would be offered up in prayer. Photo: Supplied.
Forming these prayer intentions was purposeful in inviting the participants, to experience a form of intercessory ministry – learning to pray for others in communion with God.
By offering up these prayers we spent the evening gathered by the bonfire whilst staying warm, focusing on the key areas of spiritual prayer, and learning how to petition them for those in the community.
Deeply renewed in prayer - summing up the evening of course was more fellowship which was indeed joined in with the toasting of marshmallows and deep conversation.
The final stretch of the last morning was a celebration of Holy Mass and furthering the discussion on "God's Call" more importantly, "what should we do when we respond to it?"
Many of our Young Adults who still may seek their place in the Church were challenged by our final message – but knowing with confidence they are also supported by one another in that continuation of finding where they most "belong".
In this journey of reconnecting with faith and being in communion with one another – highlights that we should place and invest all our efforts, in journeying with each other and sharing our suffering through the resurrected Christ.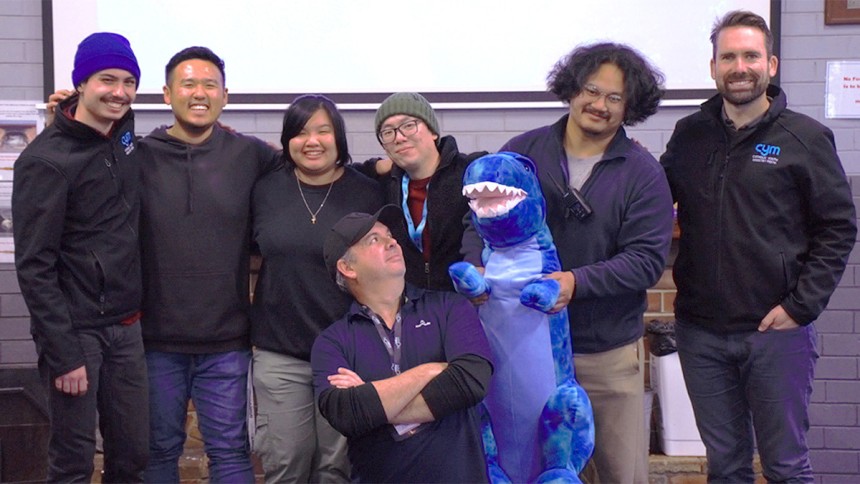 CYM Acting Director Adam Phillips with the CYM team. Photo: Supplied.
Johannes Alexander is Youth Ministry Worker at Catholic Youth Ministry Perth.
BREAKOUT QUOTES
"The getaway weekend was a great opportunity for many young people attending to rekindle their faith. To acknowledge where they had been, reflect on where they are, and encounter God in a down-to-earth way. Supported by the team and youth attending, many finished the weekend with a renewed sense of purpose to live out their faith.
We do not have enough opportunities for our youth today to disconnect from the outside world and share this experience. We hope to explore more of this style of event in the future and make it available to more of our young people who need our support"- Adam Phillips, Director CYM
"The getaway weekend was a fantastic retreat that truly disconnected me from reality. I had no reception throughout the weekend and found myself looking at my phone as if anything had changed. Eventually, though, I found myself more accepting and talkative to others around me about what it means to be able to give, to minister, and to remind myself why I still do this through the testimony of others." – David Nguyen, Youth Leader of the Vietnamese Eucharistic Youth Movement
"The getaway weekend was a good break from the chaotic rigmarole of unit life and life in general. Delving into a space where not many young Catholics enter regularly felt energising and rewarding especially in a spiritual sense. It gave me a chance to disconnect from society and reconnect with my faith and like-minded Catholic youth". – Zachary Ting, UNDA Student