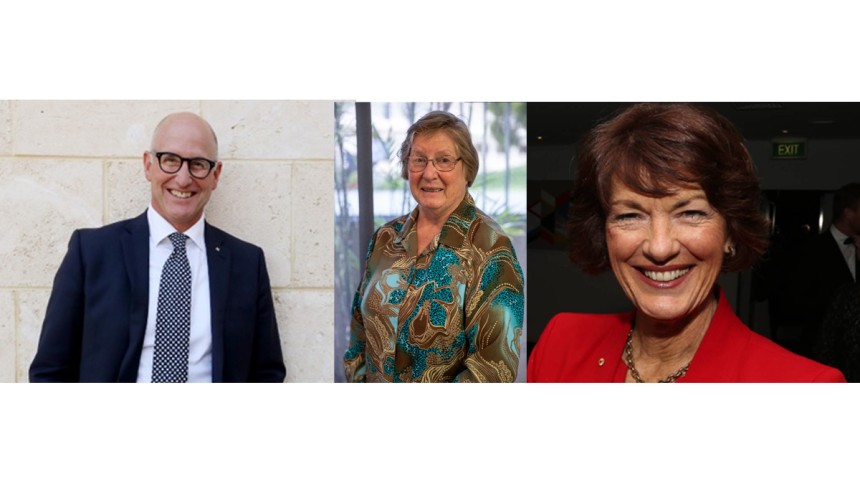 Catholic Church Symposium Speakers: James McMahon AM, Sr Lucy van Kessell PBVM and Geraldine Doogue AO. Photos: Supplied/TheRecord.
Local identities James McMahon AM, Sr Lucy van Kessell PBVM and Geraldine Doogue AO will this month come together for the third Australian Catholic Church History Symposium.
The Symposium was established during 2020 to promote contemporary public discourse on the rich tradition of the local Catholic community and its place in modern Australian life.
The evenings event will include three 20 minute presentations on the theme of 'Professional Histories and Faith'.
This year's Symposium will once again take place at the Tannock Hall at the University of Notre Dame, Wednesday 21 September at 6pm. The event will be livestreamed to www.youtube.com/perthcatholic and www.facebook.com/perthcatholic.
Symposium committee member, Monsignor Michael Keating encouraged the Perth Catholic community to learn more about the history of the Church in Perth and Australia.
"Our three speakers for 2022 have all made significant contributions in their own way to our community and I am positive this will be a highly productive symposium," Mgr Keating said.
"I welcome this opportunity to engage in meaningful discussion, while also learning more about the history of the Church in Western Australia," he said.
James McMahon is currently the Chief Operating Officer at Australian Capital Equity.
Prior to this he was the Commissioner for Corrective Services WA, having also spent 34 years full time and allocated as a reservist with the Australian Defence Force.
Starting as an Infantry Soldier, he went on to become an Officer and command an Australian SAS Squadron.
He has served in Timor-Leste, Afghanistan, Iraq, Europe, Bougainville, Solomon Islands and Southeast Asia.
James was named Western Australian of the Year 2019 for his service to the Community and in 2022 was appointed Member of the Order of Australia (AM), in recognition of significant service to veterans and their families, and to the community.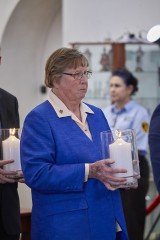 Sr Lucy van Kessel PBVM at the opening Mass of the First Assembly of the Fifth Plenary Council,
Sunday 3 October 2021 at St Mary's Cathedral. Photo: Ron Tan.
Sr Lucy van Kessel PBVM is a registered psychologist and is also currently Community Leader of the Presentation Sisters, based here in Perth, Western Australia.
She has also worked for several years in the social justice sector, including as the coordinator of ACRATH (Australian Catholic Religious Against Trafficking in Humans) in Western Australia for six years.
Speaking to The Record in 2015, Sr Lucy told of the repercussions of human trafficking on people.
In 2009, with the help of two sisters, she set up ACRATH in WA, Sr Lucy was at the forefront of the battle against what Pope Francis recently labelled "a shameful wound that is unworthy of civil society".
"I believe it is absolutely vital to have a Christian organisation that works towards the elimination of human trafficking," Sr Lucy said.
"Human trafficking is endemic; it is the third biggest money maker from crime after arms and drugs throughout the world, making approximately 32 billion dollars per year.
"The people involved are not going to let go of it easily and it is often very difficult to have law enforcement involved.
"I see my work as an essential element of my Christian life and of my commitment to creating a better world," she added.
Following the presentations, the audience will be encouraged to participate in a question and answer session that will run for a further 30 minutes.
More to come in next week's edition of The eRecord.
To register go to www.trybooking.com/CBVAI