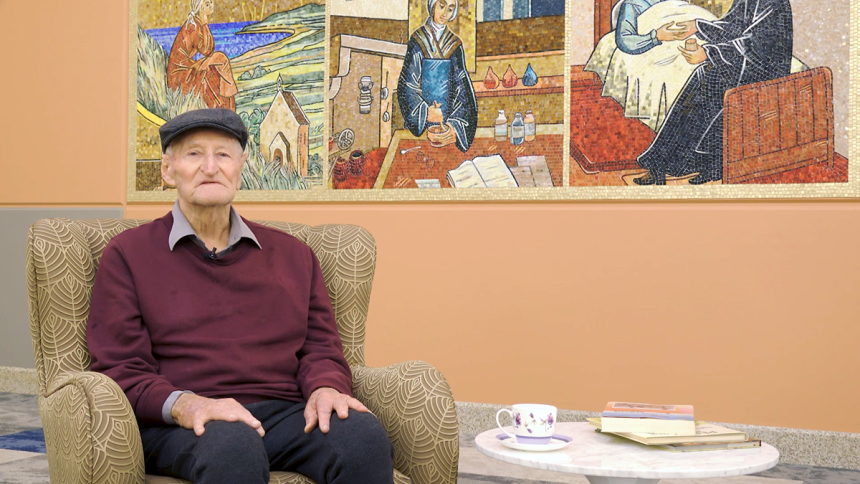 One of the last remaining clergy of the original 1944 group of entrants to St Charles Seminary, Perth priest Fr Maurice Toop will be remembered as a dedicated, hardworking and loyal priest, following his passing on 13 August 2022, aged 91.
In this special obituary written by Fr Toop himself prior to his passing, readers of The Record gain a special insight into his work ministering to Aboriginal people and the numerous parishes where he served.
"I was born in Nedlands on 8 May 1931 and grew up in the Nedlands- Hollywood area with my brother Eris.
Peter arrived to our great delight some years later.
They were happy years, although much of it under the dark cloud of the war.
We attended St Therese's school in Nedlands with the Loreto Sisters and were close to our much loved Parish Priest Monsignor Moss.
At the age of 13, I went to St Charles Seminary to complete my schooling, and having completed the Leaving Certificate, I continued the Seminary training for the priesthood.
In 1950 Bill Foley (later Archbishop) and I were sent to the Collegio Brignole Sale in Genova, Italy.
We were ordained to the priesthood on 12 September 1954.
My first assignment was to Northbridge, St Brigid's Church, under the wise guidance of Monsignor Edmund Sullivan.
The parish was about 90 percent newly arrived Italian migrants. I loved it and I learnt so much from those courageous, hardworking and vivacious people.
After five years I was appointed assistant priest at Highgate under Bishop Rafferty, who asked me to concentrate my pastoral ministry on the many Italian families who were settling in Highgate and North Perth at the time.
Five years later I was appointed to Boulder, and soon after to Kalgoorlie. The Little Sisters of the Poor arrived in 1968, initially to care for the many old miners and prospectors who lived in makeshift camps scattered in the bush.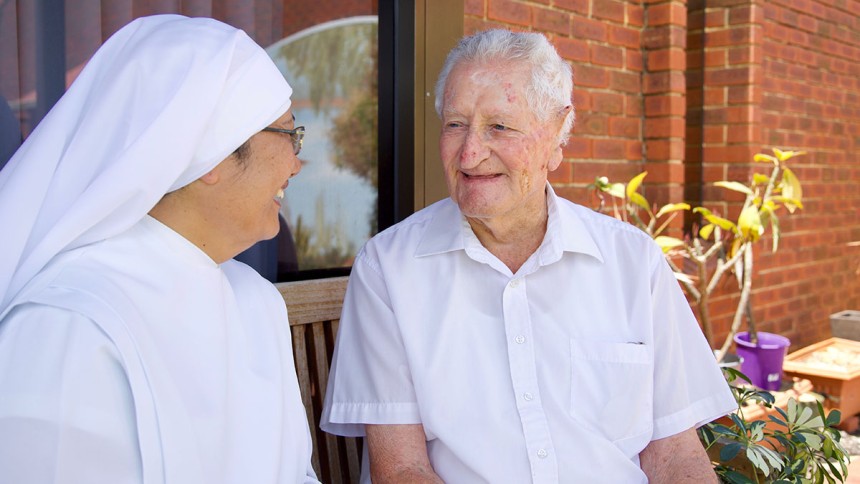 In this special obituary written by Fr Toop himself prior to his passing, readers of The Record gain a special insight into his work ministering to Aboriginal people and the numerous parishes where he served. Photo: Michelle Tan.
Later the Sisters took on the care of elderly indigenous people who were living in squalid conditions on the Native Reserve and in the bush around the towns.
This was demanding, and a new and often dangerous challenge to the Sisters, with many of the people speaking little or no English, caring for the old meant caring for their whole families as well.
I became closely involved in this ministry with the Sisters, and I received permission from Archbishop Goody to engage in this ministry to the 'fringe dwellers' full time.
For a few years I lived between the "Round House" in town and at Grant's Patch with a mixed group of men, women and children. We began cutting firewood to sell in town, as well as collecting gems stones for tourists.
We got together a small fleet of ancient utes and small trucks as well as chain saws. I incurred a large debt and had to leave this people, whom I loved dearly, several of them who had got back their sobriety through AA.
I was encouraged by the Gospel story of Jesus healing two men possessed by demons at the expense of a huge number of pigs. It was worth it all for those souls.
In 1979, I was appointed to Osborne Park Parish St Kieran's Church, a great parish with a long Irish tradition and a large Italian population; I was very happy there. During this time, we built the new Church. In 1984, I was invited by then Bishop Hickey to the Diocese of Geraldton to engage in a ministry to indigenous people. This didn't work out, and I then went on to supply in several parishes in the Murchison, Pilbara and in Laverton-Leonora region.
After being called back to the Archdiocese, I spent four years in Northam. I had many good friends there. One of the parish activities was a weekly gathering with a happy group of Aboriginal families, which they called their 'little church'. In this, as in many other parish ministries, I received invaluable support from Sister Kathleen Downes of the Sisters of St Joseph of the Apparition.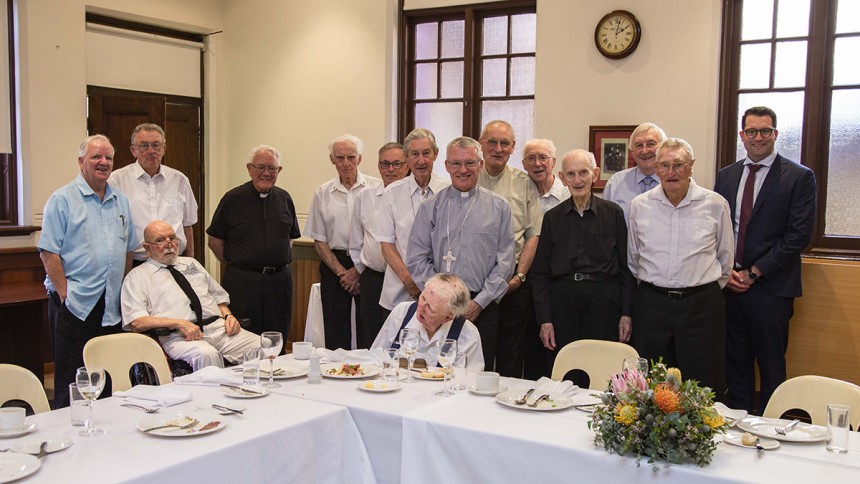 Fr Toop, pictured with fellow clergy in 2019 at the annual retired clergy luncheon with Archbishop Timothy Costelloe SDB, centre, and Executive Director, Office of the Archbishop, Daniel Lynch, far right. Photo: Jamie O'Brien
In 1993, I was appointed again to Highgate Parish Sacred Heart Church. This was providential as I was able to visit my mother more often; she died a year later. After five years, I requested to step down and remain in Highgate as an assistant priest, but the Archbishop asked me to go to Maylands Parissh Queen of Martyrs Church. I was delighted to go there, an old parish with one of Perth's most beautiful churches and a loyal albeit small community.
From 2000-2003, I also served as Episcopal Vicar for Clergy.
At the age of 78 I retired because of illness, residing in Redcliffe. During this time, I was able to supply for priests on leave in many parishes in the Dioceses of Perth and Geraldton. After being diagnosed with cancer of the bone marrow I was very grateful to be accepted by the Little Sisters of the Poor.