Perth Archbishop Timothy Costelloe SDB has last month said that as people of faith, we know that the gift of life is the most precious gift of all, for without it there is no possibility of anything: no chance to love, no chance to hope, no chance to believe.
Speaking at the Memorial Mass for Joshua Subi, the 13-year-old son of Cathedral worker Subi Sadasivan, Archbishop Costelloe was joined by Vicar General, the Very Rev Fr Peter Whitely VG, Cathedral Assistant Priest Fr Richard Rutkaukas, South Perth Parish Priest, Msgr Brian O'Loughlin and several visiting priests from the Syro-Malabar Rite.
Aged just 13, Joshua passed away 6 December 2021 following a short battle with cancer.
He is survived by his father Subi, mother Jaysuria and brother Amal.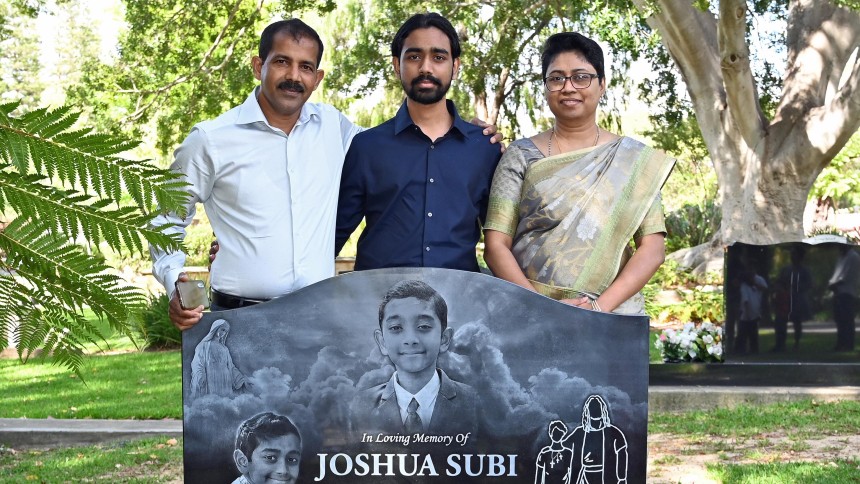 Subi Sadasivan with his wife Jayasuria and son Amal at the gravesite of Joshua, who passed away 6 December 2021. Photo: Biju Joseph.
The family, who hails originally from Kerala, India, and converted to Catholicism in 2016 were joined by more than 500 family and friends for the occasion.
Speaking in his homily for the special Mass, Archbishop Costelloe explained that to lose someone we love is always difficult and leaves an empty place in our hearts that it is difficult to fill.
"This is, I think, especially the case when a young person dies," Archbishop Costelloe said.
We understand, said Archbishop Costelloe, that God gives us this precious gift by calling us into life and God asks us to embrace this gift with joy and with enthusiasm and live it to the full.
"In the strange ways of God's providence some are then given the extraordinary gift of faith in Jesus Christ and membership of his Church," Archbishop Costelloe said.
"This, too, is a precious gift which God asks us to embrace with joy and enthusiasm and live to the full," he said.
---
---
---