Forty years fly by for Father Benedict Quadros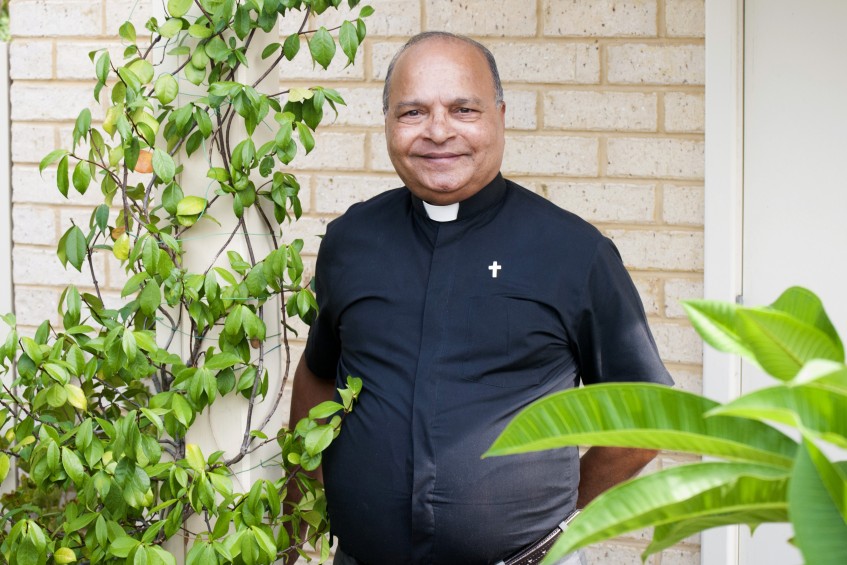 Fr Benedict Quadros, who has served in a number of parishes in India and Australia, celebrated the 40th anniversary of his ordination on 29 February. Photo: Rachel Curry
Whether in the poverty-stricken villages of northern India, or the harsh climates of rural Western Australia, Father Benedict Quadros has put heart and soul into his priestly vocation over the past 40 years.
This amazing devotion is best summed up by his response to a minor heart attack in 1998, when he continued to work despite his symptoms, and was reluctant to be admitted to hospital.
"I said to the parish secretary, 'If you put me in intensive care, who will look after the parish?'," he recalled.
Now semi-retired, Fr Quadros can hardly believe it has been four decades since he was ordained at St John the Baptist Church in Gwalilor, a city in central India, on 29 February 1976.
Not one for big celebrations, he recently marked the milestone with a simple Mass at the chapel in his Redcliffe unit complex, but may return to India next year for a larger family gathering.
"Years pass so fast. I wonder at how I finished these 40 years, because life was busy," he said.
"Of course, there were ups and downs, but I was taken care of by the Lord."
Born in Mangalore in southern India in 1949, Fr Quadros is the youngest in a family of seven children, with four brothers and two sisters.
As a boy, he had no desire to enter the priesthood, but a visit from northern Indian missionaries when he was in Year 11 altered his fate.
The missionaries showed him a map of India, with a picture of the crucified Jesus Christ in the middle, and a sentence below saying, "Son, will you not help me to save India?"
Fr Quadros said he was called to respond to the Lord.
"I never intended to join. I'm a good actor so I wanted to join the film industry or I wanted to be a police inspector," he said.
"Ultimately, what I find is that God takes you where you want to go. His ways are different."
At the age of just 17, he left his home in Mangalore and travelled 3,000km away to Lucknow in northern India, where he joined the Jhansi Diocese.
He spent three years in formation at St Paul's Minor Seminary and seven years studying philosophy and theology at St Joseph's Regional Major Seminary.
Fr Quadros said it was a challenging time when he had to adapt, not only to the extreme tropical weather of northern India, but to a completely new language and culture.
Nevertheless, he enjoyed the seminary life, serving as the head of the entertainment committee and putting on plays about once a month.
After his ordination in 1976, he began working in the Jhansi Diocese where Christianity was weak and the majority Hindu population was poverty stricken.
He said he had a good relationship with the Hindus and even prayed with them once during a drought.
"They came and told me, 'Father, please pray so we can have rain'," he recalled.
"I said, 'I won't pray alone, you come'. Then it started raining for three days."
Following the death of his parents, Fr Quadros felt there was nothing left for him in India and pursued a major life change.
He wrote to the then-Archbishop of Perth, William Foley, who welcomed him into the Archdiocese in July 1990.
Initially in Australia for a one-year period, he never left, serving in a number of parishes, including Highgate, Kalgoorlie, Bencubbin, Maddington, Geraldton and Karrinyup.
One of his proudest achievements is the renovation to Our Lady's Assumption Church in Dianella, carried out when he was parish priest there from 2005 to 2012.
He called on friends to make the work more affordable, not only renovating the church but also paving the grounds, putting up fencing, building a new parish centre and displaying signage.
"I told the people, 'I'm not going to sit here and watch things falling apart'," he said.
"I had strong faith in God and, within one year, we finished the whole thing. Still, I don't believe how it happened. It's a like a new church."
Fr Quadros became an Australian citizen in 1997 and, as proof of his loyalty, he even supports Australia when they play India in the cricket.
Reflecting on his experiences as a priest in both countries, he said what he had most enjoyed was helping people build up their faith and grow closer to Jesus.
"I always have that littleness before God," he said.
"I am dependent upon God and, when I talk to people, I try to encourage them, not judge them."