Beaconsfield Parish Priest celebrates Golden Jubilee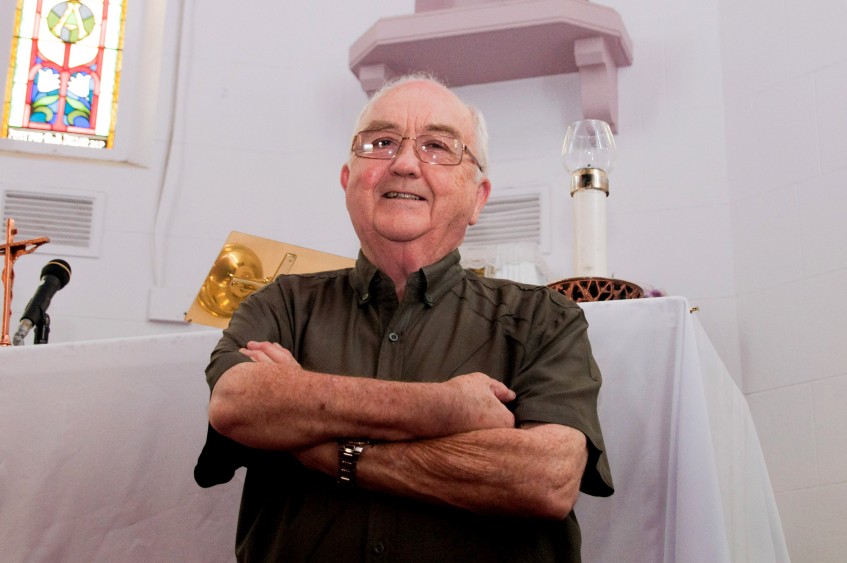 Parish priest of Christ the King, Beaconsfield, Fr Liam Keating SMA celebrated his Golden Jubilee on 18 December 2015. Photo: Marco Ceccarelli
By Marco Ceccarelli
It's a long way from St Coleman's Cathedral in Newry, Northern Ireland, where Father Liam Keating SMA was first ordained, to Christ the King Parish in Beaconsfield, Perth, Western Australia, where he now resides as parish priest.
Yet long distances have never stood in the way of Fr Keating's mission to bring the good news of the Gospel to the remotest ends of the earth. Time has also not been an obstacle, as his recent 50th anniversary to the priesthood revealed.
Fr Liam Keating celebrated his Golden Jubilee at Christ the King Church, Beaconsfield on 18 December 2015. More than 100 people attended the momentous occasion, including Auxiliary Bishop of Perth Don Sproxton, who concelebrated a special Mass of thanksgiving for Fr Keating's Golden Jubilee along with eight other priests from the Archdiocese of Perth.
Celebrations continued into the evening at the Italian club in Fremantle, where speeches highlighting various aspects of Fr Keating's eventful life as a priest were delivered by Bishop Sproxton, Principal of Christ the King School, Peter Panizza, and head of the Christ the King Parish Council, Wayne Sgro.
Further celebrations were later held at Sunday Mass on 20 December 2015, the actual date of Fr Keating's anniversary.
In an interview with The eRecord journalist Marco Ceccarelli, Fr Keating spoke of how grateful and delighted he was to see so many people attend his thanksgiving Mass, emphasising that these 50 years as a priest have rewarded him a with a deep sense of joy and fulfilment.
"I feel fulfilled in every way, and would not have changed a thing about my life as a priest," he said.
Fr Keating went on to highlight that his ministry could not have been possible without the presence of three very important groups of people in his life. "As I thanked everyone who attended my Golden Jubilee, I reserved a special thanks to those who form part of my three families: my own family, my SMA family, and my parish family," he added.
The youngest of ten children, Fr Liam Keating was born in Cahirciveen (Cathair Saidhbhín, meaning "Little Sadhbh's stone ringfort"), County Kerry, Ireland on 4 September 1939 and received his education in Cahirciveen by the Christian Brothers.
Along with 42 fellow novices, he entered the novitiate of the Society of African Missions (SMA) in 1958 at Cloughballymore, Kilcolgan, County Galway, before undertaking his Bachelor of Arts degree at University College, Cork between 1959 and 1962. He subsequently moved to Dromantine House at Newry, County Down which was the seminary for the Irish province of the SMA from 1926 until 1972.
Following his ordination to the priesthood at St Colman's Cathedral, Newry on 20 December 1965, Fr Keating was sent to England for postgraduate studies in philosophy at one of the country's oldest universities, the prestigious, Jesuit-run, Heythrop College.
Upon completion of his studies, and following a year back at Dromantine House as Professor of Philosophy, Fr Keating moved to the Irish National Seminary at Maynooth in 1969. As well as joining the academic staff of the seminary, he was subsequently appointed the inaugural Dean of Students at Maynooth's newly-opened SMA House where, from 1972, all SMA seminarians of the Irish province were to reside and study.
The year 1973 saw Fr Keating's arrival to Western Australia where he accepted yet another teaching appointment – this time at the SMA's St Brendan's College in Beaconsfield, Perth. During his time at the college (1973-1977), Fr Keating was hailed as an extremely popular and effective Form Master and teacher, as well as a highly valued chaplain and pastoral companion to both students and staff.
In 1977, Fr Keating returned to Ireland on his way to Africa, only to find himself appointed Novice Master for a year at Wilton College, Cork. A year later, he moved to the Archdiocese of Kaduna, north-western Nigeria, where he was a parish priest until 1980.
Fr Keating was eventually transferred back to Beaconsfield – this time to the SMA parish of Christ the King where he was appointed assistant to the then parish priest, Fr Edward "Ned" Donovan SMA (RIP).
Following Fr Donovan's retirement in 1995, Fr Keating was appointed parish priest of Christ the King. To the immense satisfaction of both his parishioners and the Archdiocese of Perth, he is showing no signs of slowing down.
With the assistance of Alastair Mackay – Christ the King Parish, Beaconsfield